Have you ladies and gents ever tried a styling and shopping subscription service like Stitch Fix? And yes, the service is also available for men.
As much as I love styling myself, it's also fun and interesting to have someone else style me. Plus I love getting a surprise in the mail! I mean, who doesn't?
This service is really simple. All you have to do is take a short quiz in order for the stylists at Stitch Fix to know your style and preferences. You can opt out for a monthly, quarterly, or just get styled as you wish and pay a one time fee of $20 to have them style you. You don't have to pay a styling fee every month if you didn't subscribe to a monthly box.
You get about 4-5 pieces in your box which includes accessories if you want those extra. You can indicate it when you take the quiz.
Any item that you don't like you can send back in the prepaid envelope and just pay for whatever you'd like to keep. 
What's In My Recent Stitch Fix?
I've been subscribed to Stitch Fix for awhile but like I mentioned above, you don't have to subscribe to a styled box every month. You can indicate how often you want it.
So I recently got a fix and here's what I got…
1.State Goya Ruffle Detail Blouse
I really LOVE this blouse. I love that one shoulder has ruffled sleeves and the other is cold-shoulder and is also ruffled. It's very flowy and just perfect for day or night. Because it fits more loosed, I think it is styled best with skinny jeans for both day and night look. But it can also work with a pair of shorts or fitted skirt.
Sugarfix by Bauble Bar | ASOSASOS Fringe Skinny Jeans (Similar Here) | Similar Sam Edelman Lace-Up Sandals
Top: $78

Bella Dahl Taya Frayed Hem Chambray Romper
This chambray romper is super cute! The material is lightweight and feels super comfortable.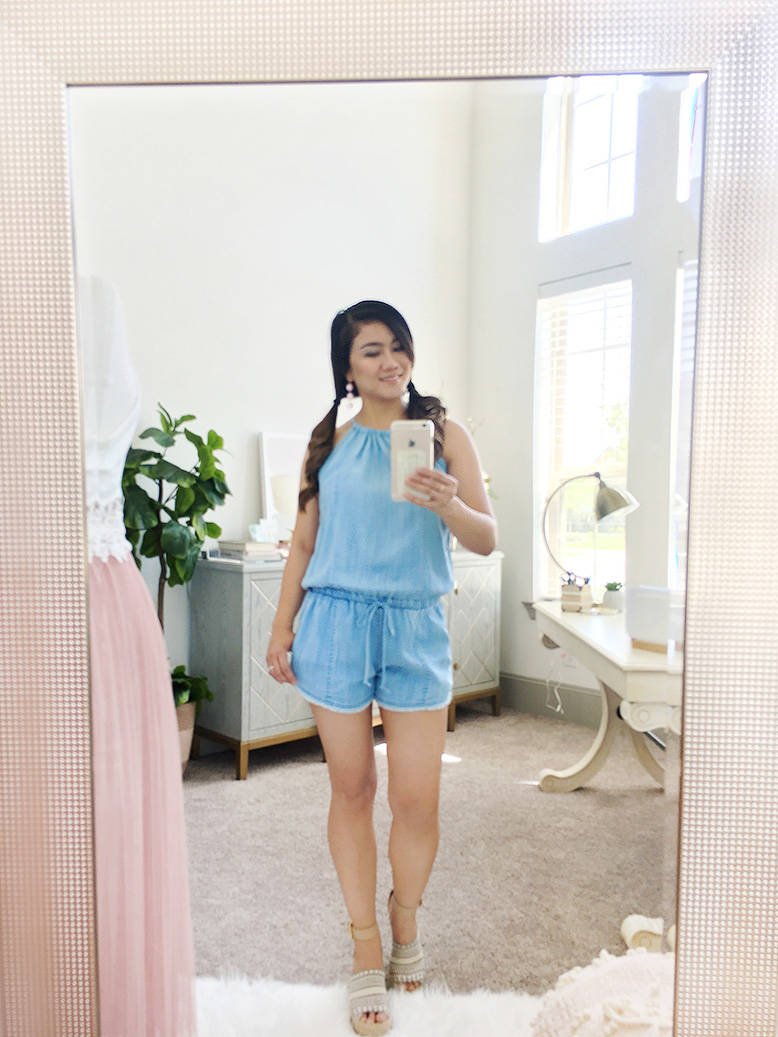 Sugarfix by Bauble Bar Earrings | Similar Marc Fisher Espadrille Wedges Here and Here
Romper: $158

Alice Blue Havana Halter Top and Oaklyn Arrow Embroidered Skinny Jean
This is a cute combo, although I wasn't sure if my stylish meant for these two to match but that's how I ended up styling it. The jeans have embroidery on both sides and they look so cool. They are a bit long for me (I'm 5'3″) so I decided to fold them up.
Sugarfix by Bauble Bar Earrings | Pull & Bear Espadrille Wedges (Similar Marc Fisher Espadrille Here)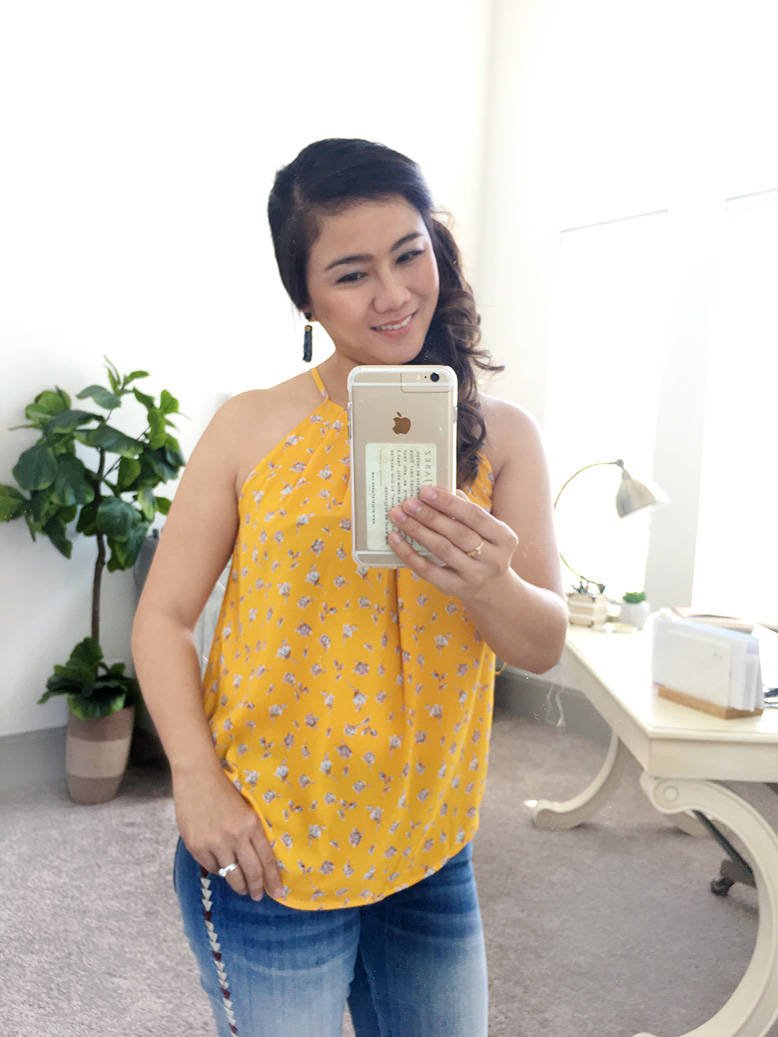 Top: $44 | Jeans $98

Daniel Rainin Lovina Embroidered Mixed Material Top
While I really like the material of this navy top, it's my least favorite from my fix. Maybe because I'm not a big fan of dark colors but I think I kinda understand why it was included there.
Similar Altar'd State Shorts with Lace HemSimilar Altar'd State Shorts with Lace Hem
Top: $64
Why Should You Subscribe to Stitch Fix?
Convenience
You can count on your stylist to style / shop for you when you don't have time to. This is great especially for working moms or even work-at-home moms who is constantly busy.

Free Delivery
You don't have to pay for shipping to get a fix delivered to you. You only pay a minimal $20 styling fee.
Easy Return
It's easy to return anything that you don't like. Your fix will come with a prepaid USPS envelope.
Order In Demand
There's no required subscription. You can opt in for a 2-3 weeks box, monthly or quarterly box or just order in demand.
Get What You Want Each Time
After each box, you have the ability to provide your stylist a feedback on each item so she or he will know what to get you next time.
How About the Prices?

The prices are comparable to some brands you will get from stores and boutiques. According to Stitch Fix, the average price is $55.
Give Stitch Fix a try and experience the service for yourself. I think that you will enjoy it! SaveSave
SaveSave
SaveSave
SaveSave
SaveSave
SaveSave
SaveSave
SaveSave
SaveSave
SaveSave
SaveSave
SaveSave
SaveSave
SaveSaveSaveSave
SaveSave
SaveSave
SaveSave
SaveSave
SaveSave
SaveSave
SaveSave