Ever wonder how you can organize your vanity to keep your sanity? In this post, I will share some tips and organizer ideas.
Makeup vanity can be one of the most cluttered area in a woman's world.  If you're a woman and you love or use make-up on a daily basis, you know this is true. When your makeup vanity is cluttered, it is harder to find the things that you need. This can usually cause a tremendous delay in your preparation time.
On the other hand, if your makeup vanity is organized, it's a lot faster to get ready because you can easily find the items that you need.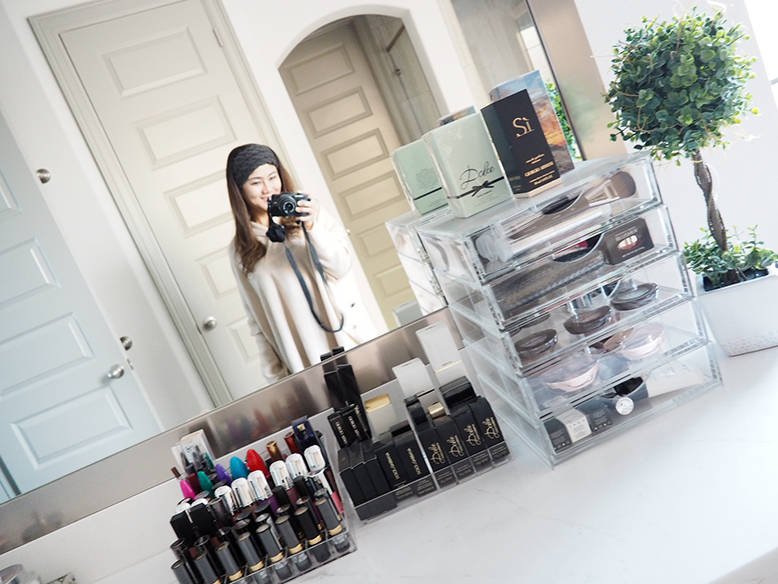 I don't have the biggest master bathroom vanity and not a lot drawers  so I'd have to make use of the spaces and storages wisely. I need to make the counter tops clutter-free or it will drive me crazy.
If you want to know how to organize your makeup vanity, here are some tips that you might find helpful:
Survey what you've got.

First, take a quick look at the cosmetics and/or skincare items that you have so you know more or less what type and how many organizers and storage units you would need. Take them all out on the floor or wherever you can so you can have a better look. You may also want to create a list so you won't cut yourself short of the organizer that you need.
Categorize your items.

Once you have them all out, categorize them: Lipsticks, lip glosses, mascaras,  and eyeliners can all go together. Eyeshadows, blushes, compact powders can all go together and so on and so forth. You can organize them to however you see fit and based on the frequency of your usage. For example, if you REALLY have a limited space, you might just get a couple of organizers and store away some in your cabinets or under the bed.
Invest in storage or space saver units.

In the photos here, you will see Boxy Girl products. Their acrylic organizers are sturdy, durable and functional. Not to mention that they aesthetically fit the look of our master bathroom too.
I seem to have a lot of  mascara, lip glosses and lipstick so I got both the Boxy Girl Lip Stack and Boxy Girl Everything Stack.
If you're like me who has a ton of lipsticks or lip glosses, I recommend purchasing the Boxy Girl Lip Stack. Since I have more than enough that it can handle, I decided to get the Boxy Girl Everything Stack which is great for the same items and can combine with make-up brushes and other things. If you really don't have a lot, then the Everything Stack is perfect.
Below pictured is the Boxy Girl Lip Stack.
I organized my lip glosses, lipstick, mascara, and eyeliner all together.
And here is the Everything Stack where I kept my boxed Dolce & Gabbana cosmetics.
Boxy Girl also has boxes/drawers with dividers in them and you can get it with lids or without. I chose to get them with lids so I can stack them together and make it work like mini drawers.
I chose to use mine for eyeshadows, blushes, some creams and a couple of lip glosses that are still in their boxes.
Where to Get Makeup Vanity Organizers
I must say that Boxy Girl's makeup vanity organizers may be pricey for some. So I researched some affordable acrylic organizers from Amazon. Check out the ones I recommend below.
4 Tier Drawers and 16 Grid Makeup Acrylic Organizer
If you have a lot of makeup, this 4 tier makeup organizer is ideal because it's stackable. You can buy additional acrylic drawers if you need more. You can buy a set or two to keep your makeup all in one place on your vanity.

4 Piece Makeup Acrylic Organizer
If you just have the right amount of makeup, perhaps this particular style will fit your needs. This is detachable and stackable as well so you can add more compartments or drawers as you see fit.

360 Degree Rotating Makeup Acrylic Organizer
I love this 360 degree rotating organizer for liquid foundations, lipsticks, brushes and other things. Totally get this one in addition to the drawer organizers above. 
These acrylic makeup organizers are all washable.
I must warn you: Organizing can be quite addicting! Once you've done it once or twice, you'd want to do it everywhere in the house. My basket organizers are driving my husband crazy.
Want to get your home fully organized like a pro? Check out: 31 Affordable Organizational Items To Keep Your Home Fully Organized Like a Pro