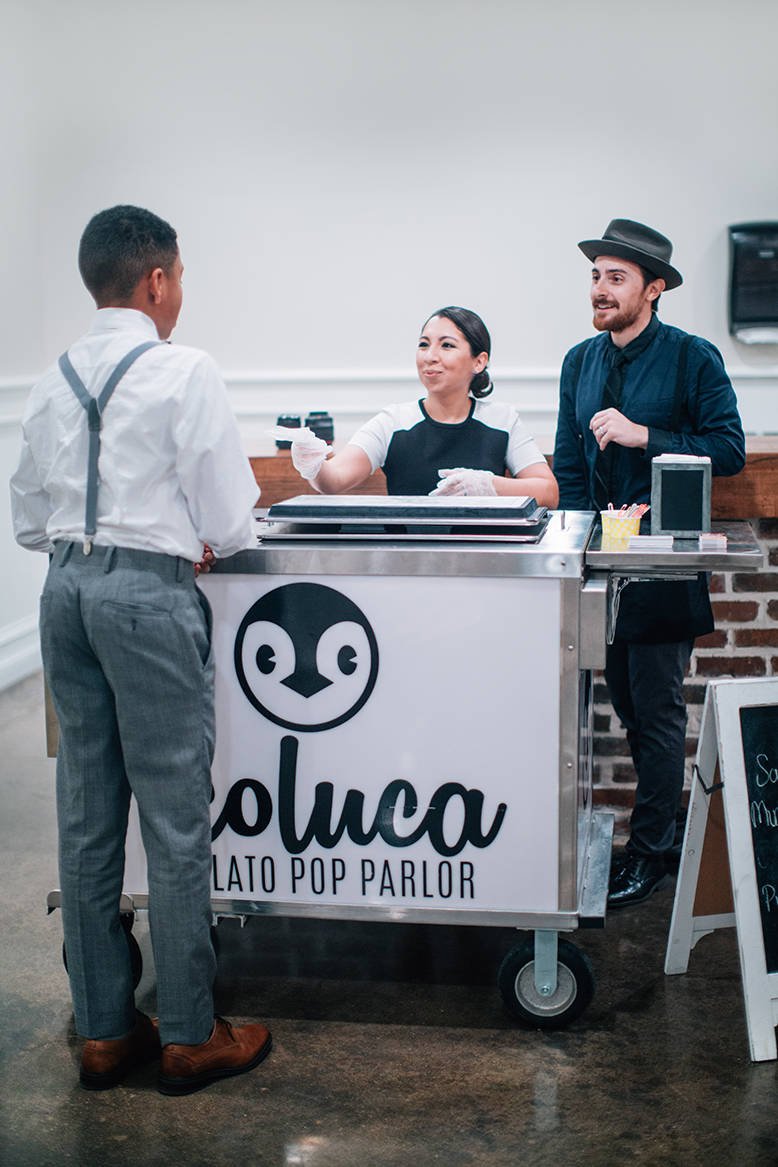 When we were planning our wedding, we were thinking of something fun to add to the reception for guests to enjoy. We had a sweets bar with cookies, kisses chocolate, and brownies, in addition to the bride and groom cake and we had cocktail hour too.
One thing we have to cut back on is the liquor. We decided not to serve liquor because we are not big drinkers and don't believe any of our guests are either. That's one thing we eliminated but replaced it with a gelato bar.
At first, I was kind of hesitant because it was winter and it was also supposed to rain that day (and it did but very little), so I wasn't sure if the guests will enjoy it. But it turned out to be the biggest hit that night! Guests kept coming back to the gelato bar for more.
In Houston, there's not a lot of gelato places that would cater. That was one of the challenges that we had in making this idea happen. I know Cafe Dolce Gelato is a very popular gelato place here in Houston so I inquired. Thankfully, even though they don't cater per sé, they work with Leo Luca Gelato who does!
It was the best thing that we've added at our reception! Luke and his wife, the owners of Leo Luca Gelato,  together with their tasty gelato pops, brought so much fun at our wedding and our guests thoroughly enjoyed it!

Check Out The Wonderful Comments From Our Guests
"Angie and I had so much fun at your wedding!! It was such a magical night and OMG the Gelato was amazing. I especially liked the Salted Carmel. It had the perfect mixture of salty sweetness. I just feel bad my wife didn't get any…I "accidentally" ate all of hers."– Kevin B.,Guest (Husband of Bridesmaid)
"Salted Caramel was so delicious! I want more! "– Jessica R., Bridesmaid
"I had the cookies and cream gelato at the reception . It was so light creamy and delicious. Just thinking about it I would to have some now."– Barbara T., Guest
"I had the Pistachio and the cookies and cream. I definitely loved them both but preferred the Pistachio for its nutty flavor (and the little Pistachio pieces) and it's creamy texture. Yup…definitely a fav of mine!"– Ndidi W., Bridesmaid
"I don't really remember which flavors I had but I enjoyed it & haven't forgotten the business. (Loved the idea!) I would love to have them at an event."– Jowanza H., Guest/Hostess

"I had the cookies and cream and it was delicious! Definitely had a great taste. Two thumbs up for me!"– John R., Groomsman
"The Mint Chocolate Chip was pretty tasty! Giving them 3 thumbs up! "– John R., Groomsman
Leo Luca Gelato's gelato cart fit perfectly in our venue. It was not intrusive in any way at all. At first, they were set-up outside at the entrance so that guests can enjoy them during the cocktail hour. Later on, they moved inside the reception and it worked seamlessly.
Leo Luca Gelato was such a great addition at our wedding. If you're looking for some ideas or substitute for a liquor bar, consider a gelato bar. It will work out perfectly no matter what season you're getting married. Like I mentioned, we got married in January, a winter month, yet our guests still thoroughly enjoyed the treat!
If you're in Houston, I recommend reaching out to Luke of Leo Luca Gelato at www.leolucagelato.com. It's a husband and wife team and I'm sure that they will work with whatever gelato needs you have whether it's for a wedding or any special occasion.