Our wedding wasn't a fairy tale wedding by no means…but it's definitely the closest thing to it! I hope you have been following my wedding series closely and if you haven't, you can catch up with the series by clicking here.
I was very hands on in our wedding planning process. In fact, we opted not to hire a wedding planner, due to, number one, staying in budget and number two, I would like to see what's going on every step of the way. Unless you have thousands and thousands of money to spend on your wedding, knowing your budget and staying in it is key. My husband and I decided that we will not get in debt because of the wedding. Yes, it only happens once it a lifetime. Yes, it's only one day you can never take back. But it's also one day which you have to consider that once it happens, there's life to live and tackle.
We decided to go with a venue that's not only extremely gorgeous, reasonably priced, and allowed us to pick our vendors ala carte. Other brides prefer all-inclusive but I preferred that I could pick my own vendors. We did our own decor with the help of our lovely coordinators from Dovetail Wedding Coordination (more on this later) and our wedding party who, without even kidding, worked their butts off in putting together the decor. My girls and the coordinators were there since 9 AM and everyone started taking things out of the boxes and setting them all up. I'm so grateful that we had such a hard-working crew to help us out.
I love how all (or most!) the minute decor details that I had envisioned came into fruition. The BIGGEST and most significant part of my whole wedding vision though was the flowers. To say that I couldn't have enough flowers at our wedding was an understatement. I do believe that flowers and candles have a lot to do in setting the atmosphere at your wedding.
Some couples have different priorities and wishes at their wedding. But mine was flowers. My husband, thankfully, was pretty chill about the whole wedding planning, so there were no objections about the flowers at all. And we seriously got a TON of compliments.
As I've mentioned, we decided to go with Kroger's Floral Department for all our wedding floral needs. If there's a Kroger in your city, then you're familiar with this grocery chain. We have quite a few here in Houston and Texas!
See most brides or engaged couples would go to a local florist and there's absolutely nothing wrong with that! Usually that is because they don't normally know or think that a store chain such as Kroger who already offers everyday bouquets could also provide special and custom-made floral arrangements for events and special occasions. And because they have a stronger buying power than a local smaller florist, you could potentially have bigger savings in your cost over all. Having artificial silk flowers throughout was not an option for me, although there were a couple of areas that we had artificial ones and you'll find out in a second. I just love the thought of fresh flowers.
So we went with Kroger's Floral Department and boy oh boy, we were not disappointed at all! They did such a phenomemanl job with our arrangements and I couldn't be happier!
When I first started inquiring about the floral arrangements, I was referred to the manager of the floral deparment of Kroger at the Buffalo Speedway location. Jeff, the manager, did such a fantastic job and I could imagine that it was a ton of work but him and his team did it!
The Ceremony

The ceremony site and the reception area were both in the same venue. The ceremony area already has a gorgeous plain white gazebo surrounded with lush trees and greeneries. It needed very little decor so we opted for simple floral elements in the area.
For the aisle, Jeff, the manager, suggested that we just line them up with white petals, along with the gold lanterns that we have. It was truly gorgeous! His suggestion was on point and it turned out perfect! It was simple and elegant.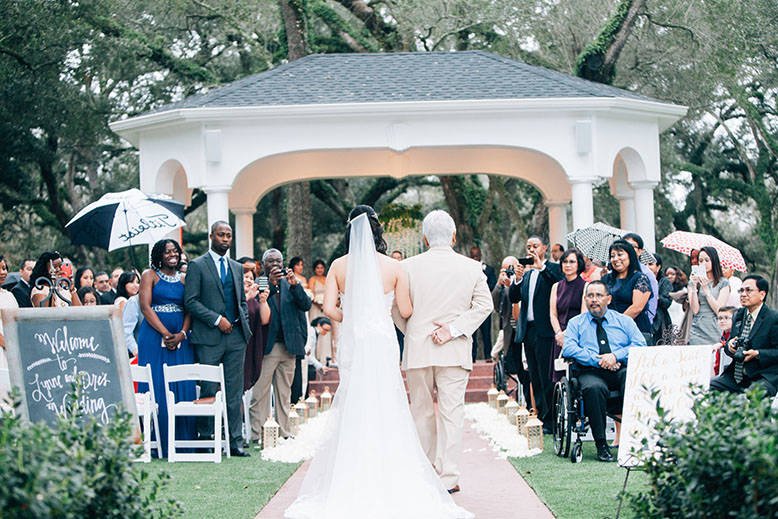 We also rented two short Corinthian columns at Hobby Lobby and Jeff did a couple of arrangements and they put them on each front side of the gazebo. In the background was the articial flower chandelier that I DIYd.
And here's the close-up of those arrangements that we had by the columns in front of the gazebo. It's gorgeous, isn't it? Our wedding colors were cream, gold, and blush so Jeff just added a hint of blush-colored roses here and there but he mainly picked white overall.
Kroger will work with you as far as the arrangements. They will not just go with their ideas and not what you want. It is best to have an idea of what you want so you can give them an idea of what you're looking for. However, allow room for their creativity. Floral arrangement is a skill and a talent. I have so much respect for them for just putting the flowers together at our wedding and making them look good all together.
The Reception

Now the reception area was a little more tricky. The venue looks like a plantation home and since it's not an all-inclusive, like I previously mentioned, when we got there, it was like a total blank canvas and it was up to us to transform it to however we would like it to be.
Thanks to the wonderful floral arrangements from Kroger's Floral Department, the place looked entirely different from where it was at 9 AM the day of our wedding!
We have opted to go with floral centerpieces and had long and short arrangements. Depending on how you can work it out with Kroger, but we were able to provide them with our own trumpet and ornate vases. The tall trumpet ones you can get from Amazon.com for a pack of 6 24" for $75. Such an insane deal!
Be sure to ask your local Kroger's Floral Department to see what they can do for you.

I have a huge thing about chandeliers so I purchased these acrylic glass beads from Amazon and handed them over to Jeff. If you'd rather not worry about the little things here and there about your floral arrangements, just let them know at Kroger's Floral Department and I'm sure that they will make happen whatever you have envisioned.
As for the shorter arrangements, I found these gorgeous clear glass ornate/pedestal vases at Etsy for $14.00 each and it was the perfect vase for the shorter floral centerpieces. I love that they're not totally low but they're not in odd height either where the guests couldn't see each other anymore to talk during dinner.
For the grand staircase, my coordinators decorated them with the petals and the lanterns as well, just like the ceremony aisle.
And by the reception door, the guests were greeted with this gorgeous floral arrangement as they look for their table assignments.
The Bride, The Groom, and The Wedding Party

Aside from all the ceremony and reception floral decors that Kroger, Jeff and his team have put together for us, they also did my bridal and my bridesmaid's bouquets, my groom's and his groomsmen's boutonnieres, my Uncle's (who gave me away) boutonniere, as well as corsages for the Mothers. We also had other wedding party members that are part of the traditional Filipino wedding ceremony that needed boutonnieres and they provided those as well.

Overall, our experience with Kroger's Floral Department was amazing. I gave them an idea of what I wanted and they took it to another level and within budget as well.
If you're a bride and you wouldn't want your wedding to go without beautiful floral arrangements, visit your local Kroger. We had an amazing experience with them and we hope that you would too!
SaveSave
SaveSave
SaveSave
SaveSave
SaveSaveSaveSave
SaveSave
SaveSave
SaveSave
SaveSave
SaveSave
SaveSave
SaveSave
SaveSave
SaveSave
SaveSave
SaveSaveSaveSave