When I've first heard about HP Sprout, I knew right away that I wanted one! I was so amazed at what it can do. Being in the industry that I am, I knew that there's a lot of creative stuff I can do with it, especially in designing and blogging.
I remember when the 3-in-one scanner, copier and fax came out, it was one of the coolest things. Now, HP Sprout came out and it's an all-in-one desktop with a fully-integrated 3D scanner. It's the coolest thing ever, I tell you. The fact that I can scan an actual object, turn it into something digital and vice versa is pretty fascinating. For example, I can scan a lipstick using HP Sprout, manipulate it, and turn it into something printable over on a canvas tote, shirt, or possibly anything you can imagine.

What I really like about it is that it is very user-friendly and a touch-screen. I haven't had my 5 year-old niece over at my house to play with it yet but I wouldn't pass it by her to learn how to operate HP Sprout easily.
Now I couldn't wait to get my hands on it to create something. I've got so many ideas in my mind but for the sake of showing you on this blog post, I decided to create my own pumpkin table decor. Of course there are so many pumpkin decorations you can buy but let me tell you this…there's nothing fulfilling like seeing something you've actually personally created. I will be honest, I'm not the most DIY person but I like to get a lil crafty sometimes.
So I got me a cute little pumpkin to scan for my project in mind…
I started by scanning the pumpkin using the HP 3D Capture Turntable. You can scan using the HP Sprout Touchmat even without the turntable by doing a manual scan but the 3D Capture Turntable makes scanning a 3D object a lot easier. You can do multiple scan cycles to make sure that you capture every angle that your object has. It took a little bit of trial and error for me to get the outcome of the scan that I wanted but once I've learned how it works, it was easier afterwards.


The 3D Capture Turntable is a plug and play so you don't need additional technical skills to make it work. All you have to do is connect it to one of the machine's USB port. Once it's plugged, you will get a prompt on the HP Sprout screen that will walk you through the process.


You can edit your 3D model by using the tools on the Touchmat. You can add texture and color and save it as a photo for regular printing. In my case, I added a glossy and dark orange finish to my 3D model to make it as close to the real thing as possible.


I don't know where I've been for the past couple of years, but I didn't know that 3D printing can actually happen in a regular household. By that I mean, 3D printers are easily available to consumers so they can create whatever they have envisioned in their minds.
There are quite a few 3D printers out in the market based on what I've seen but the one I got is the Dremel Idea Builder. I must admit that I encountered some snags in printing my 3D object. There's definitely a learning curve from getting your scanned object into 3D printing. I had to download a couple of free 3D design software which are MeshMixer and the actual Dremel Idea Builder software. There are a few things in between that you have to learn and it requires some 3D technical skills. I didn't full understand everything at the beginning but after playing around with the software and understanding what my file needs in order to print right on the 3D printer, I was able to print my pumpkins!
Check out the HP Sprout, HP 3D Capture and Dremel Idea Builder in action on the video below.

Oh hey, in case you're wondering what my final product looks like…tada!!! I bought a glossy and glitter spray paint from Home Depot, some fall leaves from Hobby Lobby, and a dish from Michael's. So what do you think? Pretty neat, eh?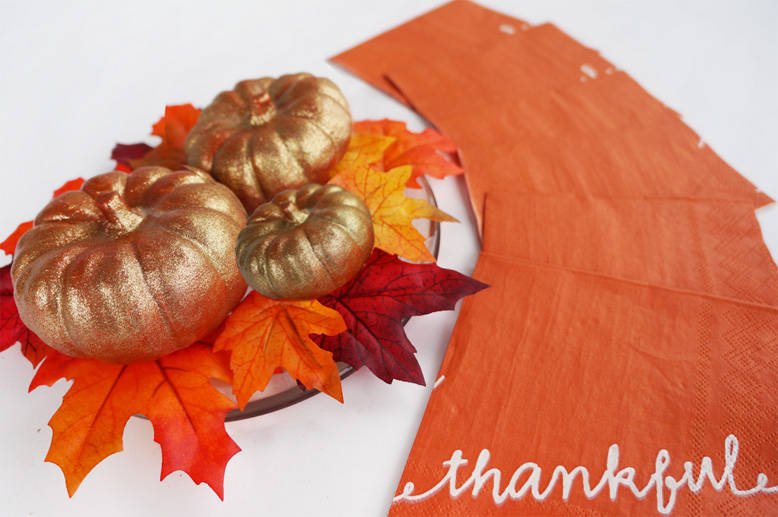 Be sure to check out HP Sprout's Creator Gallery to see what other users have created using HP Sprout's 3D technology and click here to locate a retailer carrying HP Sprout if you're interested in purchasing.
…………………………………………………………………………………………………………………………………………….
Disclaimer: This post is sponsored by HP. The opinions expressed herein are mine and are not indicative of the opinions or positions of HP. Thank you for supporting LynneGabriel.com sponsors. They make my blog possible!
SaveSave