Being in my 30's, I need to especially take good care of myself, in all aspects. Although I don't feel my age at all, thank God! Modesty aside, a lot of people say I don't look my age as well. I can definitely give my genes a credit for that. However, as I age, I don't completely leave it up to my genes.
I've always taken good care of my skin growing up. As I age though, I have to take extra good care of it. After all, aging becomes first visible on it. Obviously, eventually our skin will give in to gravity but there are simple ways to prevent its premature aging. You can be in your 30's, 40's, 50's or even 60's and still look young, not just feel young.
I have received a lot of compliments throughout the years about my skin and often I'm mistaken to be about 10-12 years younger than my age. Now don't get me wrong, I don't believe it's perfect at all. But considering my age, it's pretty healthy-looking. I don't have a complicated routine, just four basic things which some of you are probably doing anyways.

1. Avoid wearing too much make-up.
Although I wear make-up, I am not a huge fan of make-up. The only times I ever wear a full make-up on is on Sundays, photoshoots, and events. I don't wear make-up on a daily basis and if I need to go somewhere during the day, I would wear basic such as BB cream, foundation, powder, concealer, lipgloss and mascara. Cosmetics can cause pre-mature aging of the skin. Try wearing lesser make-up during the day and if you have to wear make-up on a daily basis, try to at least give your skin a day or two to breathe and rest by not wearing a make-up.
2. Use a moisturizer and sunblock consistently.
Moisturizer and sunblock are a basic must-have in skin care. Your skin will not be able to combat premature aging without applying moisturizer daily. I must admit though that I tend to forget wearing sunblock a lot of times but that's because I work from home and I hardly ever go out during the day, except when I have to run a few errands. I use an oil-based gentle moisturizer imported from Asia and a minimum of 30 SPF sunblock. My aesthetician suggests that we use at least a 50 SPF. Re-apply moisturizer on your problem spots throughout the day. This is a MUST, especially during the winter when the cold weather is brutal in our skin.
3. Drink plenty of water.
The skin is the largest organ in our body. About 90 percent of it is water and about 55 to 75 of our body is water. By drinking plenty of water during the day, we're making sure that our skin is well-hydrated and our body is getting the nutrients it can get from water overall. You will be surprised how drinking plenty of water can help prevent a lot of signs of premature aging in our skin.
4. Remove make-up and wash your face before going to bed.
No matter how tired I am at the end of the day, I make sure to remove my make-up and wash my face. I don't sleep with make-up on, not even just a BB cream or a foundation. I make sure I remove them all. In fact, a lot of times, after church, if I have to go somewhere where I'm not required to wear make-up, I just remove it. I use Dickinson's Original Witch Hazel NEW Daily Refreshingly Clean Cleansing Cloths to remove my make-up and even just to freshen up my face after a hard day's work.
I like Dickinson's because it's gentle and effectively cleanses my skin. It's made up of Witch Hazel harvested from New England forests. It has a non-drying formula so you don't have to worry about having a dry skin from using the product. Another thing about it is its toning properties – it will help minimize the appearance of pores, eliminate oil & shine and nourish even flaky, dull skin.
I have the Dickinson's Original Witch Hazel NEW Daily Refreshingly Clean Cleansing Cloths which come in individual packs and I also have Dickinson's Original Witch Hazel On-The-Go Refreshingly Clean Towelettes. I actually carry both in my tote. You can get them at Walgreens, Duane Reade, select Walmart and other fine retail stores.
Be sure to check out Dickinson's Facebook and Instagram pages for a special offer coming soon!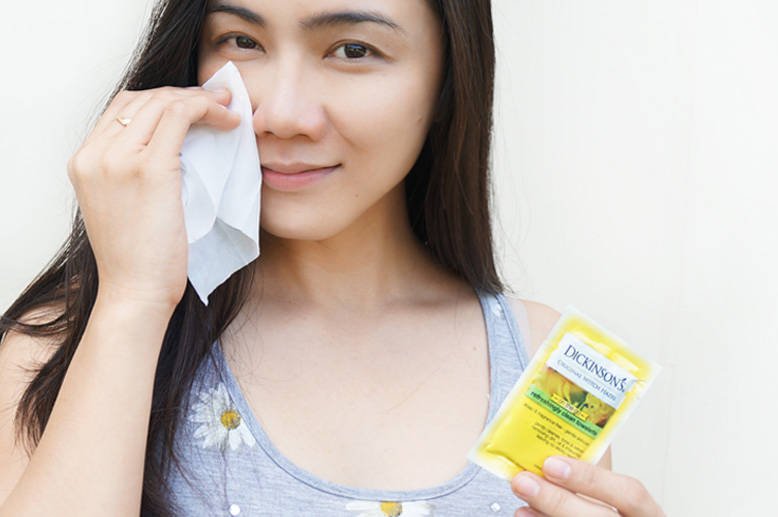 …………………………………………………………………………………………………………………………………………….
Disclaimer: This post is sponsored by Dickinson's and compensation is provided by SEM. The opinions expressed herein are mine and are not indicative of the opinions or positions of Dickinson's. Thank you for supporting LynneGabriel.com sponsors. They make my blog possible.
SaveSave