Like many women, there's always something about me that I don't like. One day I don't like how my body shape is, the next day, I don't like my hair. Not to sound ungrateful and discontent with who I am, but I guess that's just part of being human and… a woman at that.
Among many other confessions I've already made on this blog, I would like to add that I do have a love and hate relationship with my hair. My mom can testify that a lot of times during our photoshoot, my hair is one that is always to get in the way of a smooth session. I need to always have a little bit of "wind factor" to add volume to it during photoshoot ,otherwise, it will look so limp. It's never happy with strong wind but never happy with no wind either. It has to make sure it has just the right amount of wind. Go figure.
Another challenge I had with it recently was the dryness. When I had hives a few months ago all over my face, neck, and arms, I had to start using baby products – a baby shampoo for my hair and no conditioner at all because the hives get triggered. So my scalp got flaky and hair turned so dry (I know, yucky!). The baby products worked great for a time being while I was dealing with hives but they don't have enough substance to moisturize and condition my hair long term. I realy haven't been able to get the shine and moisture of my hair back since then. I recently had just re-discover the right hair care products for me, including a hair brush. Yes, a hair brush!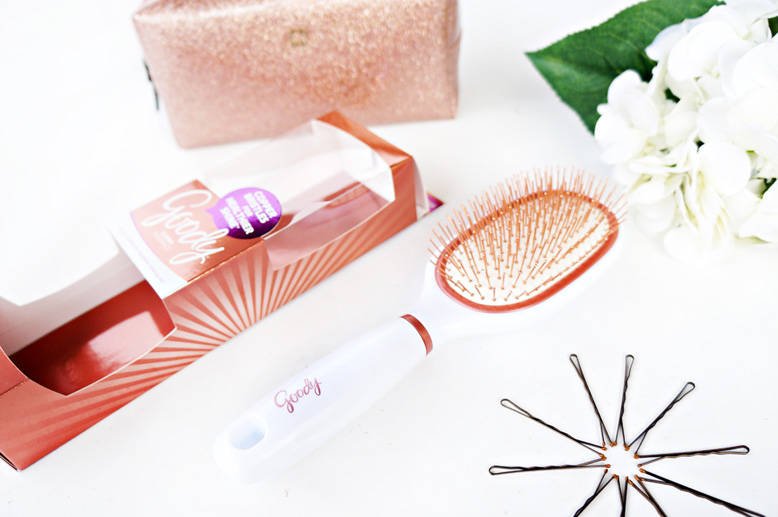 You would have thought that for someone like me who has long hair pretty much all her life would know that part of having a healthy-looking hair is the use of the proper brush. Yet, all of my life, I've never really been particular about any, except that I don't really use the soft bristles one. They are not strong enough for me since I have plenty of hair.
My recent discovery is this Goody Clean Radiance that's available at Walmart. Like I said, I never really knew the importance of using the right kind of brush for your hair. I've always used the plastic ones and I've had my last one for about 5 years at least! (Say what?) Because I didn't know the importance, I just never really got to trying and using anything else, other than what I had for the longest time, until I had to try Goody Clean Radiance brush.
My reaction wasn't so pretty though when I first used it. Having used plastic bristles for as old as I am, my scalp was so used to plastic bristles for goodness' sake, so when I first used the Goody Clean Radiance with copper bristles, you would have thought my scalp got electrocuted or something. Okay, that might be a little exagerration, but you get the point.

After that first try, I gathered myself and tried the brush once again, slowly and gently. It's really not painful and it won't be if you're used to hard bristles. Newer brushes also tend to be hard like that. After a few more tries, my brain told my scalp, "See it wasn't that bad!" Now, Goody Clean Radiance, my hair and my scalp have such a lovey-dovey relationship.
In other words, I love it! Honestly, I noticed an immediate change in my hair's texture the first few times I've tried it. It feels softer and smoother. Wish I had known about this brush when it first came out!
So what's so special about Goody Clean Radiance brush? The copper bristles reduce natural build up from hair care products, even in shampoo and conditioner. I guess that's why I noticed a significant change after a few tries because it removes those yucky build up that tend to weigh our hair down and make it look dull.
I'm looking forward to using this brush for years to come. If I had seen a noticeable difference within a few times of using it, I can't imagine the result that I will have in using it long-term.
It's a bit pricey compared to other brushes but how much is your hair's moisture and shine worth? Goody Clean Radiance is available at Walmart and Walmart.com.
…………………………………………………………………………………………………………………………………………….
Disclaimer: This post is sponsored by Goody. The opinions expressed herein are mine and are not indicative of the opinions or positions of Goody. Thank you for supporting LynneGabriel.com sponsors. They make my blog possible!