Photo Credits: This is our actual house but photos were taken from Realtor.com listing.
I've been meaning to do this for the longest time now but to be quite honest, I really didn't take good photos of our house when we first moved in. However, while gathering some information about our property, I stumbled upon the Realtor.com listing with awesome photos. I got so excited that I grabbed them so I can share them with you!
We closed on our house October of last year (2017)  so it's been about 10 months now since we've moved. Our house is pretty much furnished now with the exception of some empty walls and wall decors lying on the floor waiting for my husband to hang them.  Haha!
This is our first home together. My husband had his own house before we got married and I had mine. I moved to his house and we lived there for a few months until we sold it.
The house-buying process these days was pretty challenging but we're grateful that we finally got a house in God's perfect timing.
To be honest, this wasn't our first choice. I think this may have been our fourth choice. We looked at and prayed over about 4-5 houses maybe and everything fell through but this so we knew that this was the one for us.
We were looking for a ready-to-move-in house in the community we're in right now. I, personally, wouldn't want to go somewhere else. I just fell in love with it. However, there's only a couple of inventory homes that were ready-to-move-in at the time. One with an elevation that has a sloped portion (which I totally disliked) and the one we ended up buying.
When we put a contract on this house, all the design aspects were already put together and we really loved all the details, including the color scheme, except that, I probably would have picked a different elevation, and white cabinets. However, my husband loved the smoked brownish-grey cabinets so I have to compromise.
Here's our wishlist when we were looking for a house:
Dedicated study/office for my home office
4 Bedroom and 3.5 Baths
High ceiling
Media Room
Game Room
Big Closet Space
Open concept
We pretty much got everything except the closet space is not big enough for our stuff and the open concept isn't fully open as I would like it to be.
It's a two-story home with one bedroom (master) downstairs and 3 bedrooms and 2 baths, media room, and a game room upstairs.
The Front of the House 
Like I said above, I would have picked a different elevation but between the sloped elevation and this one, we obviously went with this one. Besides the stone and brick combination was pretty awesome! I'm also not a huge fan of red bricks so the color of this one is perfect.
The mini porte chochere was definitely a bonus.
The Inside
One of my wishes in a house is a high ceiling and this house has just that. As soon as you walk in, you will be greeted with a high-ceiling rotunda and a grand staircase.
To your left is the formal dining room.
And to your right, as soon as you walk in, is the study and a hallway to the guest powder room and garage.
One of my favorites is the 8-ft door!
The Study
This is my home-office which is high-ceiling as well. The French windows give lots of natural light which is amazing! And it also has French doors!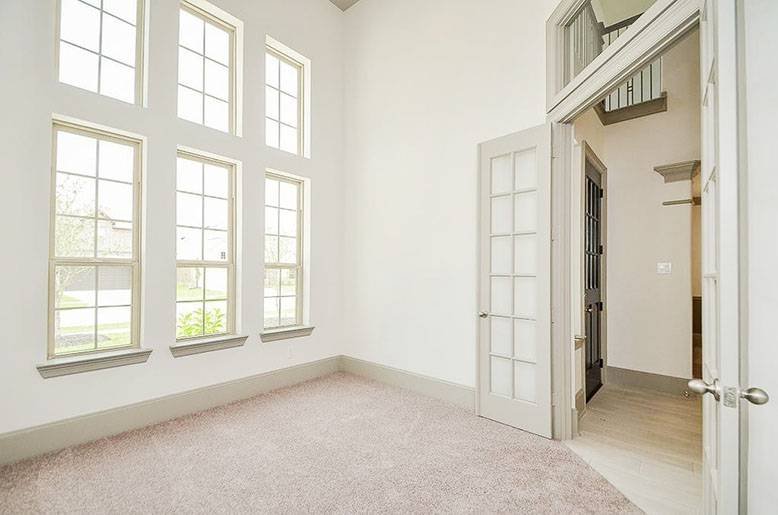 The Formal Dining
I'm not sure if homes in other states have formal dining but in Texas, most homes have a separate formal and breakfast area.
This is a pretty small area but it's good enough for a formal dining. Whenever we have a gathering here at home, most people hang in the kitchen, breakfast, and living room.
The Living Room 
And this is our living area with 4 big panels of windows, a fireplace, and a space for a built-in cabinet which until now we haven't gotten one built. Currently, the living, the master bedroom, and the upstairs are carpeted  (it looks darker in the photos) but we're looking to get everything on the first floor tiled in the near future. We just don't have the time to move things and have contractors around.
This is the view of our living area and kitchen coming from our bedroom. This is what I was referring to when I said it's not a total open concept. There is a division that is a high bar with cabinets behind it.
We originally planned on getting it removed but it's a load-bearing structure and when we did a poll among our friends, everyone said to keep it so we did.
Another view of our living area from a different angle showing a portion of the second story of the house. It's open from upstairs so we can totally see the living room and the entrance from upstairs. You can also see the high-ceiling and rotunda from this angle.
The Kitchen + Breakfast Nook
We love our chef style kitchen! It's pretty big with marble backsplash and quartz countertops. Like I said above, I would've preferred white cabinets but my awesome hubby loves these cabinets so we're sticking with it for awhile.
From this angle, you can see the breakfast area.
The view of the kitchen from the breakfast nook.
The house came with stainless steel kitchen appliances, except the refrigerator.
Another view of the kitchen from the breakfast nook.
The Master Bedroom + Bathroom
Welcome to our master bedroom! It's a pretty good sized bedroom so I can't complain! I also love the bay windows and in case you haven't noticed, there's some details on the ceiling as well.
The view from the window side.
And this is our master bath with a spa tub and separate vanities. Who gets the bigger vanity? The wifey of course!
This is my husband's vanity and showing a portion of our closet as well.
Another view of my vanity from my husband's vanity side. He was not too happy that he gets a smaller vanity. HAHA!
The Second Floor: Media Room + Game Room
One of my husband's wishes is the media room which is currently his man cave. I do hang with him there too though, especially on Sunday nights when we just like to hang in the house and watch a movie or two.
This is the view of the game room with a view of the portion of the media room.
The media room has two doors which my husband is thinking of replacing with a barn door. Not sure exactly how it's going to look but I would prefer to keep this. However, this is not my cave, it's his, so he can do whatever he wants.
When you go upstairs, to your right, we have an extra workstation where we put our extra computer and other things. This is such a great bonus! In the picture, you will see a portion of the 2nd bathroom upstairs.
The Second Floor Bedrooms + Bathroom
There are 3 bedroom upstairs and this is one of the bedrooms, which is pretty special. It's a pretty small area but it has some sort of extension which you will see on the left of the photo.
It leads to this area which we are making into some sort of reading or prayer nook. It has a view of the entrance, the stairs, and a portion of the living room. It's such a sweet space and another great bonus!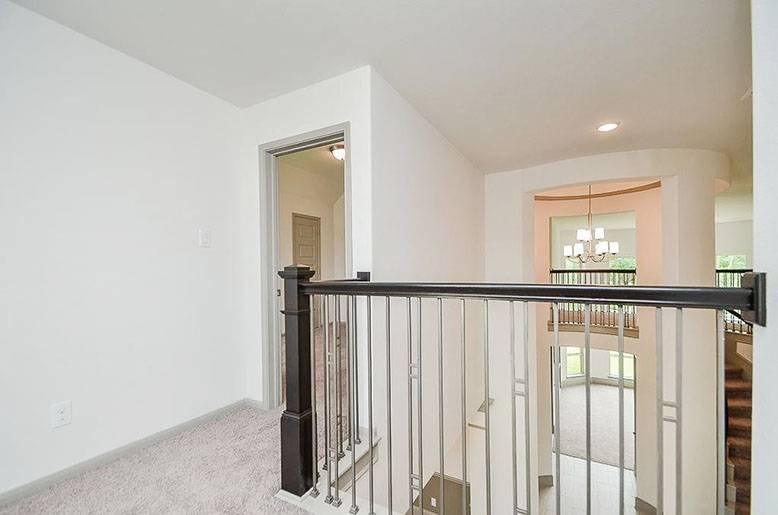 This is the double sink bathroom upstairs.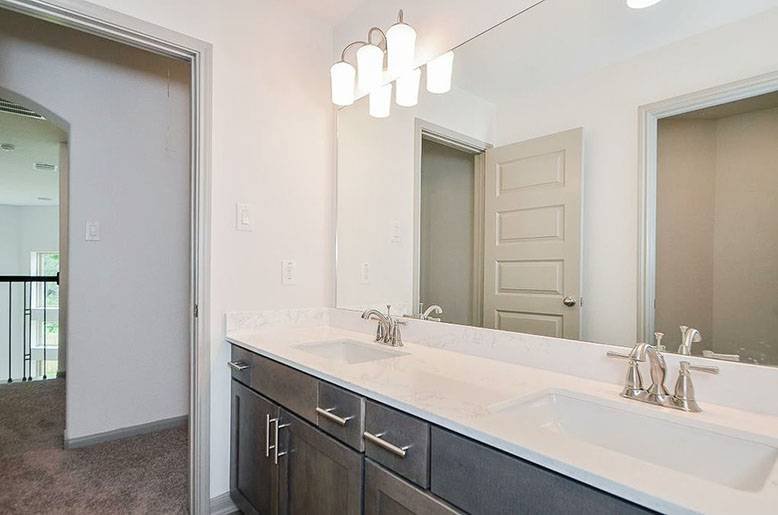 The other two rooms didn't have any photos but there's really nothing special about them. There are 2 guest bedrooms upstairs and we are going to use one as a nursery. That particular room is also leading to one of the attics which we have converted as an extra storage space. It has the potential to become a play room in the near future.
The Backyard
We have a pretty big backyard as well! My husband loves to BBQ so this is perfect! The covered patio is normally where I hang (if it's not raining) whenever I'd like to take a break.
Hope you enjoyed this house tour! Hoping to do a furnished house tour soon but finding a good contractor for a built-in cabinet in our living area is proving to be quite challenging. If you're in the Houston area and can recommend someone, please don't hesitate to comment!