The moment I stepped foot in Houston while visiting back in 2007, I knew it was home. It may sound dramatic but that's the truth. When we moved several months later from Miami, the only adjustment I had to make was remembering the gazillion highways and learning how to drive in Texas-size lanes. Oh and maybe the time and distance it takes to get from one place to another. You know, as they say, "Everything is big in Texas", and they ain't lying.
Texas is a country of its own (ahem!) and Houston is the fourth largest city in the nation. I really can't help but be proud to be a Texan! There are so many things to love about Texas and my city but let me just share 5 of my favorite things…(aside from the fact that I can wear Cowboy boots of course!)
1. Food, Food, Food!

There's no doubt that we have the best BBQ in the nation! We have the best Tex-Mex, we have the best Mexican food, just overall the best! It's not a surprise to put on more weight when you live in Texas (no offense! Because I have gained weight since moving to Texas!), the food is just too darn good!
BBQ spots are everywhere, real authentic Mexican restaurants are dime a dozen, and so are burger joints.
And when Ozarka sent me a curated box of products from Texas for their #FromHereForHere campaign, I was thrilled to discover that we have some local products that are just pretty amazing! Another reason why you will love Texas, really!
Imagine being able to bring those authentic Texas flavors from the restaurants here in Houston to my house. I'm getting married pretty soon so I'm going to need these ingredients to find the way to my husband's heart!
I'm super excited to experiment with this – especially with the Yellowbird Japaleño Sauce, Snow's BBQ Sauce, and the 3 spices: The Juicy Steak, Sweet and Tangy Mustard Seed from Tasty Elevated, and Black Garlic/Rosemary from Jelly Queens.
Since my fiancé and I love to entertain, these will definitely come in handy to add that extra kick to those burgers and veggies when grilling during the summer holiday parties – you know like Memorial Day, 4th of July, and Labor Day. We Texans love to party!

And what's a meal in Texas without chips and salsa…or QUESO? Anyone? Chips are a staple in any Tex-Mex meal. It feels incomplete without it. What better tortilla chips to serve than Paqui Tortilla Chips? It's crafted with unbleached, untreated flour, or by stone grinding corn.
Oh and here's a TRIVIA: Do you know that Ozarka® Brand Natural Spring Water comes from 3 Texas Springs and has a uniquely Texan fresh taste. I guess you will never know until you try! *Wink*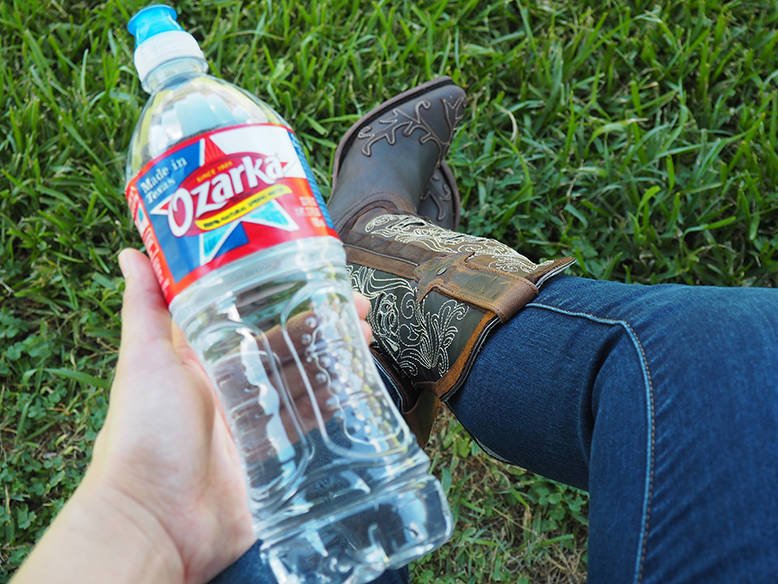 2. Places

Houston is a historical city and as you can expect, a city as big as H-Town, it's impossible not to find anything to do – depending on what you're in the mood for! We have so many national parks, clubs, museums, shopping malls, and more! Your best bet is to go to www.visithoustontexas.org to see attractions as well as discount coupons.
3. Culture & Diversity

Houston is one of the most diverse cities that you will ever visit if you're not from here. In fact, according to a report from Rice University based on an analysis of census data from 1990, 2000 and 2010, Houston is the most ethnically diverse city in the country. You will find every single nationality here in H-Town.
4. People

Photo Credit: media.nrp.org
I'm pretty sure you've seen on the news that Houston was heavily flooded a few weeks ago due to non-stop rain. There were hundreds of homes and cars destroyed, properties taken by the flood, and sadly, as well as lives. But Houstonians were resilient and humanitarian. Instead of people looting other people's homes and taking advantage of the situation, Houstonians came together and helped each other out. I'm one proud Houstonian! And I know that if this is to ever happen in any other city here in Texas, any Texan will do the same thing.
5. Lakewood Church

Photo Credit: Wikipedia
Lakewood Church is one of the main reasons why Houston is home for me. You're probably wondering why how the nation's largest church can feel a home for someone? I love this church and our pastors Joel and VIctoria. This is where my current foundation is at. This is where I found my future husband. This is where I feel love and surrounded by many wonderful people and I'm humbled and honored at the same time to call Lakewood Church my home church.
…………………………………………………………………………………………………………………………………………….
Disclaimer: This post is sponsored by Ozarka. The opinions expressed herein are mine and are not indicative of the opinions or positions of Ozarka. Thank you for supporting LynneGabriel.com sponsors. They make my blog possible!