For most DIY brides like myself, the question that always pops-up is if she should hire a Day of Coordinator and it's understandable why. A Day of Coordinator is not cheap and because every dollar counts when it comes to a wedding, a lot of times, this part is what's being considered cut off.
If you've already spent months of planning your wedding and you have every detail of it down to the T, it is wrong to assume that everything will go well. From my experience as a bride, every single person involved in your wedding needed to be communicated with something to make sure that the day goes by as close to what has been planned as possible.
When my husband (then boyfriend) and I got engaged back in June of 2016, I immediately went into planning mode days after. I have a certain vision of how I would like our wedding to be so I would rather look for the vendors myself than pay a planner. However, I knew that a Day of Coordinator is essential and here are the reasons why:
1. A Day of Coordinator will allow you to focus on being the bride.
I knew from experience that there's a lot of things involved on your actual wedding day. It's more than just having these details on paper. All those months of planning are actually being executed on the day of your wedding. This time, you're not the planner anymore, you're the bride.
Between getting your hair and make-up done to having photos taken with your bridesmaids, groomsmen and groom to being at the ceremony and reception, it's practically impossible to be everywhere at the same time.
You can't run the show and be the bride all at once. It's just not possible. You need to relinquish that control to someone else and allow every special moment to becoming a Mrs. to sink in. I know at some point on my wedding day, I tried to be a design coordinator and bride at the same time. The result: I was all over the place and tripped and fell on the stairs! From that moment on, they locked me up in the Bridal Suite (funny!) and never let me out of the room again until it was time for the ceremony.
One thing's for sure: The day will go by fast and before you know it, it's time to do the "getaway" for your family and friends to say goodbye to you as a couple and embark on your honeymoon. And if you don't focus on being the bride, at the end, you would wish that you did. I know I wish I could have done better on this.
2.  A Day of Coordinator will be your point of contact for all your vendors.
Even though a Day of Coordinator is called a Day of Coordinator, their role really takes place a month from your wedding. In my case, when we hired Amandalynn Porta of Dovetail Wedding Coordination, she immediately went into coordinating mode two months before the wedding.
First, she met up with my husband and I to discuss the details. After the initial meeting, she made sure that I send her the list of our vendors so she can reach out to them and introduce herself as the coordinator.
A month, a week, and a few days into the wedding, she reached out to the vendors once again to make sure that they have everything that they need for our day and that they know the logistics and pertinent details such as: call time, venue, number of guests, loading area, etc.
See, as your wedding day gets closer, the stress and the pressure becomes stronger. Emails and phone calls from vendors, wedding party, friends and family become more frequent. With a coordinator being your point of contact before and during the wedding, you will remove some of these responsibilities off your plate so you can be more relaxed.
A Day of Coordinator will also take care of all your vendor payments. You wouldn't want vendors to be coming up to you for payments even before the celebration ends so they can pack up on time.
They also took care of all the logistics on the day of my wedding – called and followed-up with the vendors when they hadn't showed up on their call time, instructed them on what to do and what else needed to be done, directed the wedding party, directed the guests and directed the whole wedding program.
I couldn't imagine not having Amanda and her assistant Sianne as our coordinators at our wedding.
3. A Day of Coordinator can serve as your decorators.
Your Day of Coordinator can serve more than just a coordinator. Dovetail Wedding Coordination went above and beyond their role as coordinators.
Because I was a DIY bride and our wedding venue wasn't an all-inclusive one (which I preferred), we brought all of our own wedding decors. Talk about boxes and boxes of stuff they had to open and sort through.
I was grateful that Amanda and her assistant Sianne were not hesitant to roll up their sleeves and sit on the floor when they needed to, to make sure that all the decors got put up the way I had envisioned them.
Together with our wedding party, they transformed our venue into such an enchanted place.
Amandalynn Porta of Dovetail Wedding Coordination helping with the decoration.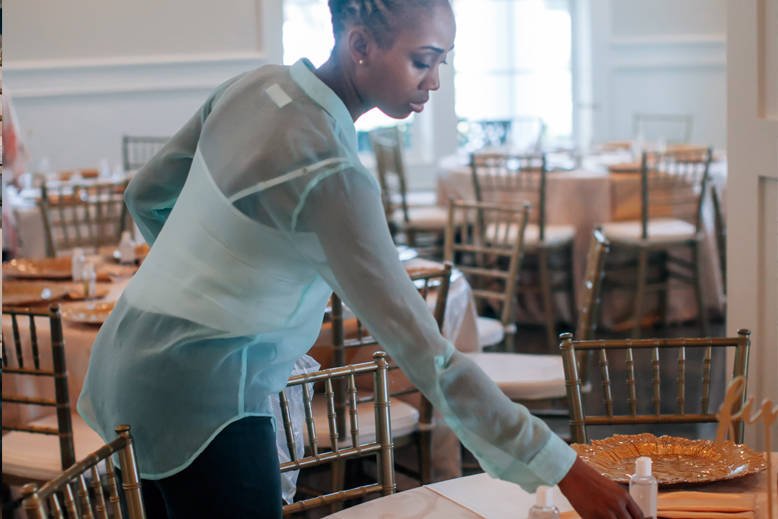 Sianne of Dovetail Wedding Coordination helping with the table set-up at our wedding.
4. A Day of Coordinator will be your problem solver.
On the day of your wedding, things that you have not expected will pop-up and things you have planned might not happen. Even though I had everything planned and written down on a word document for Amanda to use to run the day, there were still some things that: 1. I might have missed and definitely missed. 2. I might have not expected and definitely didn't expect.
Some of those things were: Uninvited guests, people taking over other people's seats even though we had a table assignment, weather, people not showing up on time, etc.
While I was locked up in the Bridal Suite, I could tell something was going on at some point but no one really would tell me what was happening. It felt funny at first but I'm just glad that they handled it the way they did.
These two ladies from Dovetail handled our wedding day with the utmost professionalism. It felt like they were our best friends that day and they had done everything they could to protect us and our wedding and covered all the bases.
I couldn't be more grateful!
On my next post, I will share some tips on hiring a Day of Coordinator so stay tuned.
If you're a Houston bride-to-be and if you're looking for a Day of Coordinator, I highly recommend Dovetail Wedding Coordination. You can check them out at www.dovetailweddingcoordination.com.
SaveSave
SaveSaveSaveSave