This post contains affiliate links.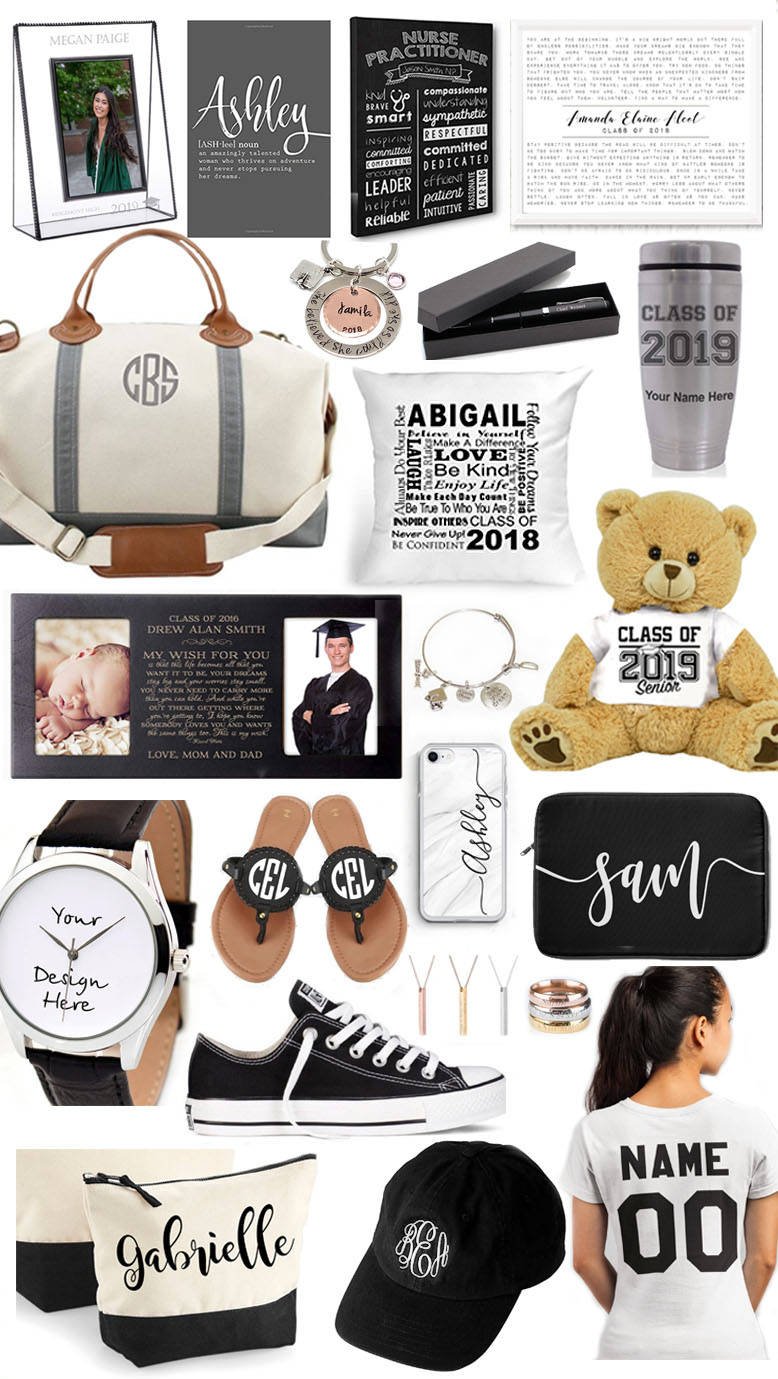 Are you looking for some personalized gifts for her?
Graduation season is right around the corner. Buying graduation gifts can prove to be challenging for some. I decided to curate 22 meaningful and personalized graduation gifts to help you out if you're in the market for some.
I decided to go with personalized because it gives the impression that you have given a lot of time and thought into the gift like no other. It will also set your graduation gift apart from other gifts.
These personalized gifts post is geared towards girls/women but a lot of them can definitely be personalized for your male graduate as well.
Feel free to check it all out and hopefully you will find some that you will find fit for your graduate and make her feel celebrated for her accomplishment!
On this post, I will show you 22 meaningful and personalized graduation gifts for the girl or woman in your life:
Personalized Graduation Picture Frame
A picture says a thousand words. This personalized graduation picture frame with name, school name and class year is a wonderful gift to preserve her graduation photo for years to come. Whether she's going to high school or college, this frame holding her photo will make a great display in her room.
Personalized Journal
Encourage your graduate to document her  journey by gifting her with a journal with her name and its meaning on it. It's a great personalized gift that you can bundle with other gifts for her.
Personalized Wall Art: Nurse Practitioner, Nurse, Police, Doctor, Firefighter, Veterinarian
Whether she's graduating from high school and pursuing a professional career or graduating from college, this personalized wall art will make a great gift! Personalized with her name and career (or future career) and kind words, this wall art is sure to encourage your graduate! 

Personalized Message Wall Art
This frame with encouraging message, name of your graduate and the class year is the most positive and encouraging gift you can ever give. Frame is not included but you can get it framed professionally at Michael's or Hobby or any local art store you have that does framing. Your graduate can look at this in years to come and constantly be reminded of her accomplishment.
Monogrammed Weekender Bag
Who wouldn't want to have this cute monogrammed weekender bag? It doesn't matter whether she graduated from high school or college, this monogrammed weekender bag will serve her a good purpose when traveling!

She Believed She Could Personalized Key Chain
Add this lovely She Believed She Could personalized keychain to your other personalized graduation gifts for her.  This keychain can be customized with her name and her class year. Also embellished with a graduation cap pendant and birthstone.

Personalized Ballpoint Pen
Another personalized item that will make a great addition to your graduation gift bundle! Not only is the personalization of it meaningful to your graduate but it's also functional. Who can't use a pen? Going to college or going to work, she can always use a pen no one would have an interest in because it has her name on it!

Personalized Travel Mug
Oh don't let this travel mug fool you. It may look a bit masculine for her but it will prove to be useful for outdoors and traveling during summer. Have her beat the heat with some cold drink in this personalized mug.

Personalized Throw Pillow
Is your graduate a nap-login' person? Or maybe a home decor enthusiast? Whether she loves to take a nap or loves to decorate, this personalized throw pillow with encouraging words will make a great gift for her.
Personalized Picture Frame Milestone
Remind her how absolutely you love and adore her and tell her what your great wishes are for her with this picture frame holding her baby photo and graduate photo in one!

Personalized Graduation Bangle
This graduation bangle with diploma, graduation, "carpe diem", "live your dream" and initial pendants will make another great gift and reminder of her accomplishment. Great solo gift or bundled with other personalized gifts mentioned her.

Personalized Marble iPhone Case
You can't go wrong with an iPhone case…but a marble and a personalized one at that? It's going to be thrilling to your graduate. Marble print is such a big trend right now. It's both minimalist and elegant.

Personalized Graduate Bear
Ahhhhhh how absolutely adorable is this graduate bear? Cozy, huggable, and can be personalized with name and year class.

Customized Watch
This minimalist watch that you can customize with your graduate's photo, pet, or name or her name and class year will make an amazing gift. It's practical and functional at the same time.

Monogrammed Sandals
Warmer days are here! How about a pair of monogrammed sandals for your graduate? She can wear this going around town during spring and summer or take it with her to travel. Also comes in other colors.

Personalized Laptop Sleeve
Yet another practical and useful personalized gift for her.

Personalized Converse Shoes
Chucks are always fun! But personalized them? They're even more fun! Also comes in different colors. You can choose shoestring colors and personalize them with name, graduating class year, and add Swarosvki crystals for your bling-loving graduate.
Personalized Necklace
This personalized drop necklace is just lovely. Comes in rose gold, gold, and silver. It has 4 sides that you can custom-engraved with name, graduating class year, a quote, and whatever else you'd like to put.

Personalized Engraved Ring Stack
This personalized three tone engraved ring stack (or stacking rings) will make a great additional gift to your graduate. Bundle this with the personalized necklace above and another personalized gift on this list such as the pen or iPhone case.

Personalized Clutch / Make Up Bag
Every girl needs a make-up bag! But a personalized make up bag that she can also use as her little knick-knack bag will rock her world!
Monogrammed Hat
A casual, practical and sporty gift! This monogrammed hat will prove useful during summer! Will also make a great item to take with her for traveling or any outdoor events. Also comes in other colors and different monogram fonts.

Custom Name and Number T-Shirt
Gotta love this shirt that you can customize with your graduate's name and favorite number. Shirt comes in red, blue and black.
In summary, this post showed you the following meaningful and personalized graduation gifts for her:
Personalized Graduation Picture Frame | Personalized Journal | Personalized Wall Art: Nurse Practioner, Police, Doctor, Firefighter | Personalized Message Wall Art | Monogrammed Weekender Bag | Personalized Travel Mug | Personalized Picture Frame Milestone |  Personalized Throw Pillow | Personalized Ballpoint Pen | Personalized Graduation Bangle | Personalized Marble iPhone Case | Personalized Laptop Sleeve | Customized Watch | Monogrammed Sandals | Personalized Converse Shoes | Personalized Necklace |Personalized Engraved Ring Stack | Personalized Clutch / Make Up Bag | Custom Name and Number T-Shirt