This post contains affiliate links.

Wedding season is once again upon us. According to Wikipedia, there are 2.5 million weddings every year in the US alone. So just in case you have been invited to one, two or even three this year and you're wondering what to wear to a wedding as a guest, I'm here to help!
There are several different factors that you must consider and those are:
1. What's Requested or Required by The Couple
You will often know what the couple's wishes are when it comes to their wedding guests' attire by what's indicated on the invitation that you have received.Often times, it will indicate: "Black Tie", "Formal or Optional Blacktie", "Formal or Semi-Formal", "Semi-Formal or Dressy Casual", "Cocktail Attire" or "Casual Attire".
Black Tie means that it's an evening event and men are required to wear a tuxedo while women are required to wear a long gown or a long dress.
Formal or Optional Black Tie means that men can wear a tuxedo but don't have to. However, men must wear a suit and tie. Women, on the other hand, have a choice of wearing a long gown, a simple yet elegantlong dress, or a fancy cocktail dress.
Formal or Semi-Formal means that men have the option of wearing a full suit and tie or wear a shirt and tie. Women can typically wear a midi or maxi dress or even a nice cocktail dress, nothing too fancy in this since it's either or.
Semi-Formal or Dressy Casual is obviously downgrade from the formal requirement. Men can wear a blazer and tie with a pair of jeans and women can wear any dress or dressy top and skirt combo.
Cocktail Attire indicates that women can wear cocktail dresses which are normally above the knee length. Men, on the other hand, can wear a suit and tie or a shirt and tie only.
Casual Attire usually means that anything goes that is appropriate for the venue and that the wedding is not fancy at all.
If for whatever reason (perhaps they forgot to indicate or just simply do not require any at all), no attire requirement is indicated, you still would want to ask the bride or groom (whoever you are friends or related with) if they have any preferences as far as the outfit goes.
My husband and I actually indicated "Semi-Formal to Formal". We were going for an elegant atmosphere and our venue was elegant so we wanted our guests to come dressed appropriately for the occasion.
If you want to check out some photos from our wedding, visit this section on my blog.
2. The Color Scheme of the Wedding
Unless you're part of the family or the wedding party, avoid wearing solid colors from the couple's wedding color scheme. This specifically applies for women if you're planning to wear a solid colored long dress or cocktail dress. Splashes of color or accents that are similar to their color scheme are fine.
Ladies, I would also advise that you ask the couple if it's okay to wear black if you plan on wearing black. Some couples can be superstitious and some cultures aren't necessarily fond of black outfits at a wedding (this excludes men's suit).
As for men, it is my personal opinion that it is quite okay for you to wear a shirt that may be similar to the wedding colors for as long as you wear a blazer over it or if your suit colors don't match the groom or groomsmen. If you're just wearing a shirt and a tie, stay away from wearing wedding colors.
You will usually know the color scheme by the invitation as well. If not sure, you can always check with the couple or the Maid of Honor.
3. Time and Season of the Wedding and the Weather
Most weddings are in the evening. Some start in the afternoon and then lasts until the evening. Morning or daytime weddings are rare but they can happen. These are things to consider when making a decision on what to wear. You may want to wear darker colors for an evening wedding while light, bright or neutral colors for a daytime wedding.
The season also plays a factor. Is it a spring, summer, fall or winter wedding? Typically, you can wear floral prints for spring and summer weddings, jewel tones for fall and winter.

4. The Venue of the Wedding
You can usually tell already if the whole atmosphere that the couple is going for is fancy and elegant or not by the attire requirement indicated on the invitation. However, if there's none indicated, you can also do a little research on the venue. Sometimes, the venue might be fancy but the couple doesn't want to put a pressure on the guests as far as the attire is concerned so they don't indicate any dress code. If that's the case, ask the bride or the groom.
Where to Shop For Wedding Guest Dresses:
1. Rent the Runway
Attending a wedding can be so much fun but it can also be costly, especially for weddings with black tie or formal attire requirements. Purchasing dresses that cost between $200-$300 that you'd only wear once is not practical in my opinion.I highly recommend renting instead of buying if you have a few weddings to attend this year. One site that is highly popular and has pretty good reviews is Rent the Runway.I have personally tried their service when we did our engagement shoot a couple of years ago and I'm pretty pleased with it. Here's another outfit from them as well.
You can rent designer dresses starting from $60. The ease of service is also very pleasant. It's fairly easy for you to find selections based on the dress code requirement. Just go to www.renttherunway.com, select Dresses and under it you will have selections of formal, cocktail, party, etc. You can also go under Occasions and choose Guest under Weddings or choose the dress code requirement under  Wedding Dress Codes.
2. Lulus
While Lulus is not a rental service, you can find reasonably priced wedding guest dresses that you can keep and wear again! They offer long dresses, cocktail dresses and dresses for spring, summer, fall and winter weddings. Click here to check out their Wedding Guest dresses.
3. ASOS
ASOS is another one of my favorite online store for affordable yet stylish clothing. They have a Wedding Guest edit that you can check out.
4. Nordstrom
If you love shopping at Nordstrom, you may also be able to find some dresses are below $100, especially during their sale events.
Some Examples of Dresses You Can Wear to a Spring or Summer Wedding:
(Depending on time and location)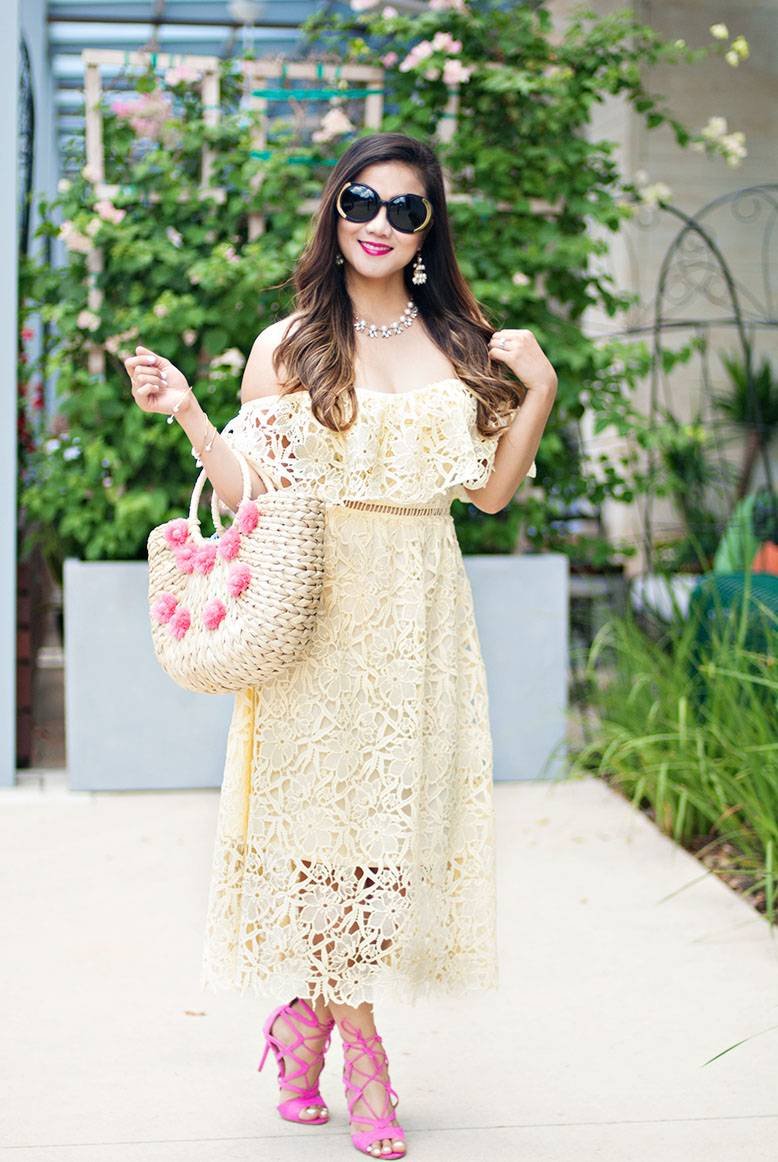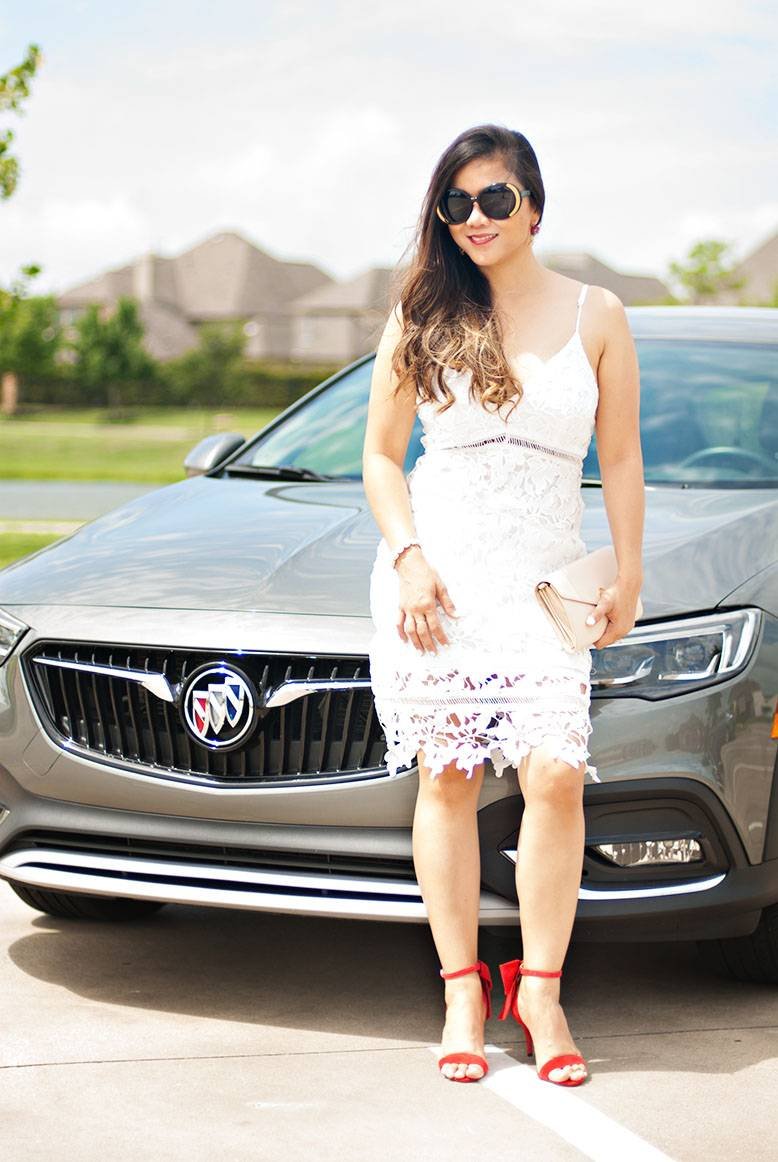 The lace dresses above are no longer available but check out some lace options below.
OR click here for more lace dresses.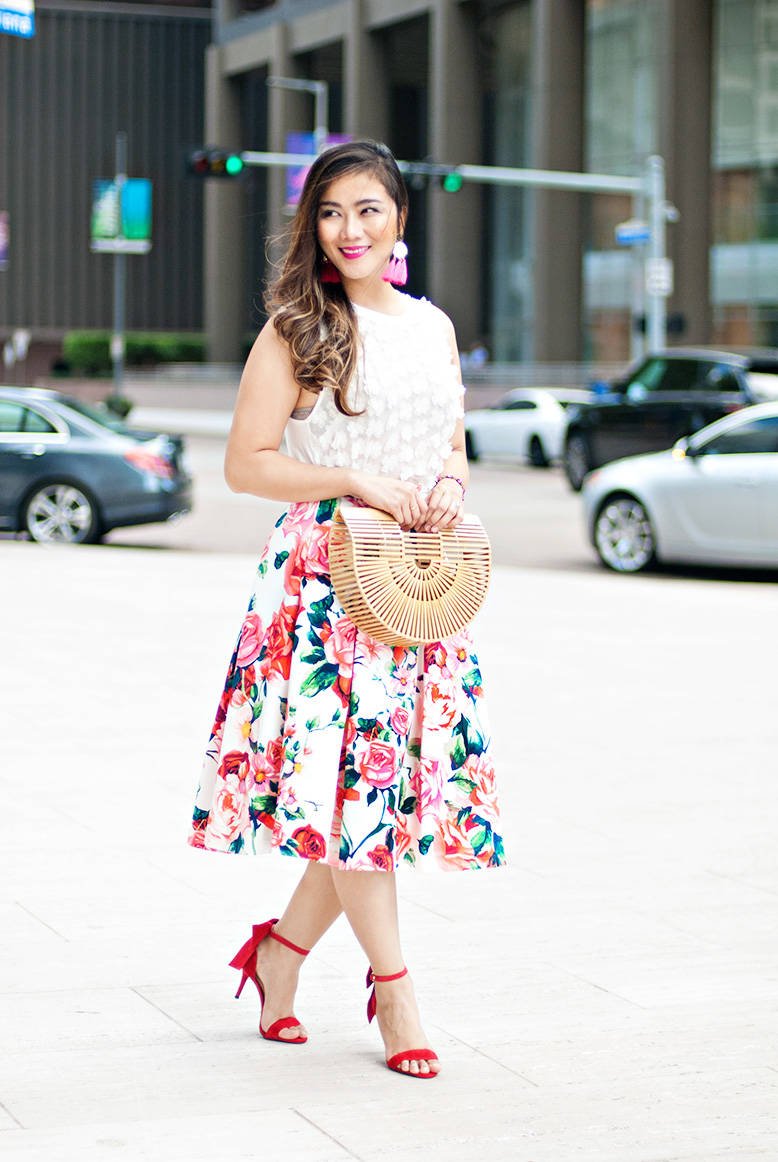 The above floral skirt is still available but below are some other  midi skirt options as well.