Houston is very multicurally diversed and that's one of the things I truly love about this city. Part of our diversity is food! I've said before – when it comes to dining and places to hang, we don't disappoint.
Craving for anything specific? Just ask, we might have it! We're huge on food trucks as well as fine dining and anything in between. That's how we Texans roll! We can wear boots while trying on every dish at a Food Truck Festival or wear stilettos at a fine dining!
You feel like eating BBQ? Of course we have it! You feel like eating South African food, we have it as well! How about some Italian, French, Mexican, or Asian? We have them all!
Speaking of Asian, do you know that, based on the most recent census, the Asian population is Houston's fastest growing group? And a lot of Houstonians have to come love Vietnamese food, including yours truly. Unlike in Miami where I came from a decade ago, Houston has a ton of Vietnamese restaurants from mom and pop to elegant ones and not all of them are created equal!
The most recent addition we have is Le Colonial at the River Oaks District – a well known upscale part of town.
My hubby and I didn't know what to expect when we first made our reservation at Le Colonial. This was on the weekend that we had a staycation at Royal Sonesta and it literally was only a few minutes from there and other shops.
When we got there, I was very impressed with the ambiance. It's nothing like any of the Vietnamese restaurants that you'd find in houston – atmosphere-wise. From the French name to the French Decor, Le Colonial is a refreshing twist to the regular Vietnamese restaurants in town. The interior design was elegant and the outdoor patio was fab. The white table cloths are definitely a PLUS – especially for Instagramming the food!
Drinks

I am usually not a big wine drinker but when I heard about their Frosé (Frozen Rosé), I got all excited and wanted to try it. It was pretty hot and humid that day and since we opted to sit outside for the view, thought I could use a frozen drink. Their Frosé is such a refreshing drink on a sizzling hot day in Houston.
Appetizers

We started off with Sui Cao Chien and Cha Gio.
Sui Cao Chien is pan fried chicken or vegetable dumplings, served with scallions, ginger, and vinegar sauce. We opted for the chicken. My taste buds aren't new to dumplings – I've had them all from the frozen boxed ones at Costco to the ones you can regularly order at restaurants. All cooked in a different way. However, the crunchiness of Sui Cao Chien has given me a new outlook on dumplings. The ginger and the vinegar sauce gave it a pop and the scallions gave it an additional subtle flavor.
Cha Gio is a crispy rice paper spring rongs of shrimp, pork and asian mushrooms with lettuce, mint, cilantro, and chili lime dipping suace. Seems like a handful of ingredients…or rather a "mouthful" of ingredients and it sure is! The meat wrapped in the crispy rice paper was flavored to perfection. The rice paper with the right amount of crispiness matched with the savory of the meat inside and the almost-intoxicating freshness of the mint, dipped in the chili lime sauce, is the appetizer you wouldn't want to go without when you visit Le Colonial!
Entreés

For the entreés, I ordered Cari Tom and my husband ordered Do Bien Xao Xa Ot.
Cari Tom is a dish with Texas Gulf Shrimp sautéed with bamboo shoots, snap peas, and zucchini in a fragrant green coconut milk curry sauce.
Vietnamese food is known to be pretty simple with ingredients and curry or coconut milk is not normally used so the use of both is a big surprise. You can regularly find curry or coconut milk in a Thai or Indian dish. That being said, Cari Tom seems like a Vietnamese and Thai fusion. There's a hint of sweetness and spiciness to it and I suspect the use of some sweet chili paste or something similar. Can't complain with the size of the delicious Texas Gulf Shrimp but as in any shrimp dish, you wish they had more! The vegetables gave it a good balance and make it more filling.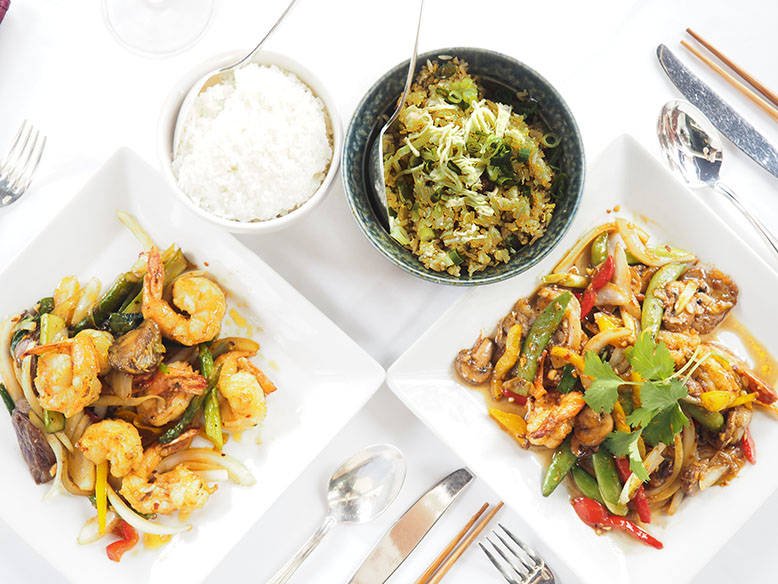 My husband ordered the Do Bien Xao Xa Ot. Do Bien Xao Xo Ot is wok-fried shrimp and scallops with lemongrass, snap peas, onion, bell pepper and jalapeño. It almost looked like mine if it weren't for the red bell pepper and scallops. He loves spicy food so the jalapeño is a nice addition to his spice-accustommed taste buds. If it's anything spicy that he didn't have to add separately, then that's a plus.
I tasted a little bit of Do Bien Xao Xa Ot and while it was good, it seems to me that the only distinction it has from my dish was the jalapeño spiciness of the dish and the addition of the scallops. The sweetness and other flavors were very similar to mine.
My meal was served with a plain Jasmine rice while his was served with a delicious fried rice.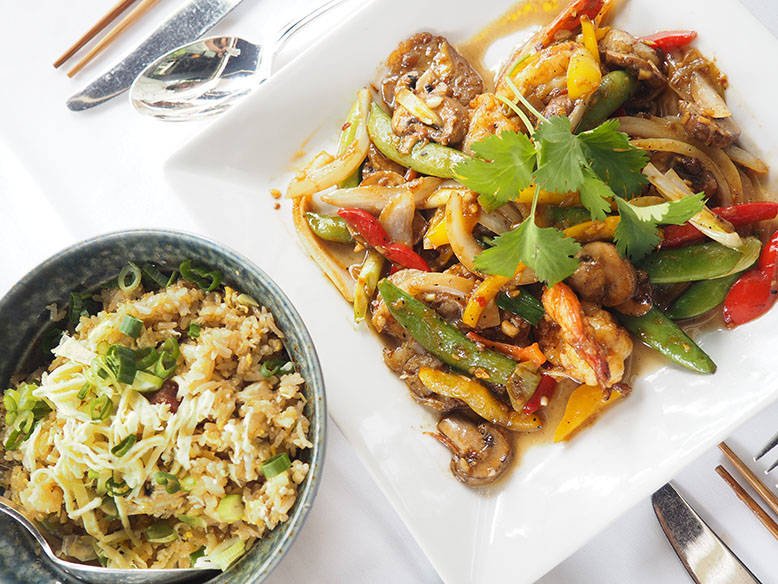 Unfortunately, my husband and I didn't get to try their desserts as we were about to go see the Astros play that day and we were running late. So after we finished our meals, we took off to the game.
With a great atmosphere and an excellent service, Le Colonial comes as a 4 star to us. Wish the two dishes we tried had more distinctive flavors to separate them but they are still wonderful nevertheless. It's definitely worth a visit. If you like taking photos of your food, the white linen table cloths would make your photos on Instagram stellar and be sure to visit during the day if that's your intention.
They have a lounge upstairs (which we didn't get to visit unfortunately) and a private room that you can use for parties.
A little disclaimer: If you're expecting to go to a Vietnamese restaurant with lots of pretty Asian faces, then you would be disappointed. Le Colonial, while famed for being an upscale Vietnamese restaurant, hosts different races and nationalities and it's a such a great place for diversity!