A few weeks ago, my husband and I, along with other media people, got a chance to be on the road with the Chevrolet team.
The Destination
Our destination was Round Top, TX. To be perfectly honest, I've never heard of this city and never thought it existed. But then again, Texas is so big that it's quite challenging to know all the cities, especially the smaller ones. Round Top, TX is about 2.5 hours northwest of Houston and has a population of 90. Yes, that's right…90. Not a typo. There's less than a hundred people in the city. I didn't know what to expect but nevertheless excited to be on the road!
The Ride
So we took the all new 2018 Chevy Equinox on the road! I was really surprised with all the road trip-friendly and family safety features that it has.
First of all, let's talk about the 4G LTE Wi-Fi availability. I mean, this day and age, It freaks us out when we can't connect to the internet on our phones. It freaks us out whenever we go to a place where there's no WI-FI. We just have this separation anxiety from internet connectivity it seems. At least, I'm speaking for myself. And being able to connect to the internet while on the road is a HUGE PLUS.
We had to leave on a Friday so my husband still had some work to do. I decided to drive so he can be on his computer while we're on the road. The 4G LTE Wi-Fi availability really came in handy so he can get some work done and he did.
This feature is also great when you have kids that need to be entertained while on the road. Imagine not using up all your data plan and getting overage charges in your bill while your kiddos are on their iPads watching YouTube videos non-stop.
The second feature that I really liked was the Apple CarPlay/Android Auto. When I plugged in my phone, the screen in the car showed my iPhone's screen instead with all the apps and whenever I get a phone call or a text message, I could see who was calling me or who sent me a text message and could reply from there as well with one touch of a button or a voice command. This is a great safety feature for me when on the road because you don't have to get distracted looking at or for your phone when your full attention needs to be on the road. I can also play my playlist and jam to my favorite road trip songs.
The other safety feature that I liked was the 360 Surround Vision Camera. I like the fact that I can see oncoming cars on both sides of the street when I'm backing up from my driveway or parking lot.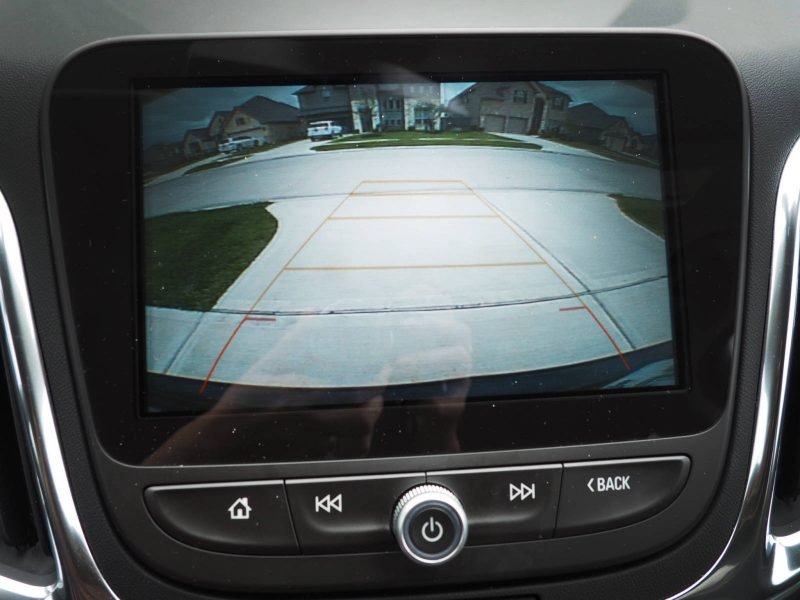 In addition, the SUV is also equipped with OnStar Technology. Not sure if you guys are familiar with OnStar but it's like a live Google Maps. You get to speak with an agent who will take note of your destination address and download the directions to your vehicle so you can seamlessly get to your destination. I don't know about you but having to look at the directions from your phone can also be distracting.
Let's talk about the interior. The interior of the Chevy Equinox that we got to take on the road with us has fabric interior but I believe they also have some models that has leather interior. So you can have what you prefer. I liked the grey and black color combination in the one we got to test drive and how simple and clean the lines are inside.
Although the car doesn't look big and bulky from the outside, it surprisingly has plenty of room inside.
And I also liked the fact that you can pull out a cover to hide some of your stuff in the trunk. For a blogger like me who leaves stuff in the back of my car whenever we're doing a photoshoot, this is a plus.
Chevy Equinox has a lot more features but those are just some of my favorites. If you're in the market for a new SUV and if safety is first for you and your family, be sure to visit your local Chevy dealer first to test drive the 2018 Chevy Equinox.
The Lodging
One of the things I was most excited about the trip too was the lodging. I was given the details of where we were going to stay and I quickly looked it up. We got to stay at Rancho Pillow which is a 20-acre compound with different unique and colorful houses. The whole place is great for friends and families who wants to go camping in style in summer.
Shown in the picture below is The Barn which seems to be the main house. It's a Dutch barn with three stories and originally built in upstate New York and moved to Round Top. Go figure!
Each house (5 total) at Rancho Pillow (with the exception of the Teepee) has its own bedrooms, kitchen, living room and bathrooms.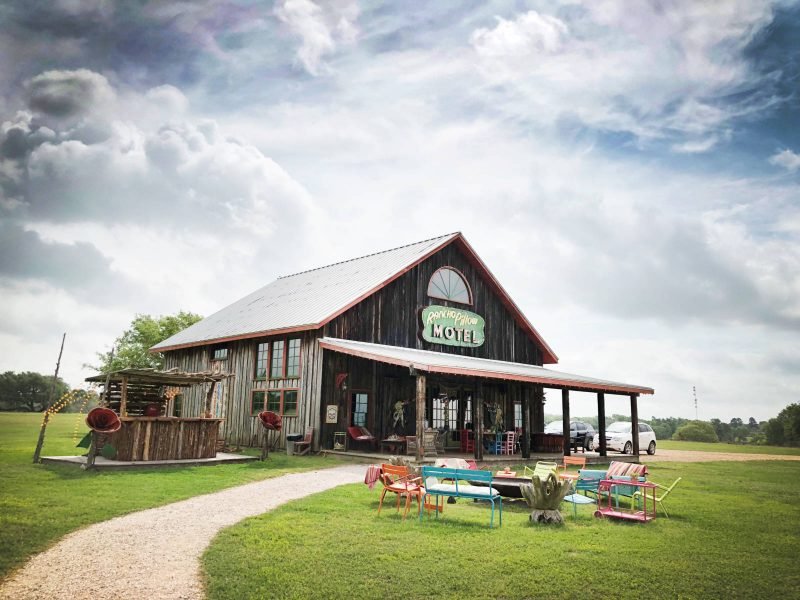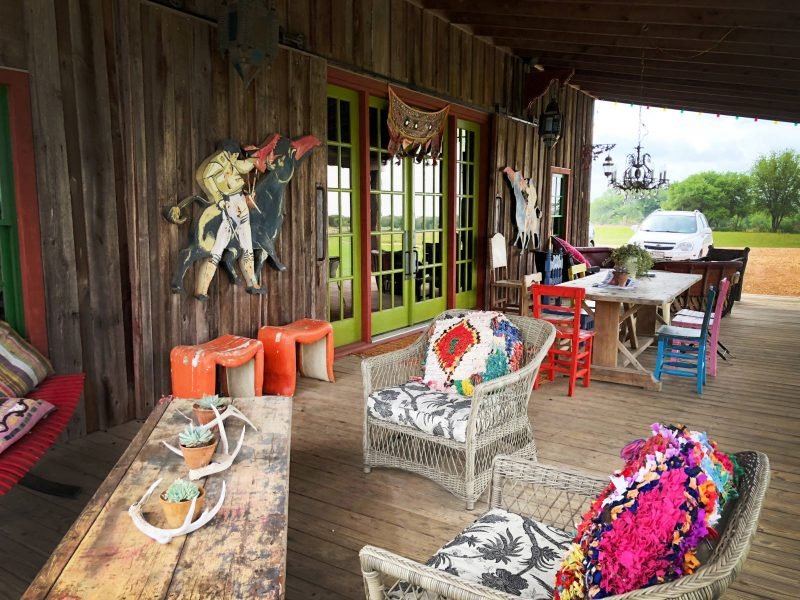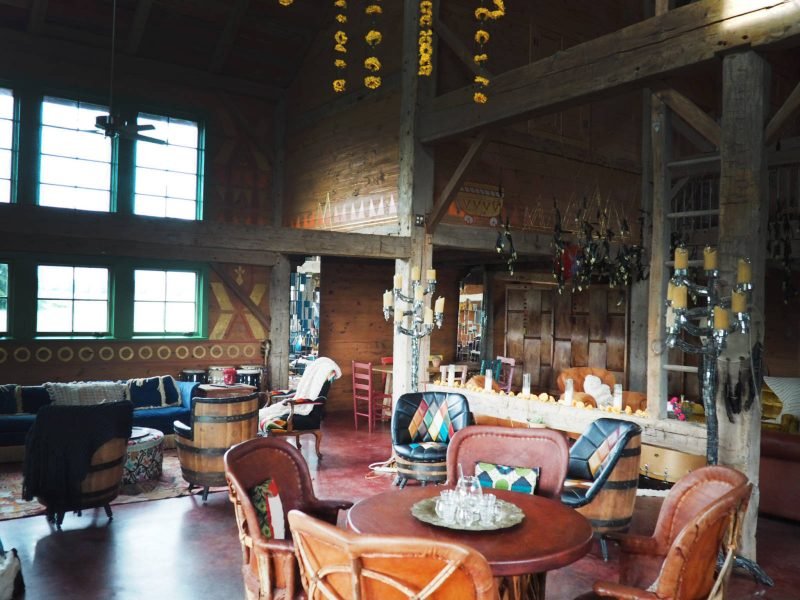 My husband and I got to stay (with a few others) in The Red House which was 2,300 sq. foot and 2 story. There's a bedroom, bathroom, living room, dining room and kitchen downstairs and there's an area upstairs with some bunk beds and another bedroom and one bathroom.
Bell Sleeves Top | Bell Bottom Jeans | Espadrille Wedges | Rattan Bag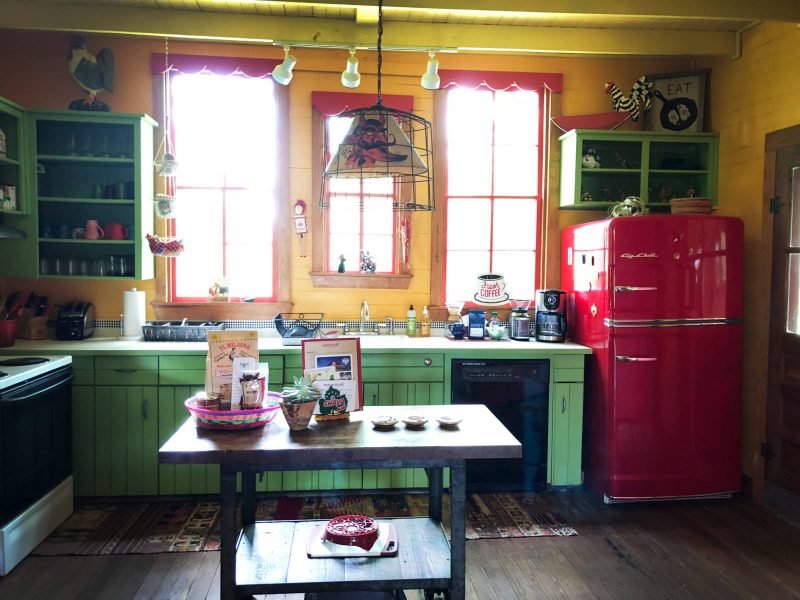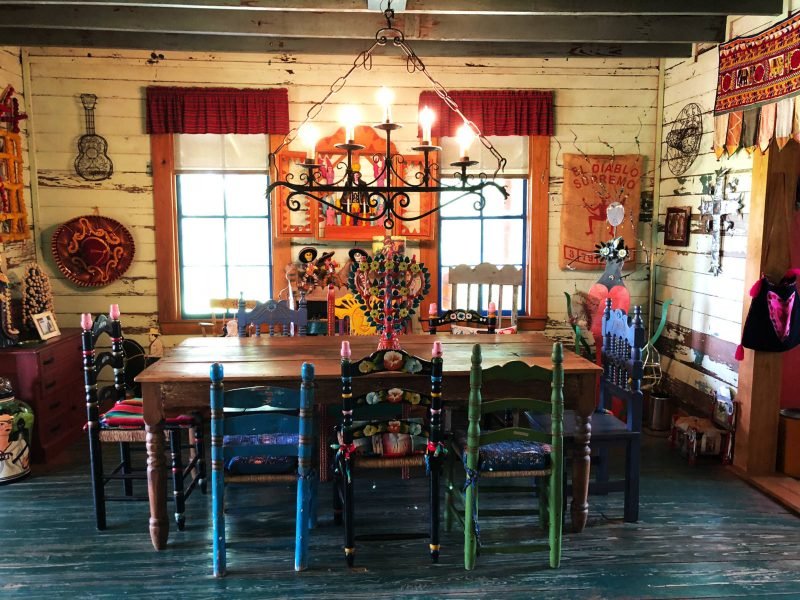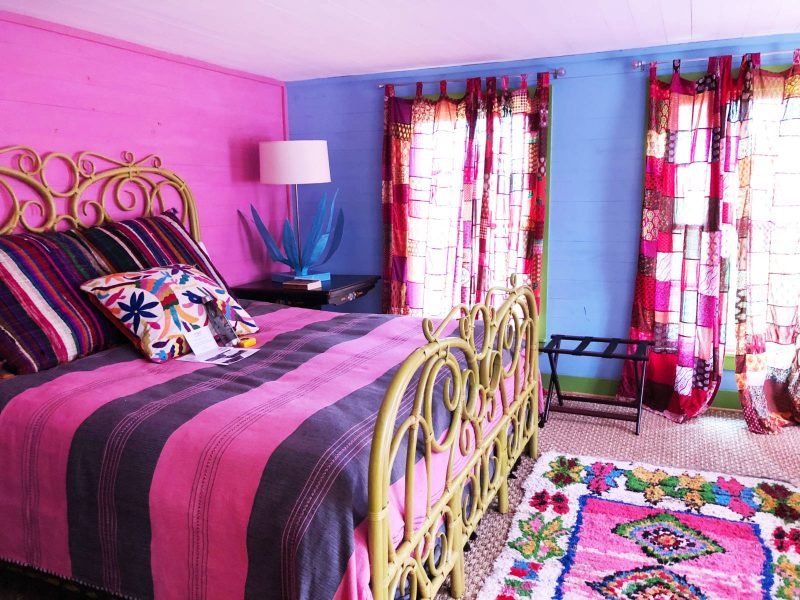 The whole place is definitely Instagram-worthy. Lots of spots and corners where you can just stand and snap a photo for Instagram and facebook to make your whole friends and family wanna be where you are too!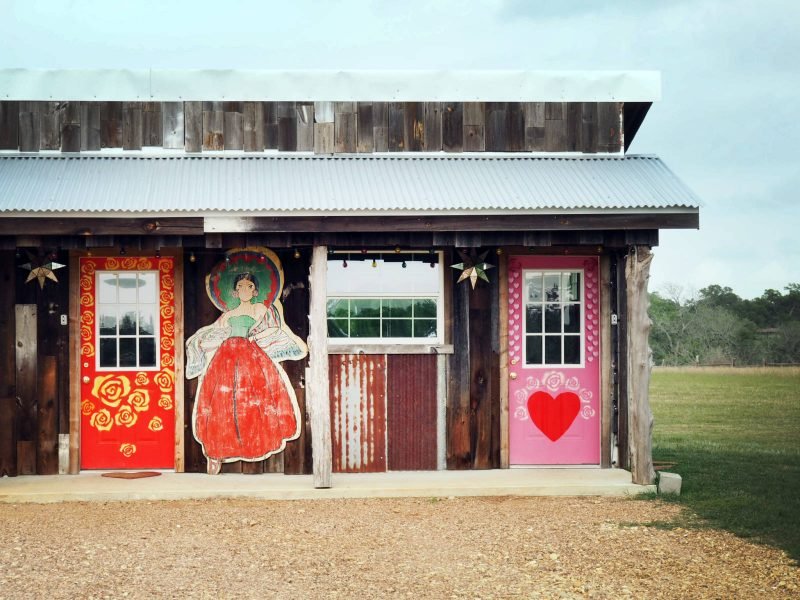 Lavender Top | White Shorts | Sandals | Earrings
If you're looking for summer Texas road trip ideas and lodging, be sure to check out Rancho Pillow. It's definitely a fun place to stay at!
The Activities
I. Antiques Fair 
After checking in, my husband and I headed to the Original Antiques Fair at the Red Barn. Now, even though Round Top may only have a population of 90 people, the city is widely know for its huge antiques fair that only happen twice a year and we happened to be there on its closing weekend.
Antiques fanatics from all over the nation head to Round Top, TX to shop at one of the most popular antiques event in the nation. There were several antique shops and pop-up shops outside the Big Red Barn but the Big Red Barn had the most antiques vendors.
My husband and I have never been to an antique show before so this was a fun and interesting experience for us. It was great seeing collections from home decors to books to hunting stuff to boat motors and even remodeled RVs.
It was a bit overwhelming if you're there to shop but if you're an antique fan like Kathy Sirvio, Chevrolet's Color and Trim Designer, you would know what to pick.
As for my husband and I, we just enjoyed looking at the items and realizing how evolved we as humans have become! From the telephones and cash registers back then to what we have now…what a huge difference! It was fascinating indeed.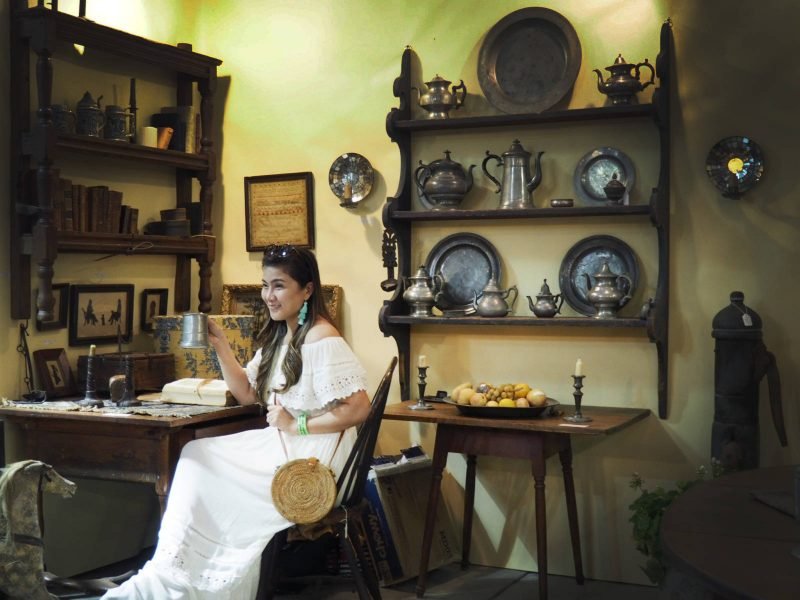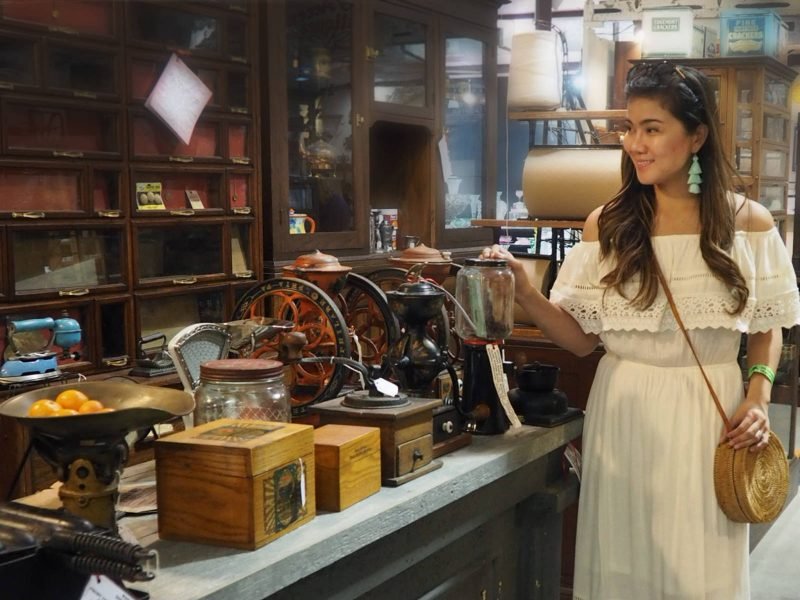 Off-the-Shoulder Maxi Dress | Earrings | Rattan Bag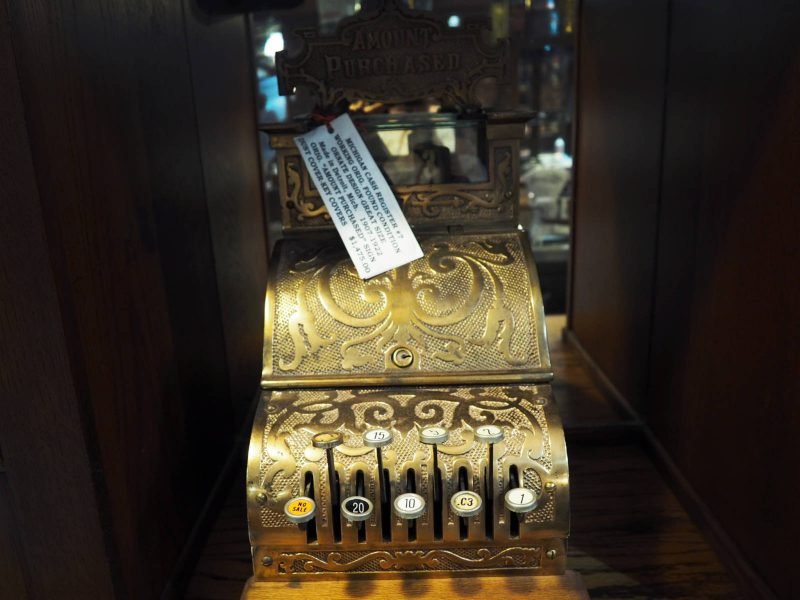 This was the remodeled RV that we saw and for sale for $15,000. It's complete with two beds, toilets, and a small kitchen.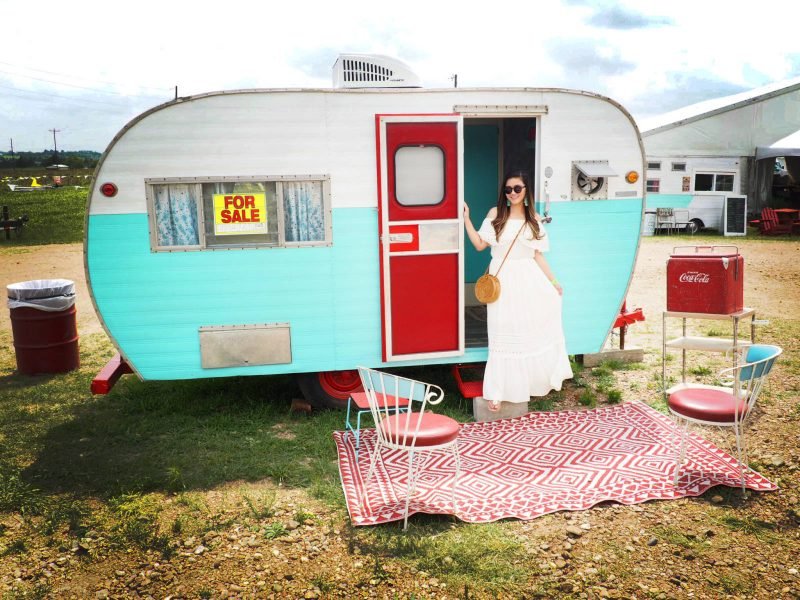 And we ended our day with a Shaved Ice at the fair!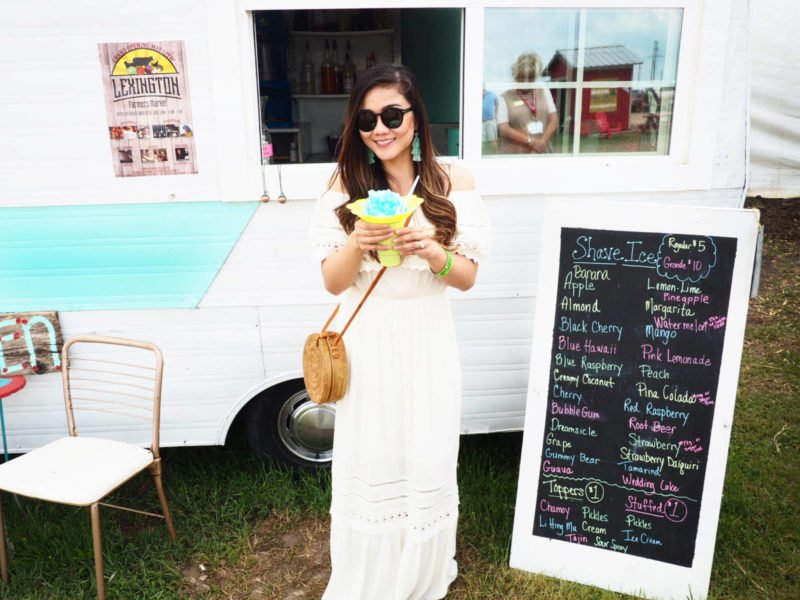 Other than the antiques fair, there are also other cute little non-antique shops and dining places to check out.
II. Chevy Demonstration with Kathy Sirvio
We got a chance to meet Chevrolet's Color and Trim Designer, Kathy Sirvio. She's been with Chevrolet for 25 years! See, we never really knew the process that goes into designing a car and manufacturing one. But when you get to meet someone like Kathy, you get to understand the process and the inspiration behind the interior design of a vehicle.
For Chevrolet, it's just not choosing and picking what looks good. Of course, it's one of the factors that they consider. But Chevrolet actually puts themselves in the shoes of the consumers and see what their likes and dislikes are and how they can relate the interior design to the driver's day to day living. I like that. I like that in the end, it's all about the consumers and how the car will benefit them.
Not only she gave us an insight on her process in selecting the colors and trims but she also gave us some good tips on how to find good antiques!
The road trip experience to Round Top, TX was wonderful. We got to test drive the 2018 Chevy Equinox and enjoy its features. Got to meet the Chevrolet team as well as experience a huge antique fair that thousands of people flock to every year.