Hey Guys…I want to share with you about ThredUp.com today. I stumbled upon this website about a couple of weeks ago and I was so stoked! We all love finding good deals, right? Name brands for less? Why not? So I have a $100 budget to spend and try how it works, as well as see the quality of the products for myself. Basically, it's like an online thrift store. But SO MUCH classier and you can find goods right from the comfort of your home. You can find brands like Bebe, BCBGirls, BCBGMaxazria, Talbots, Esprit, Banana Republic, Ann Taylor Loft, Ralph Lauren, J.Crew, Romeo & Juliet Couture, just to name a few.
If you have no idea what you're looking for and you just want to shop, the site is really user-friendly, because they have a lot of filters that will narrow your search such as categories (tops, dress, bottoms, jackets, etc.), brands, size, color, budget, and the condition of the clothes you're looking for. They carry new, new with tags, and used but in good condition.
So now on to the items I bought…below is the screenshot of the items I spent with my $100. Actually, it showed before check out a subtotal of $113.93 but when you sign-up and order for the first time, you will get a 20% discount on your first order, so I was actually able to add two more items and ended up paying $98.33 for 9 items and the shipping is FREE. Can I get a hooray?! The screenshot below showed a savings of $318.52! And I got name brands, mind you.
Here's what I got (which I will show you in the next few weeks in an outfit post):
1. Tulle Casual Skirt, 2. Jennifer Lopez Sequin Blouse, 3. Banana Republic Skirt, 4. H&M Dress, 5. BCBGirls Pumps, 6. Jordana Silver Flats, 7. Sam & Libby Flats plus the two additional items which are Forever21 tops.
The most expensive out of the items I purchased were the Jordana Silver flats which were $26.49. All items I purchased were either New With Tags or with tiny flaw. Basically, everything is pretty much brand new!!! I'm so excited to have discovered this website because it's just friggin' awesome! (Scroll below image to continue)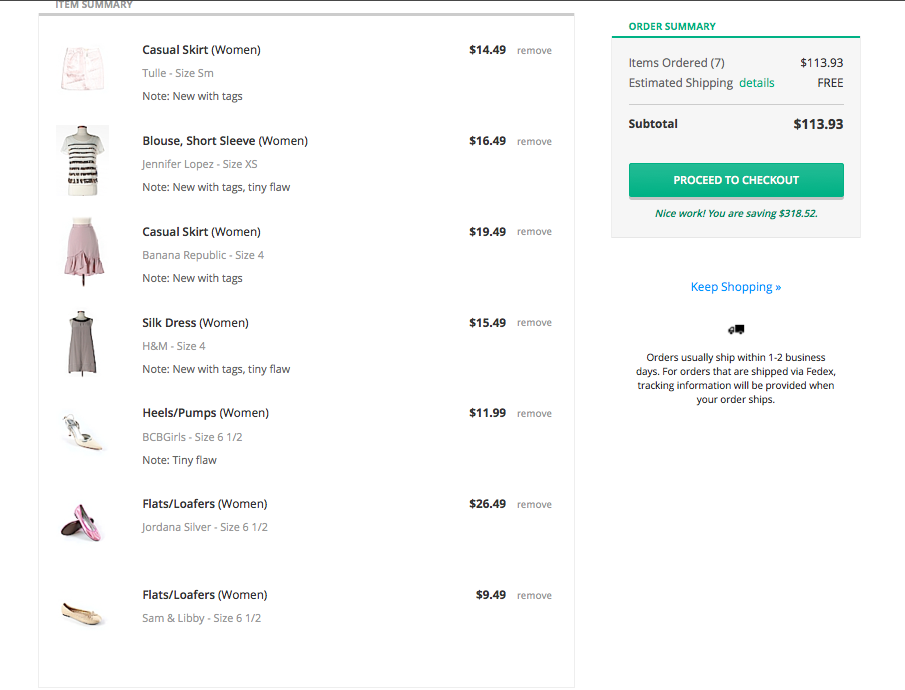 Here's another good thing about the site…not only can you buy designer and name brands for less…but you can also sell your unwanted new or slightly used items in your closet. The process is really easy! You don't even have to leave your home. All you have to do is order your "Clean Up Bag" from ThredUp and send it back to them with all the clothes you wanted to sell. Ready to buy or sell? Click here now!
By the way, if you're really a die-hard  premium Designer fashion fan…and I'm talking like Kate Spade, Marc Jacobs, Alice+Olivia, ThredUpX will be launching in early Spring. It's a branch-off of ThredUp and carries a collection of premium designer pieces. To get notified of its launch and receive $5 towards your first purchase, click here to sign-up.