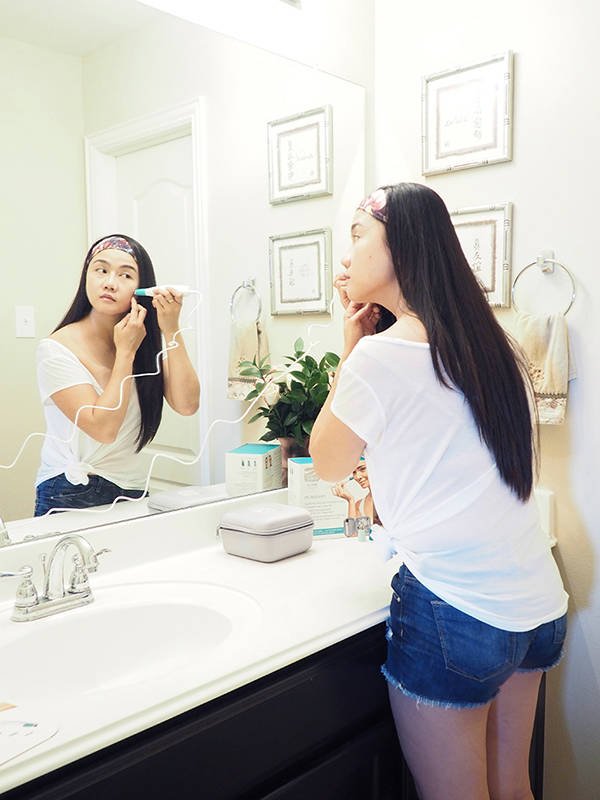 I'm sure that at some point, you, ladies and gents, have wondered what a microdermabrasion is, what it does to your skin, and how much it costs. For those of you who had one or still get get them done professionally every now and again, then you know what I'm talking about.
But for those of you who have not gotten it or not done it, here's a simple and very helpful description from PlasticSurgery.org:
Microdermabrasion treatments use a minimally abrasive instrument to gently sand your skin, removing the thicker, uneven outer layer. This type of skin rejuvenation is used to treat light scarring, discoloration, sun damage, and stretch marks. Microdermabrasion can: Improve age spots and black heads.
I have had it done professionally a couple of times before and I could always see the difference in my skin after the treatment. It looks refreshed and feels smoother. I was blessed to have a good skin growing up…good but not perfect. I've never really had acne but I do get occasional bump here and there. Just like any other skin, mine can always use some TLC! I'd like to do it more frequently without the price tag attached to a professional treatment done at a derma spa. If you know what I'm saying!
Thankfully, just like anything these days, there's a home solution! I'm not normally a DIY person. But if the process is easy enough, I don't mind doing it at all, on my own, at home, with the proper tools to get it done, most especially if it will save me a few hundred dollars over time.
This is where Silk'n Revit™Microdermabrasion System comes in for me. It's an at-home microdermabrasion tool that combines gentle microdermabrasion exfoliation with vacuum stimulation. to reduce the appearance of age spots, fine lines and acne scars.
I believe that tools like these aren't necessarily just for aging but it's for skin care in general. Our skin can always use revitalization every now and then. What ReVit does is remove the dead outer layer of our skin which is usually the build up of the stuff that we use on our face, i.e. make-up, soap, and sometimes even toners. It's for both men and women, ages 18+, and with any skin types.
The steps are easy enough, anyone can do it. Unlike a chemical peel or macropeel, microdermabrasion with ReVit is not going to cause your skin to have the nasty macro peels like you've had a terrible sunburn and would have to stay in doors for several days. It's non-invasive so you have no downtime at all. The diamond technology in it gently exfoliates your skin.
So How Does ReVit Work?

ReVit uses an exfoliating tip to remove the dead skin cells. You have changeable filters and different tips which are fine, coarse, and precision. It vacuums the dead skin cells through those tips. There are also two energy levels you can choose from for your comfort level.
How Do You USe ReVit?

It's really easy!
First, make sure that your face is clean. Wash like you normally would with soap and water.
Select the treatment tip (as mentioned above: fine, coarse, precision) most suitable for the area/skin being treated.
Turn the device on to the desired level.
With the device in one hand, use the other hand to hold your skin taut.
Hold the tip to face and run slowly across treatment area.
A Few Helpful Tips

Do not keep the device in one spot, always have it moving.
Treat each area for approx. 5 minutes.
Wash face with cold water and apply moisturizer when treatment is completed.
After performing a microdermabrasion, be sure to use a sunblock with SPF 70 afterwards. Since the outerlayer of your skin has been removed, it's more sensitive to sunlight.
Use every 3-4 days, depending on skin type.
Using ReVit can reveal a younger and smoother skin and a more even skin complexion. Like I said, I don't believe that this tool isn't just necessary for anti-aging. The sooner and more frequent that you care for your skin, the better. It prevents pre-mature aging from sun damage and other factors such as the cosmetics that we use, environment, etc.
The best part is, this whole kit is only $99! Currently, they are offering 15% OFF on purchase of $99 up + FREE shipping. Go to www.silkn.com/revit to find out more or to purchase.
…………………………………………………………………………………………………………………………………………….
Disclaimer: This post is sponsored by Silk'n ReVit. The opinions expressed herein are mine and are not indicative of the opinions or positions of Silk'n. Thank you for supporting LynneGabriel.com sponsors. They make my blog possible!