It's pretty exciting when you discover beauty products that you end up lovin'. This is the case with these 9 products that I received from Revolve Beauty.
You probably know Revolve for their chic designer brands. In fact, I featured a few outfits from them. If you missed any of those, click here.
But this time, I will be talking about these 9 beauty products from Revolve Beauty that I'm almost 100% sure you will go crazy over! These are just some of the products from their May Must-Have Beauty Essentials.
My first thought when I saw this product was, "What is a hydra parfum?" Quite honestly, I have never heard of that term "hydra parfum." I've heard of hydra and parfum separately though. I honestly had to look up on Google to see what this product is all about first before trying it. It seems like Ellis Brooklyn is the only brand out there with a hydra parfum product. There are some called hydra gel but I wasn't sure if it's the same as hydra parfum.
Now, what is it really about? Basically, Ellis Brooklyn Myth Hydra Parfum is a fragrance that is supposed to moisturize your skin as well. It is made up of 100% fragrance oil droplets suspended in a moisturizing gel with hyaluronic acid which is good for moisturizing and refining your skin. So in a way, it is gel-based but when you spray it, it diffuses into a liquid. Pretty cool, isn't it?
One of the great things I love  about it is that it's alcohol-free. As you know, most fragrances out there are alcohol-based. In addition, it's also free from parabens and phthalates. And if you're a vegan, I'm happy to share the news that it is PETA certified as well.
If you're curious as to the smell of it since it's a fragrance, it has notes of jasmine and liquid musks. I'm not huge on wearing perfumes so I was a bit hesitant to try this at first. But glad I did because it's very refreshing. The scent is not overpowering at all.
I'm not quite a morning person but I'm not a night owl either. I'd like to think of myself as perhaps a "mid-day" person. Waking up at 5 or 6 AM is a bit of a struggle but I don't like starting my day at 10 AM either. I find that my slight comfort zone is around 9. However, I still make an effort to do some of my morning routines before then.
Coffee is my usual pick-me-up. But I welcome anything that can help me get through the day with joy and energy! The Vitruvi Wake Face & Body Mist is quite promising.
Let's take a look at the ingredients and see why it's a great pick-me-up: 
Bergamot Essential Oil – Good for reducing anxiety, good relaxant.
Eucalyptus Essential Oil – Boosts mental clarity.
Indian Black Pepper – Increase alertness.
Juniper Essential Oil – Helps improve blood circulation.
Rosemary Essential Oil – Boosts mental activity.
As you can see, this product is all natural. It's free of parabens, sulfates, synthetic fragrances, and synthetic dyes. And totally cruelty-free.
If you're a true make-up junkie, you know that make-up application has a lot to do with the brush you use as well. This Artis Oval 7 Brush is the BOMB! It's great for applying foundation and it doesn't matter whether it's liquid, cream, or powder. You can also use it for applying your moisturizer, serum, and/or primer prior to your foundation. And then your bronzer or highlighter after your foundation. Basically, it's your all-around brush!
What's special about this brush? First of all, it's made exclusively with CosmeFibre, a revolutionary engineered fiber made specifically for applying cosmetic and makeup products. There's literally thousands of these soft and fluffy fibers in this brush which makes the application of your foundation so seamless.
It's a little pricey at $70 for a make-up brush. But it's definitely high-quality and looks very durable. Might be work dishing out that $70, especially for a flawless look!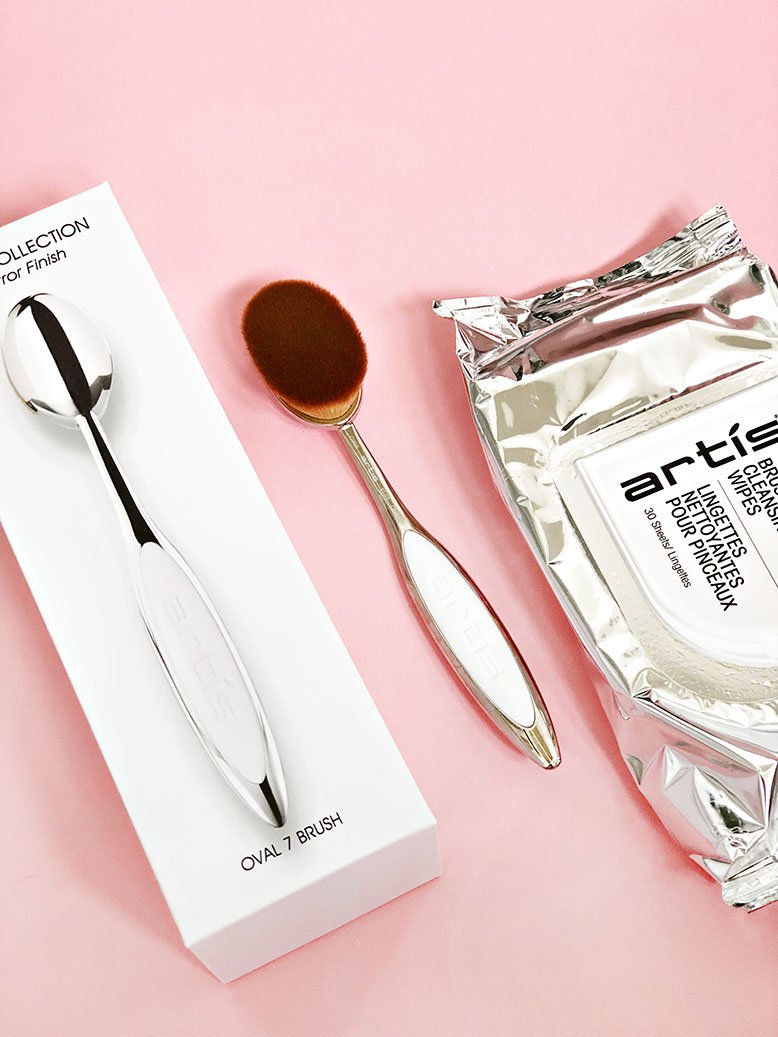 If you decide to get any of the Artis brush, these Artis brush cleansing wipes are a must. It contains a formula that easily and effectively removes make-up residue on the brush. This is essential if you want to preserve your Artis brush and use it for a long time.
I don't tan but I know that many of you do that's why I'm including this Tan Luxe The Body Illuminating Self-Tan Drops. I've never tried this product before but looking at the ingredients which, according to the manufacturer, are certified organic, I don't see why it won't deliver.
It contains Raspberry Seed Oil, Vitamin E, and Aloe Vera for hydrating benefits including Cellutone Complex to help firm the surface of skin and reduce the appearance of cellulite. Now those are not what causes the tanning but it's interesting to note that this serum contains caffeine as well. If you're not new to tanning, you already probably know that tanning lotions contain caffeine and that's what causes the pigmentation of the skin to surface or darken.
It also contains caramel which I believe also helps in the tanning process.
After getting your tan on with Tan Luxe Self-Tan Drops, enhance your tanned look with this Hoola Benefit Bronzer! This is a great product to warm up your look. It comes in 4 different shades to match every skin tone.
Honestly, it has mixed reviews. Some yellow-toned people are ravin' about it while some said it didn't work for them. So if you're yellow-toned, it will be up to you to try. In general, it has 4.5 out of 5 stars review from make-up junkies. In my opinion, that's actually awesome!
If curling your eyelashes is part of your make-up routine, then this Benefit Roller Lash will save you time. It may only take a minute or two to do that but what if there's a product that can both curl and lift your eyelashes at the same time?
This is where Benefit Roller Lash can come in handy! It also lasts up to 12 hours and contains Provitamin B5 and Serine to condition your lash. It's water-proof but it's easy to remove. It's everything you would want in a mascara!
Need just a quick tint on your lips and cheek when running errands? Olie E Osso's Lip and Cheek Balm is your friend. This balm is pretty special – handmade and made in small batches. It contains natural ingredients such as olive, shea, and grapefruit essential oils which are all great for nourishing your lips and cheeks!
It comes in 11 different shades and 3 neutrals with different flavors.
You've probably heard of the many health benefits of apple cider vinegar. It also helps in many skin conditions. In fact, I can swear by it. When I had an eczema breakout last winter, I refused to put any steroid. So I religiously put apple cider vinegar (on a cotton ball) on the affected areas of my arms and it worked!
But little did I know that it has some amazing benefits on the hair as well. I must admit that I'm not a huge fan of its smell so I was kinda dreading having to put ACV on it. Thanks to dpHue's Apple Cider Vinegar Rinse though,  that's not something you'd have to deal with because the apple cider vinegar is combined with other gentle ingredients such as Argan Oil, Lavender, and Aloe Vera.
So why apple cider vinegar? According to scientific studies, hair that looks dry and frizzy tend to be more alkaline or higher in PH level. The acidity of apple cider vinegar will lower the PH of the scalp and hair, bringing the hair back to it's supposed original balance, making it look shinier and healthier!
Apple cider vinegar is also rich in vitamins and minerals that are good for the hair.
I really suggest trying a few of these beauty products or try all of them. Thanks to Revolve Beauty for carrying such high-quality products!