This post contains affiliate links.

It's been a few months since we've moved to our new home but…unpacking boxes, organizing the contents, and selecting and buying furniture can be a long process and can be very challenging as well.
Although we've  made a lot of progress, we still have a long way to go in organizing the little things here and there. Imagine combining two people's stuff. My husband was in his old house for 18 years. He was single and lived by himself for such a long time so you can imagine that spring cleaning was probably never in his vocabulary. Bless his heart. We've already discarded and donated a lot but we still have a ton more to sort through. And being a blogger, I, too, have accumulated a bunch of stuff throughout the years. Although I make it a point to donate or give away yearly.
That being said, I found myself shopping for organizational products to keep our home organized and I'm sharing these items with you.
If you don't know this yet, I really love shopping on Amazon.com. I love the convenience of being able to shop anything I need, the affordable prices, the ease of return if anything doesn't work out, and the excellent customer service. If you shop on Amazon.com then you know what I'm talking about. If you haven't shopped Amazon yet, then it's about time to do so, especially if you're looking to purchase organizational items.
Pantry Organization
When we moved, the first area that I organized was the kitchen. My husband had a LOT of spices/seasonings because he loves to cook so here are the items that I bought and/or planning to buy for the pantry.
White Storage Trays
I find that these white storage trays are great and inexpensive way for organizing your seasonings, little knick knacks, and snacks in your pantry. They come in 6 Pack Rectangular 10″ L x 6.5″ W x 3.2″ H, 6 Pack Square 6.5″W x 3.7″H , and 6 Pack Slim 10.3″ W X 3.15″ D X 2.45″ . Using a combination of these sizes will allow you to maximize your pantry space.

Over the Door Pantry Organizers
For bigger bottles, jars, zip locks, sandwich bags, and other things, I find that this 76″ Closetmaid Over the Door Pantry Organizer is not only very good in organizing but also very efficient in maximizing your pantry space. We have a butler style pantry so having two of these allows us to actually make more use of the space.
There are different kinds of food storage containers you can find on Amazon but I absolutely love this 10-piece food storage container set that is made up of durable plastic and BPA free. As you can already see from the image below, you can store in it anything from pasta to cookies, nuts, sugar, teabags, among others. It's really a great way to keep your pantry nice and neat!
While you're at it, be sure to get these chalkboard labels as well. They work well with any containers and because they're chalkboard labels, you can just erase and rename it should you change the content of the container to something else.
Can rack organizers for your canned goods and sodas are a MUST HAVE in your pantry! 
I highly recommend this 3-tier stackable can rack organizer for canned goods like soup, canned beans, canned tomatoes, etc, while this can rack dispenser for your soda if you keep uncooled soda in your pantry for gatherings.
Caddy Trays
Some people prefer the lazy Susan caddy/tiered tray and can actually work great if you don't have a lot of seasonings in your pantry. They come in wood, stainless steel, or acrylic/chrome.
Kitchen Organization
When it comes to organizing, I'm not just about putting things together nice and neat but I'm also all about maximizing cabinet space so I found the following cabinet organizers to do extremely well in doing just that.
Expandable Stackable Kitchen Cabinet Organizers
I use this stackable kitchen cabinet organizers to organize our plates, bowls, cups , and drinking glasses. I love that it's expandable as well and truly maximizes the space because if you're storing plates, the higher part of your cabinet is usually not used up unless you have a ton of plates. But I normally put the big plates underneath, the smaller plates, bowls on top and mugs at the bottom. It all depends on how you want it to look but this organizer is super effective in organization and maximizing of space.
And who agrees that nothing can be more annoying when you're trying to pull out a pan or a pot out of a stack in your cabinet and everything just makes that clanging noise? Quite honestly, I didn't know about this until I got married and started cooking! So I had to find a way to organize our pots and pans to make my life easier. I found that this Amazon best seller heavy duty pan organizer does what I'm looking for. Combined with this lid organizer, now everything is a breeze when trying to pull out a pan or lids.


The other two options that I really liked as well are:
                   
Another part of the kitchen that can be chaotic is that cabinet under the sink. It's one of the most used cabinet for us since that's where we store our kitchen cleaning materials and garbage bags and what not. Again, the key is using up the space available as much as you can. Since under the sink cabinets aren't usually shelved, another Amazon best seller I found is this awesome sauce two-tier expandable rack! I also normally have the 6 Pack Rectangular 10″ L x 6.5″ W x 3.2″ H to keep other things things like sponges and clothes even more organized.
A couple more items I found that are really helpful are these over the door organizers to organize your garbage bags, grocery plastic bags and a few other things that you keep in your under the sink cabinet:
Kitchen drawers can be hedious. Because they are closed, kitchen drawers can normally be left unorganized. However, nothing can be more shockingly surprising when you open a drawer with utensils mixed and matched.
Here are three utensil organizers I recommend:
We have something similar to the acrylic one. I just love acrylic and or/white organizers. It looks cleaner to me. Some prefer the wooden or bamboo one which is great too if it works with the aesthetic of your house. This white OXO organizer is expandable so it can work with both standard or larger drawers if you have one.
                     
And you can't go without cooking utensils holder. I'm sure y'all have different preferences. Some like the ones where the cooking tools hang like this wall mounted utensil rack but I personally prefer this stainless steel cooking utensil holder that just holds everything together in one place.
Another thing I highly recommend is these drawer dividers. If you're like me, some knick knacks that aren't even kitchen-related end up in our kitchen drawers and I found that this 3-Pack Drawer Dividers prevent me from going crazy over little things hiding in our kitchen drawers.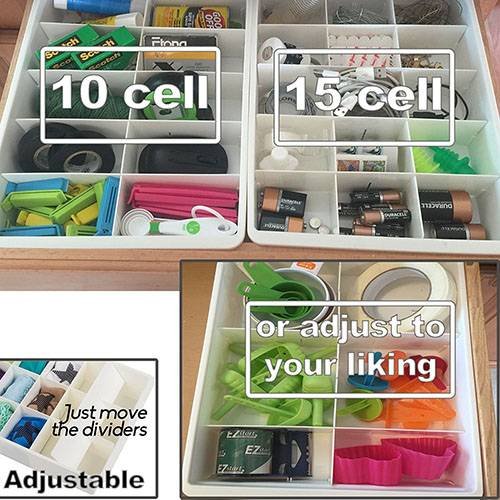 Closet Organization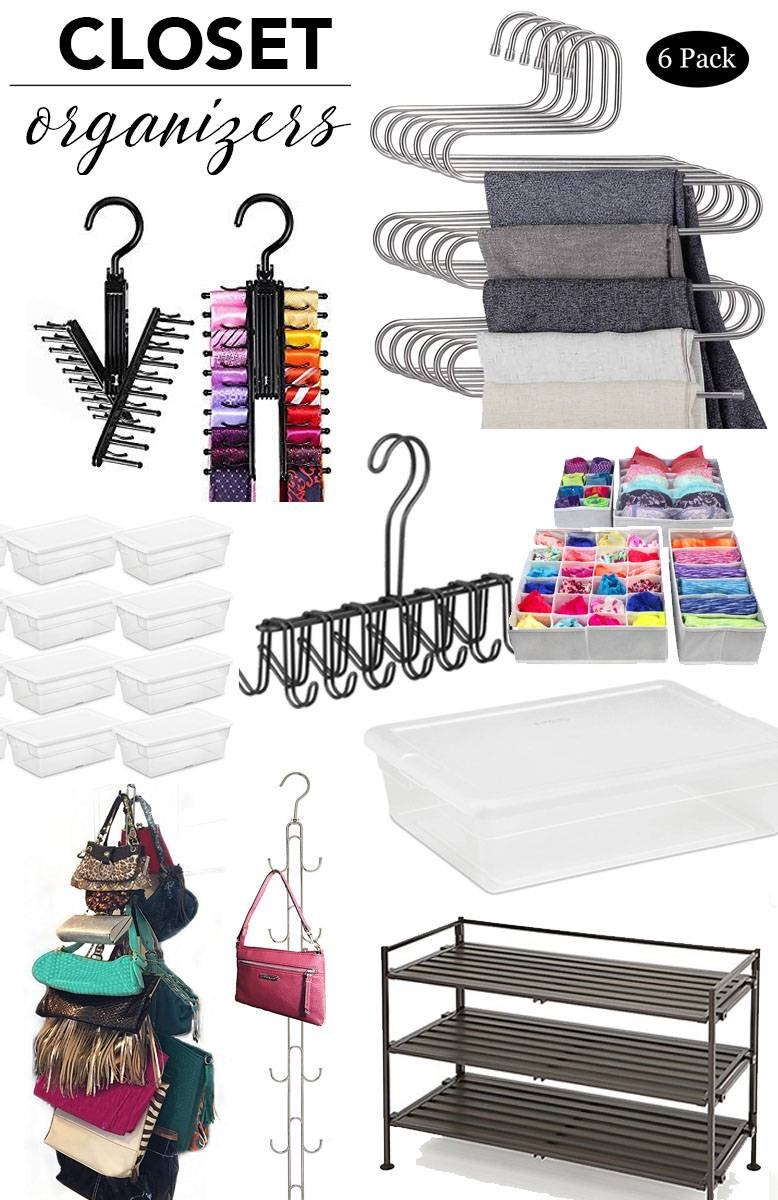 Oh heeeeeeyyyy, another hot topic in the area of organization – especially for married couples! Between my husband and I, we have a ton of clothes! And not only that, I have a ton of bags and shoes and my husband has a ton of ties, belts, hats, ahhhhhmongst other things.
While we absolutely love our home (check out this "before" home tour if you haven't yet), our closet is not big enough so again, it's all about being creative and resourceful with the space that we have. We don't have a separate his and hers closet so this closet space is one of the things in our home we'd have to compromise on. HA! Talk about first world problems.
Thankfully, there's a lot of closet solutions on Amazon and here are some of the things that worked for us.
MEN's Clothing and Accessories Organization
I'm married to an athletically built 5'11" guy so his pants take up a lot of space in the closet. These pants hangers are amazing. You can put 5 pants in a hanger and comes in 3, 6, or 8 pack. If you really have a lot of pants, the 20 pack might be more cost-effective.
The following styles below might also work for you:
Organize your belts and your husband's belts with this belt organizer (black) which also comes in gold and chrome. 
By the way, the above men's clothing and accessories organization also work for women's stuff.
Shoe Organizers
My husband has quite a few pairs of shoes but something to the 3-tier shoe organizer below works well for what he has. You can get it in 2 pack to make it a 6-tier.

If you combine yours and your husband's shoes in one rack, this Maidmax 10-tier shoe rack might be a cost-effective option.

Other options are below for both men and women:
                                 
WOMEN's Clothing and Accessories Organization
Purse/Handbag Organizers
I must be honest that I haven't quite figured out yet how I'd like to organize my purses. I simply don't like the idea of displaying my purses in my home office. I normally like to keep similar things together so I'd like to keep all my purses all in one place. Below are some solutions that I'm looking into.
I like the idea of this over the door handbag organizer because it uses up space that normally doesn't get used. However, I have more than what one of this could handle. I'm looking into this for the smaller crossbody bags that I have and seems a feasible solution.
I also like the idea of the hanging pockets because it seems to protect the shape of the purse more. The issue I have though is that it takes up some space from the hanger area.
Another idea that I REALLY like and could work somehow for me would be this DIY (Self-installed)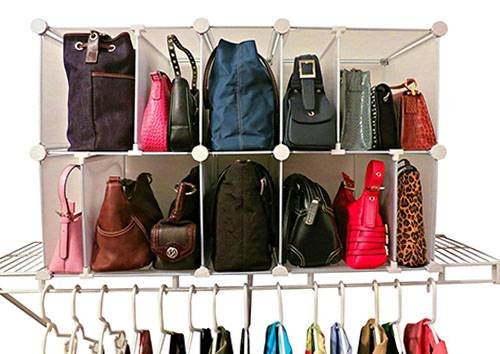 I also like the following cubbies which I can put some on our existing high shelves in the closet.
These are quite feasible solutions for our closet. It may also be a good idea to mix and match the organizers to organize my handbags and purses.
Shoe Organizers
Blogger confession: I have over 300 pairs of shoes. I have already given some and I kept giving but more just keeps coming so I have to find a way to really organize my shoes. We have a built in shoe shelf in our closet which I have totally taken over but 300+ pairs don't fit in it. So I had to put away some in the cabinets in our guest rooms but it's not ideal for me because like I said, I like to keep similar things (categories) in one place.
So for now, what I had done was remove my shoes in their original shoe boxes (well most of them because the boxes were already torn and beat up) and put them in these white Sterilite containers. They are inexpensive and can really protect your shoes.
I'm also looking into these shoe slotz which seem to really save space!
Dresser Drawer Organizer/Divider
There are not too many kinds of this really. It's all just a matter of colors and configurations. One we have is similar to this Amazon best seller.
Bath Organization
Make-Up Organizer
I don't know about you ladies but all my make-up is actually on my bathroom countertop instead of the dresser. I'm using acrylic organizers from Boxy Girl but they are a little more expensive and I have a lot of make-up to organizer. Below is one of the acrylic make-up organizers that I found on Amazon that might work for you. I like that it pretty much accommodates everything, including brushes and lipsticks and lipglosses.
Another one that I absolutely love is this rotating make-up organizer.
Styling Tools Organizer
Ladies, I found this brand on Amazon that has different organizing solutions and I love, love, love their styling tools organizer for under the sink cabinet. This particular styling tool organizer comes in different colors including rose gold and bronze that I think you will love and is rated as Amazon choice!
Other Bathroom Organizers
For little things here and there such as Q-Tips, cotton balls, scuncies, and little knick knacks, I use something something similar to this chrome lid canister set.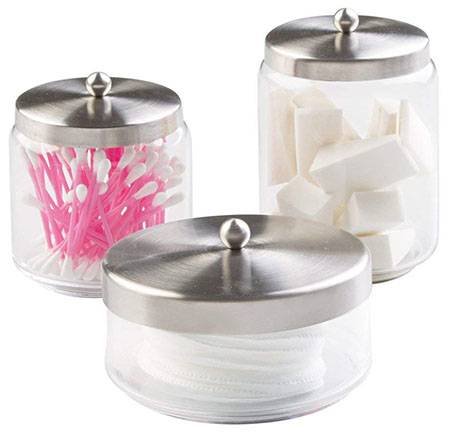 I also like the ones below:
Shower Caddy
Our shower has a little corner where we can put our shampoo, conditioner, and shower gel/soap. We also have  a small seating area in there where we can put our stuff. But I like this shower caddy that has different slots and also available in different colors. Our fixtures are nickel so I normally pick that finish.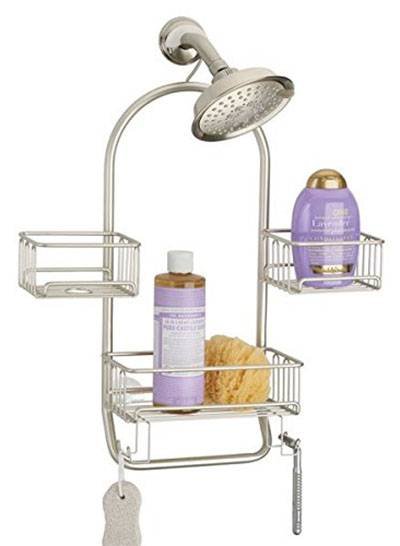 Drawer Organizers
I love all kinds of acrylic organizers so for our bathroom drawers, I have acrylic organizers as well.
                                   
Garage Organization
Our garage is still a huge work in progress. When we moved, unsorted and unpacked boxes stayed in the garage. However, the following organizational items are what we have in place so far: Cleaning Tools Organizer, Plastic Shelf
Other General Home Organization
For other general home organization such as storing Christmas decors and other things that are not necessarily needed on a daily basis, I love using Sterilite containers. I mostly use the 30 gallon white ones but I also use the grey ones at times. These containers also comes in different sizes.

Hope you find this organization post useful! I'm such an organization junkie but our house is still a work in progress so I may have an update in the near future!
SaveSave
SaveSave
SaveSave
SaveSave
SaveSave
SaveSave
SaveSave
SaveSave