Christmas is just around the corner. Can you guys believe it? I found myself the other day at the store buying additional  ornaments for our Christmas tree.
Last year was sort of a rush thing for me since we had just moved in October  in brand new home and I was not quite decided whether I wanted to put in the work in shopping for a tree and ornaments. However, I ended up going for it and by the time I decided on it, most blush/rose gold ornaments were already gone. Our Christmas tree last year had our wedding colors: gold and blush but I added silver in place of the ivory that we had at our wedding.
This year, I made sure that I go to the store earlier than usual so I can pick some beautiful ornaments. After going to the store the first time and spent 2.5 hours looking for ornaments, I was undecided on what to get and how to put them together so I found myself looking for some Christmas Tree Decorating ideas.
Thought I'd share with you some of the most beautiful and interesting ones I found. Photos are owned by their respective owners. My husband wouldn't let me put up the tree until after Thanksgiving, although I know that some people already have.
That being said, I probably won't have a photo of our Christmas tree posted here until the first week of December. For the meantime, here are some Christmas tree decorating ideas for you.
Metallic Silver and Gold Flocked Tree
I've never had a flocked Christmas tree but wish that's what I had gotten last year since we really don't get snow here in Texas. It would have been a great substitute for a white Christmas. Flocked Christmas trees are pretty pricey but I'm pretty sure that it's absolutely worth it. If you're in the market for one, check out this pre-lit flocked tree from Vickerman or this one from Direct Export which looks a bit slimmer and similar to the tree below.
By the way, a little Christmas tree decorating tip: to keep your Christmas tree looking elegant, stick with 2-3 colors. Have a color scheme. I've never liked a tree with multi-colored ornaments. Sticking with a color scheme will make your tree looks classy and beautiful.
Blush/Rose Gold and Copper Flocked Tree
I'm smitten with blush/rose gold and gold combination. In the case of this beautiful tree, it looks like it has some hints of copper ornaments and obviously a Kate Spade touch with those black and white ribbons that you can totally DIY. This was what I was kind of going for last year but I opted out of the copper and went for gold, blush, and silver as I've mentioned above.
It wasn't the easiest finding the perfect blush or rose gold poinsettia but I found one from Michael's or the one that's really similar to the tree below is this pastel pink poinsettia from Michael's as well.
Turquoise and Silver Flocked Tree
I have seen a royal blue and silver Christmas tree before but I have never seen a turquoise themed one. I thought it's pretty cute but I personally won't go for it. This theme is probably great if: 1.  Turquoise or teal is your favorite color or 2. If you love the aquatic theme or 3. You live in a beach house.
I think the tree below is a flocked tree as well but not as much.
One challenge I thought of in putting together this theme was finding turquoise ornaments. However, a quick look up on Amazon rendered quite a few. I even found a similar turquoise poinsettia. So if you heart this color, today is your lucky day! I also suggest combining it with some silver poinsettias. Your turquoise-themed Christmas tree will be the envy of many!
Country Style Christmas Tree
If you love a modern farmhouse style, this lovely country-themed tree is perfect for you.
Champagne Gold Christmas Tree
This champagne gold themed tree is to be obsessed for! Just look at how amazingly gorgeous this tree is! It surely is breathtaking to me.  If you're a minimalist, this is not for you. It's literally loaded with lots of gorgeousness. I may just change our color scheme next year! I can't do it this year since I've just purchased additional blush poinsettias and ornaments. I don't want to freak my husband out. But I love the idea of of those leaf sprays springing up from all over the tree. The champagne gold poinsettias are very attractive as well.
White, Silver, and Shades of Blue Christmas Tree
How absolutely gorgeous is this color scheme? Blue isn't my favorite color (but then again, I really don't know what my favorite color is. It changes all the time.). I love how balanced this tree is – it is feminine and masculine at the same time. So if you're married, this color scheme shouldn't displease your husband at all. The shades of light blue, silver, and white make this tree feminine and the royal blues make it masculine. It's bold yet it has the softness to it.
Cozy Red and White Christmas Tree 
This red and white Christmas tree looks so cozy with its giant red and white ribbon and humongous ornaments. I never would have thought that putting those giant balls in a small tree would look so good. Kudos to whoever decorated this tree.
The bow topper can totally be DIY-d since it looks like it's just a combination of red and white bow put together. However, if you want some really awesome sauce red and white Christmas topper, Etsy has some really nice handmade ones.
All White with Hints of Gold Flocked Tree
Looking at this all white tree with hints of gold makes me just want to curl up and cuddle with my husband or drink hot cocoa next to it. It gives me the warm cozy feeling. I am absolutely captured by those giant white snowflakes! I couldn't seem to find snowflakes as big as those but found some 3″ ones on Etsy.com. I also spot some white bird ornaments. Can you see them?
Fuchsia and Light Pink Flocked Christmas Tree
If you want to be bold and different, go with the fuchsia and light pink combo with a hint of gold Christmas tree. This Christmas tree looks feminine and daring. Yet again another tree that gives me that Kate Spade-ish feeling with all the pinks and the fuchsias.
White, Silver and Green Christmas Tree
This is another one of those combinations I never would have personally thought of.  This color scheme would have actually perfectly matched the color scheme of our home decor since this is literally our color scheme – silver/grey and hints of green. Notice that the green here is more dull and not the usual bright Christmas green.
Purple, Purple Christmas Tree
Oh my! I never would have thought that purple would look so good on a Christmas tree. While I would have never linked purple and Christmas, this tree certainly came out gorgeous! I must say that the bow at the top and those giant ball ornaments are awesome sauce! I also thought didn't think that finding purple Christmas ornaments would be easy. Again, a quick look up on Amazon rendered some beautiful ornaments including purple snowflakes and purple glitter poinsettias!
Traditional Style Red and Green Christmas Tree
While more and more people are opting out of the traditional red and green Christmas tree style, I still find the one below so beautiful, so classic and elegant. The bright red poinsettias and the red and green plaid ribbon makes this tree stand out beautifully.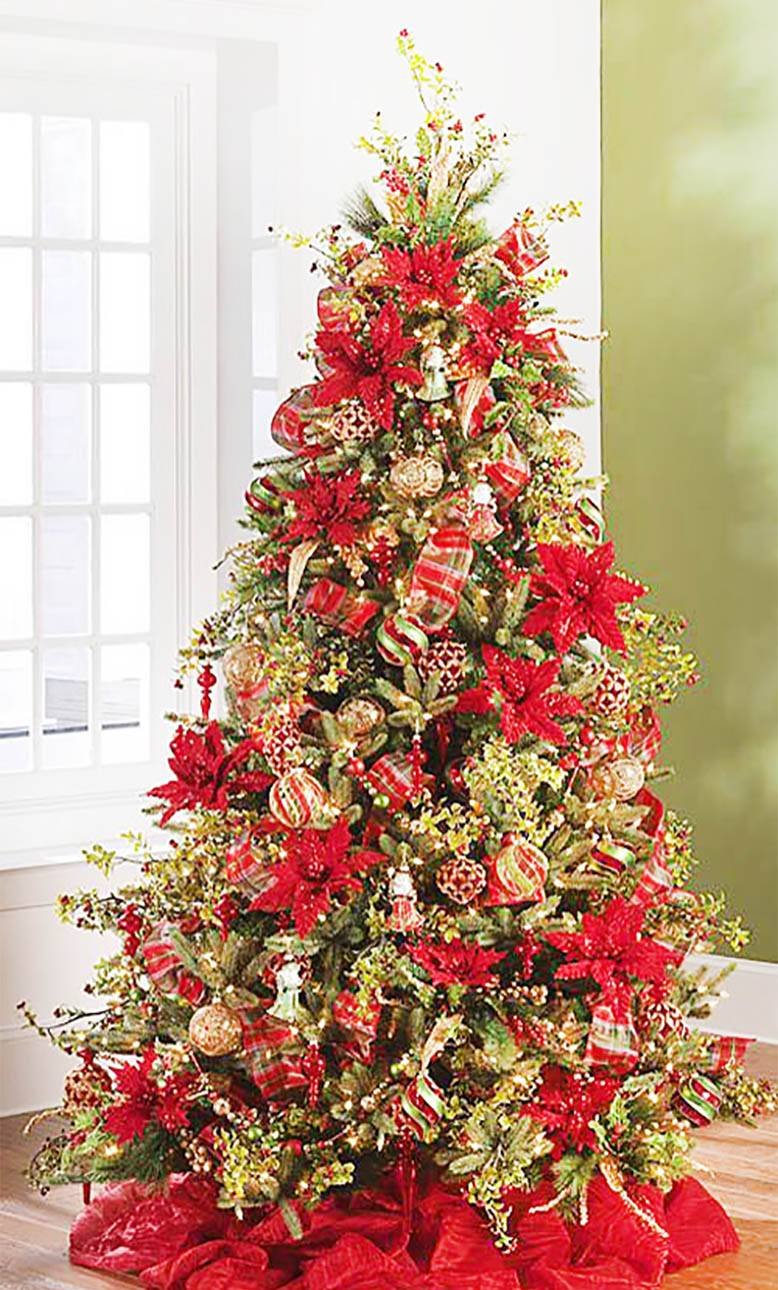 Ombre Christmas Tree
Gone are the days of just a simple green pine tree. These days you can also get an ombre Christmas tree! I personally am probably not going to go for this look but I know that there are some who fancy this style. I can see how you can totally transform this into a Kate Spade themed Christmas tree with a combination of fuchsia, pink, and silver ornaments with the classic black and white stripes ribbons.
Don't forget to add some fuchsia glitter ornaments and of course the classic black and silver ones.