When my then boyfriend and I got engaged last summer (Story Here), a lot of my friends were both surprised and happy for the both of us and I knew exactly the girls that I would love to be surrounded with for our big day. I had immediately asked them verbally to be a part of my bridal party and of course they all said yes.
But I wanted to follow it up with a gift that's beautiful, practical, and something that they can wear at the wedding. I knew exactly (I guess this girl knows what she wants huh?) what to give them and where to get it.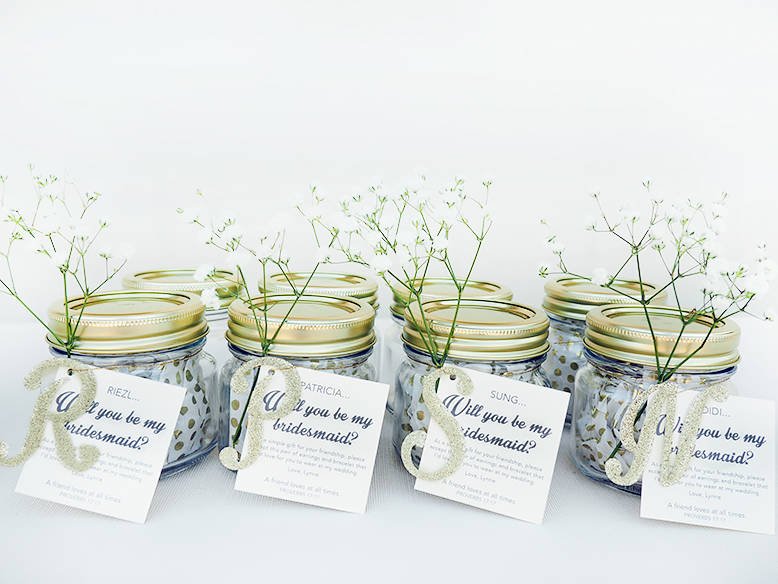 I couldn't think of a better place to find what I had in mind than Charming Charlie. As some of you may already know, I've been a huge fan of Charming Charlie for a while now. This was back when all they carried was fashion jewelries. They have since then expanded into more than just jewelries, which include fun stuff like mugs and other knick knacks that you can give as gifts!
They have so many good stuff that I literally had to mentally focus myself on what I'd like for my girls to like and appreciate. I could've literally walked out of there with 10 shopping bags, with stuff all for myself! HA!
Anyway, I've been pretty busy the past few weeks but since my wedding is just around the corner and I wanted to give the girls a gift that they can wear at the wedding, I made time for this "Bridal Ask" gift a week or so ago and presented it to them last Saturday on a brunch.

Knowing what dresses my maid of honor and bridesmaids will wear, I picked up 8 elegant pairs of the RSVP Dewdrop Earrings and 8 bracelets. All the earrings are exactly the same and the bracelets came in 2 slight variations – the Heiress Stretch Bracelet and the other variation is only available in silver online but the Rhinestone Halo Bracelet is almost similar. RSVP is a Charming Charlie brand I believe for their Special Occasion items.
I also love the following Charming Charlie earrings and bracelets…



After picking up the earrings and bracelets, I thought of a creative way to personalize and present so I went to a local crafts store and picked up some mason jars with gold lids, polka dots tissue papers, gold string, gold glitter card stock and card stock to write my message on.
Y'all, I didn't think I'm crafty at all. I may be digitally creative but didn't think that I would be able to pull something off with my hands. This whole wedding planning has definitely brought out some creative juice that I didn't know I have!

So I cut the tissue paper into squares – sized enough to crumple inside the small mason jar and wrap/cover the earrings and bracelet inside. I cut the glitter card stock into the girls' initials using a digital cutter, and printed and cut the message and punched a small hole in them and tied them all together around the jar with the gold string.

I was pretty proud of my creation y'all! When I presented it to them, I included some branches of baby's breath. My girls loved the earrings and the bracelets from Charming Charlie and the cute presentation as well. I will definitely be showing you guys my bridesmaids wearing the earrings and bracelets after the wedding!

In addition, I also wrote Thank You cards for them. My bridesmaids, who are in town, did such a great job putting together my bridal shower and I just couldn't pass up not writing Thank You cards. It always adds a wonderful touch these day and age of digital media.


…………………………………………………………………………………………………………………………………………….
Disclaimer: This post is sponsored by Charming Charlie. The opinions expressed herein are mine and are not indicative of the opinions or positions of Charming Charlie. Thank you for supporting LynneGabriel.com sponsors. They make my blog possible!
SaveSave
SaveSave
SaveSave
SaveSave
SaveSave
SaveSave
SaveSave
SaveSaveSaveSave
SaveSave
SaveSave
SaveSave
SaveSave
SaveSave
SaveSave
SaveSave