Eliza J. Floral Skirt (Also check out other options below)| A New Day 3D Floral Blouse | A New Day Earrings | Bamboo Bag | Jessica Simpson Heels (Check out other options below)
. . . . . . . . . . . . . . . . . . . . . . . . . . . . . . . . . . . . . . . . . . . . . . . . . . . . . . . . . . . . . . . . . . . . . . . . . .
Wedding season is upon us! I love going to weddings because not only you get to be a part of a wonderful new chapter in someone's life but you also get to dress up and get dolled up. In the past 10 years or so, I've only been to four – one being my own and the other one I was a bridesmaid to my cousin's wedding so I really didn't get to dress up as a guest.
If you have a wedding and you're not sure what to wear, here are some important and helpful tips for you:
Know the color scheme of the wedding.
You would want to know the colors of the wedding and the colors the bridesmaids are wearing because you wouldn't want to wear a dress that's in that color. You let the bridesmaids be the bridesmaids and shine as the bridesmaids. You don't want to get mistaken as part of the wedding party.
Know the location and the theme of the wedding.
Knowing where the wedding is going to be held and the atmosphere of the whole wedding is key. You don't want to dress up formally if the wedding is going to be beachside and you don't want to dress so casually if the wedding is going to be in an elegant location. When you get the invitation, quickly Google the location and go to their website. I normally like to check out the location's photo gallery so I can get a feel of what the theme is going to be like.
Know the weather.
Be sure to always check the weather no matter what season. In spring and summer, it rains and it may even sometimes get chilly. But this is more important during colder season because you would want to dress up a bit warmer or have some cozy coats to take with you to keep you warm during the occasion.
I must also add to the above to make sure you wear shoes that are quite comfortable. I'm sure you know that there's going to be some dancing and lots of walking around involved.
And if you're going to a wedding this spring or summer, today's post is a wedding guest outfit inspiration for you.
You can't go wrong with a floral midi skirt. It's fun, classy, and playful. You will never fail to get a compliment when you're wearing one. This particular Eliza J. Floral Skirt caught my attention because of the fun vibrant colors but I've curated a few floral midi skirts and maxi skirts for you below.
Maxi skirts matched with a simple tank or sleeveless top is just as classy and elegant as a midi skirt as well. Ladies, you don't always have to wear mini dresses to weddings. Women who dress up classy are admirable and men appreciate that, trust me.
Check Out Other Floral Skirts Below 



Check Out Other Bow Heels Below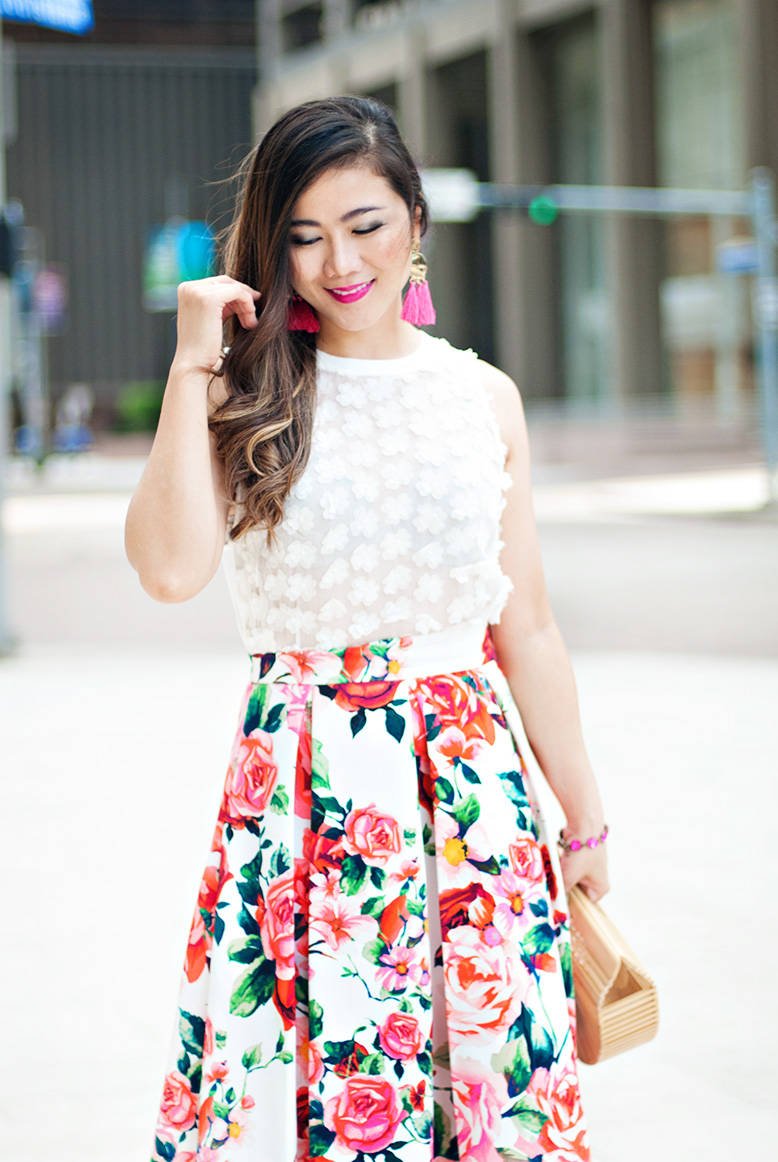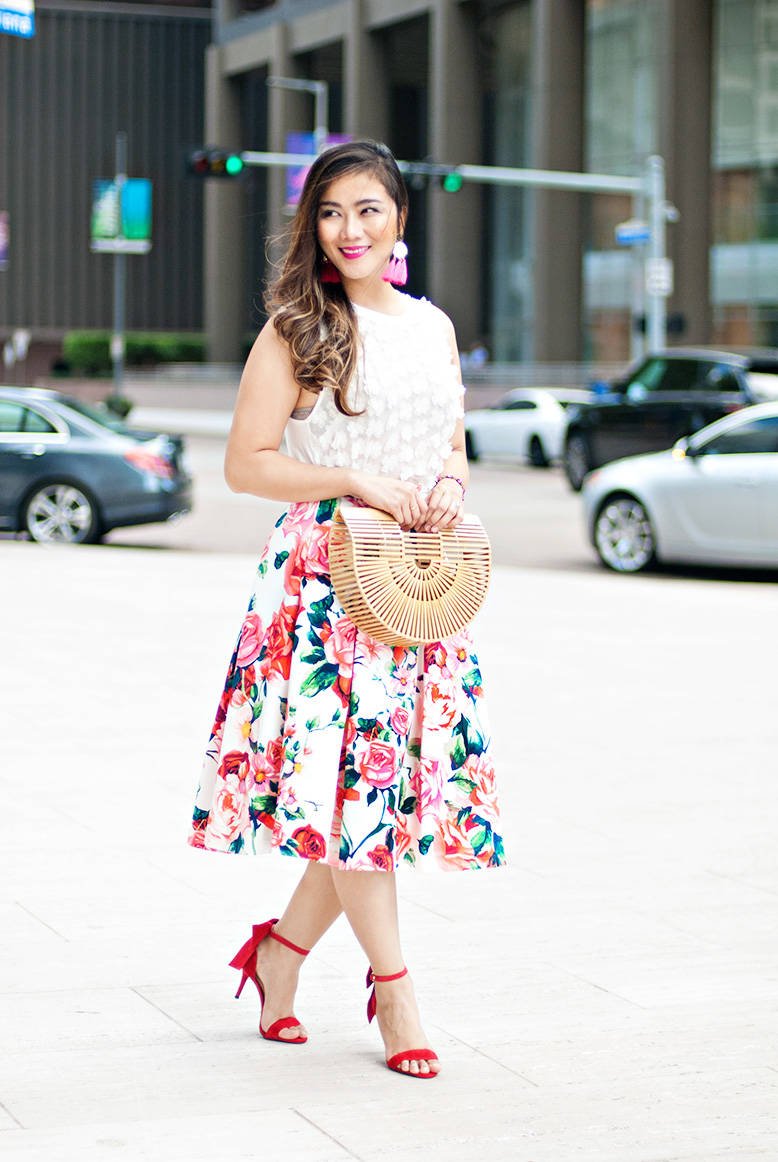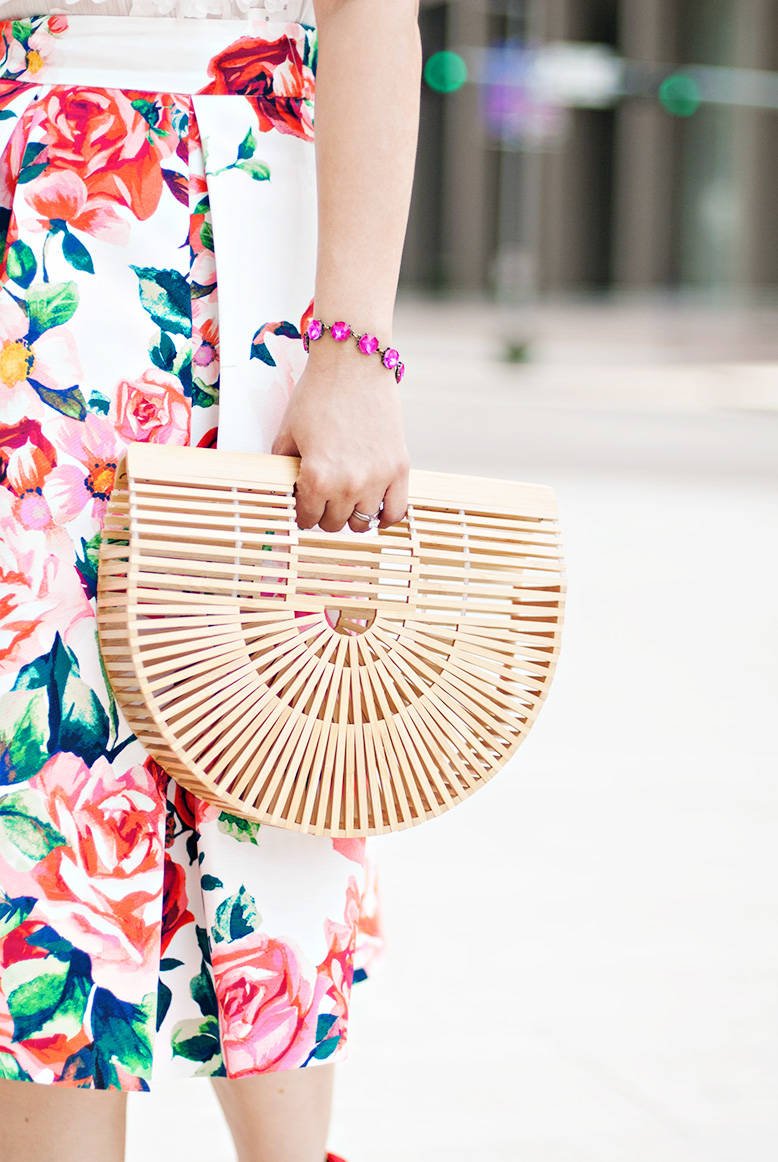 SaveSave
SaveSave