Wear Us Out Denim Button Down | Deb Shops White Jeggings (Similar here) | Tory Burch Handbag (Similar here and here) | Sole Society Plaid Scarf | Sole Society Boots | Dynamic Asia Beanie | Chloe Sunglasses (Similar here) | AIBI Watch | CAbi Chain Link Bracelet (All c/o except Tory Burch handbag)
. . . . . . . . . . . . . . . . . . . . . . . . . . . . . . . . . . . . . . . . . . . . . . . . . . . . . . . . . . . . . . . . . . . . . . . . . .
I'm pretty sure that you've heard the rule in fashion "No white after labor day." Said who anyways? I've heard that and for years I never really understood why because I find no reason or logic behind it. Yes, there are certain colors that go out of fashion in some seasons, like it's weird to wear pastels in fall but white is a basic color and can match with any fall color. To me, it is an all-season color, just like black and beige.
That being said, I refused to not wear white in fall. Thus today's outfit. A pair of white pants or jeggings look great with a denim button down, don't they? I can certainly find a lot more items in my closet that will work well with these jeggings.
Speaking of denim button downs, this is another item that is pretty much an all-season item to me. There are so many ways to style them all year round. These denim button downs or chambrays come in a fairly-light material so it's not like you can't wear them in summer. They are definitely a staple in my closet. In fact, I have about 3 or 4 of them, including the one on this post from Wear Us Out Boutique.
And what do most of us women love about fall fashion? The boots! Yes, the boots! I just got this pair from Sole Society and loved the buckle style behind it. Oh do you ladies know that Sole Society carry other items now too such as scarves? They have a pretty nice collection of jewelries and scarves so I suggest checking them out. Unlike their competitors, it's not a monthly subscription where you have to sign-up and buy or skip every month. You can just purchase them whenever you want.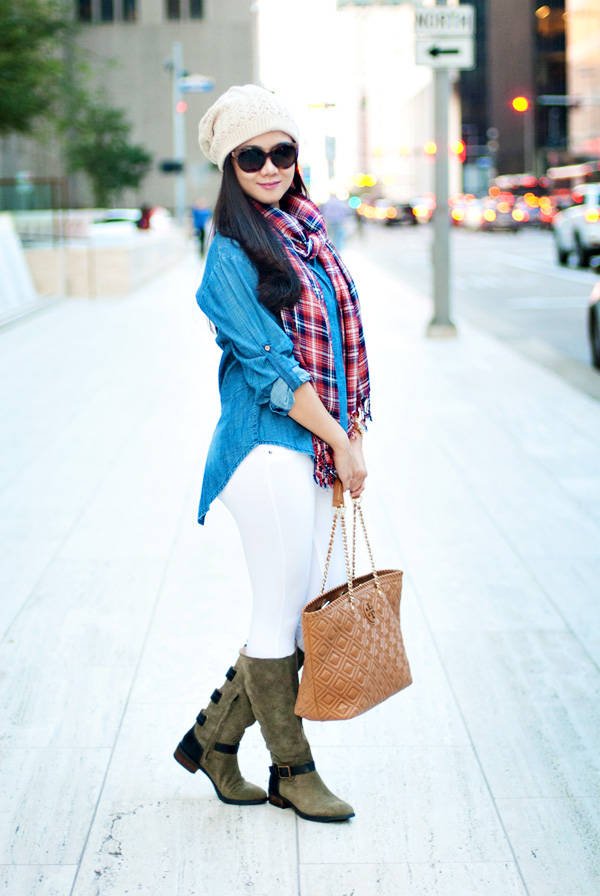 And the best part on today's post? Another giveaway! A group of bloggers and I have teamed up once again to bring you this designer giveaway. One lucky winner will win a pair of authentic Tory Burch boots, Coach bag, Coach scarf, Gold iPad Mini, and Powerbeats2. Good luck lovelies!!!
The Ultimate Designer Giveaway
SaveSave