SHIPT has launched in Houston a few days ago and their team has reached out for me to try out their service. Shipt is an app for a grocery shopping service. Can we say COOL?!
With such a busy schedule, I think we all can use this type of service – whether it's every week or every once in a blue moon. My mom does our grocery shopping for the most part but since she doesn't drive, I normally have to drive her to the grocery store. A lot of times, it takes a couple of hours from my busy schedule, but it needs to get done, right?
However, with SHIPT, grocery shopping is now easier! It's done right through the app and delivered to your door. See the quick video below.
The Pros

1. User-Friendliness

The app is fairly easy to use. It allows you to search for products based on categories and also shows what's on sale for a particular day. It also allows you to search for the products you're looking for based on the keywords.
2. Ability to Add Special Request/Notes

I like the fact that the user can add special requests. For example, if you want your bananas to be still a little greenish, you can add a note for that.
3. Delivery Windows

The service offers several delivery times during the day so you know when to expect your groceries and they don't arrive when you're not at home to receive them.
4. Ability to Rate Your Shopper and Add Feedback

SHIPT has several different shoppers in your area. Once you place the order, the shoppers get notified and they can claim it based on their availability. So here's my actual SHIPT shopper. I had scheduled my delivery for the following morning (between 9 AM – 10 AM) after I placed the order since I wasn't going to be home and I wanted to have a personal encounter with my shopper.
Louis arrived right on time in the delivery window. He was on point with communication via text (informed me when he was about to do the grocery shopping and when he was on his way to deliver them) and has pleasing/easy-going personality which I'm sure consumers loved!
I like the fact that the app gives you the ability to rate your shopper and provide feedback so the company will know how their shoppers are performing.

5. Ability to Provide Feedback on the Items

So not only are you able to rate and provide feedback on your shopper but you can also provide feedbacks on the items delivered to you. If for whatever reason, something is missing or it's the wrong item, you can send that feedback. Since I never had an issue with my order, thankfully, I didn't have to use the feature. However, what I'm not sure is how HEB or SHIPT will handle the situation should you have any. Will they refund or send you another item?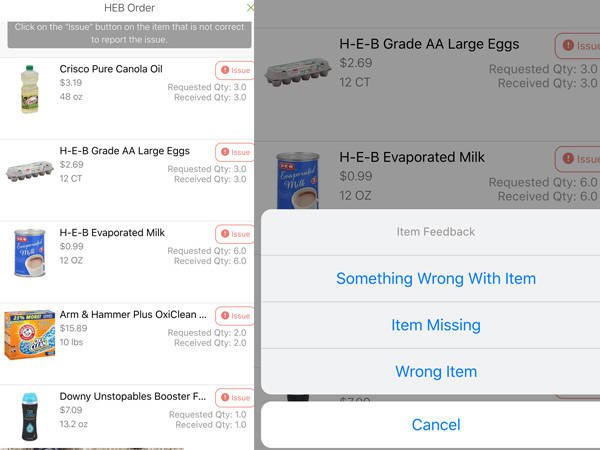 The Cons

1. Limited Vendor

Currently in the Houston area, SHIPT is only working with H-E-B. What I would like to see in the future is a few more vendors such as Krogers, Walmart, and Target. Thankfully, we shop at H-E-B quite often but I know that my mom loves Walmart so she can definitely use this service if ever Walmart gets into their program.
2. Inability to Make Changes to Order

I could be wrong in this because there might be a certain timeframe to add to order or make changes but I was hoping to add something to my order last night but I couldn't find a way to do so.
3. Inability to Change Delivery Window

I placed the order last night before I head out to rehearsal. But then I realized I wanted to be home when the delivery comes so I can have a first hand experience with the shopper. I wanted to change the delivery window but was unable to unfortunately. So I had to completely cancel the order and order the items all together again. I had to start from the beginning. I can imagine the first shopper who claimed it must be disappointed.

Overall, the service is pretty neat! It will work for the busy stay-at-home or working moms, workaholic professionals, and elderlies. There is a membership fee of $14/month or $99/year which I think is all worth it if you're going to use the service a lot. Delivery is free if your total is over $35! Otherwise, it's $7. If you're using the service, you might as well have the shopper buy everything you need for the moment and get that delivery fee waived, right?
If you sign-up using this link, you will get a $10 shopping credit to try out the service! Also, if you're looking for a part-time job this summer, consider being a SHIPT shopper! Louis, my SHIPT shopper, said he's doing it part time since they launched in Houston a few weeks ago and makes about $500/week. Such a fun way to make additional income.
Visit www.shipt.com for more information.
…………………………………………………………………………………………………………………………………………….
Disclaimer: This post is sponsored by Shipt. The opinions expressed herein are mine and are not indicative of the opinions or positions of Shipt. Thank you for supporting LynneGabriel.com sponsors. They make my blog possible!