Lovers + Friends Oversized Cardigan | BP V-Neck Tee | Shopbop Faux Leather Leggings | Kendra Scott Earrings |  Tenth Street Hats | Dynamic Asia Scarf | Suggested Similar Booties: Circus by Sam Edelman, Dolce Vita, Vince Camuto, BCBG
. . . . . . . . . . . . . . . . . . . . . . . . . . . . . . . . . . . . . . . . . . . . . . . . . . . . . . . . . . . . . . . . . . . . . . . . . .
How to dress fashionably in your 40's? Hmmmm. To be honest, I never really got asked that question because…Well, if I tell you that I just turned 42 a week ago, will you believe me? Probably not. Modesty aside, it's not new to me. A lot of people think I'm 18-20 years younger than my age. I'll give credit to good genes. *Wink*
A lot of women seem to lose interest in dressing up fashionably once they get older. We women tend to lose confidence once we gain a few pounds and acquire lines on our faces. I believe it's all about perception – perception about our age, body, and overall looks. A lot of times, stress plays a huge factor too in the way we dress but it's up to us whether we're going to let that show or not.
So how does one dress fashionably in their 40's? First let's define dressing "fashionably". Dressing fashionably doesn't always mean you have to dress in the latest styles and trends. Dressing fashionably can just mean that you're able to put clothing pieces together that provides an outcome that you feel confident in that also looks nice on you overall.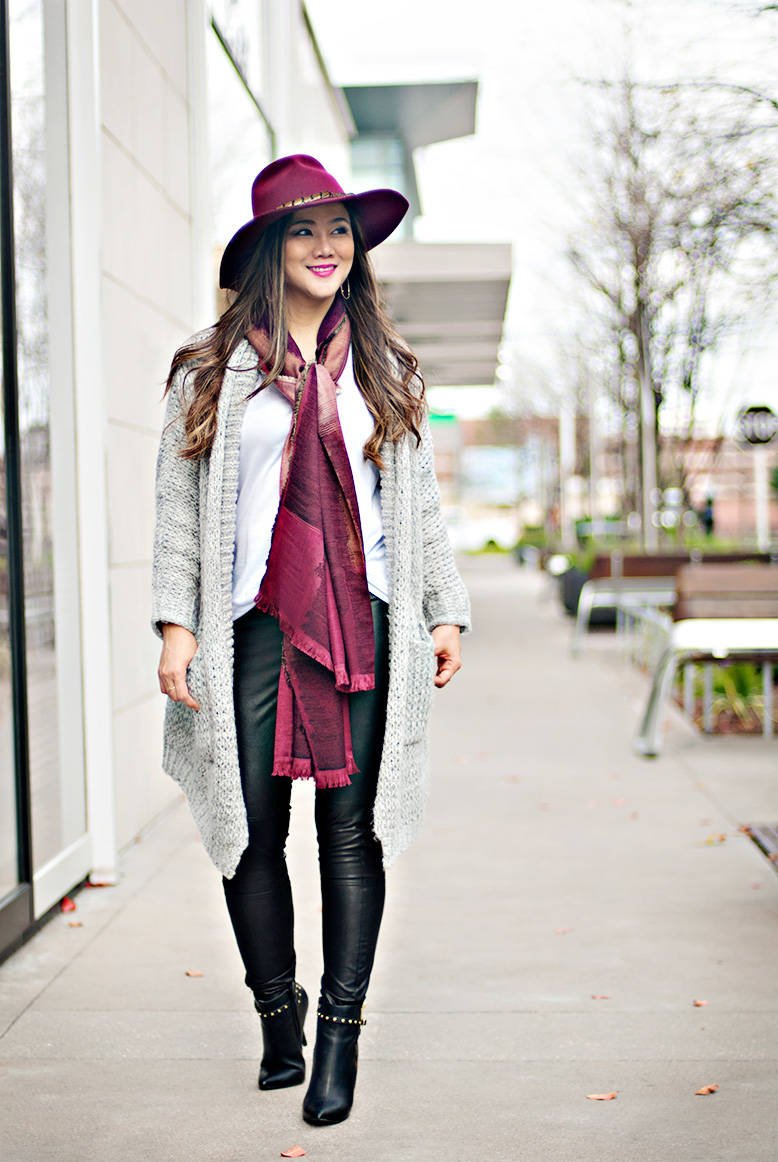 If you're in your 40s, here are some tips I can give you:
1. Know the pieces that work well with your body type.
I'm no expert when it comes to body types and what pieces work with what body shape. But one thing I know – my body. I look in the mirror and know what pieces will work with me and what won't. For example, there are some women that can just dress to kill in haltered pieces. I can't and I won't. My shoulders are broad and as of this time my arms need a LOT of work so dressing in haltered pieces isn't my thing, even if the cutest top or dress is out there. I've tried before and I just didn't feel confident in it.
So know the pieces that work well with your current body type. Your body shape may  be different now than years ago. I know that's true for me. Since I started dating my husband now and since getting married, I gained a few pounds and some pieces that worked well for me before don't work for me now. But then there are styles that didn't use to work for me that work now.
If you're not sure, go to a store that has a personal stylist that can help you.
2. Know the colors and prints that are in season and out of season.
Even though I mentioned above that you don't always have to wear styles and trends to dress fashionably in your 40s, you at least need to know what colors and prints are in season and out. For example, you wouldn't want to wear burgundy, mustard yellow or hunter green during spring and summer. Those are jewel tones that are in season during fall and winter. You wouldn't want to wear lilac by itself during fall either. Now there are colors that can work well all season long such as red and coral.
The best way to dress out of fashion is to wear out of season colors and prints. Anybody can spot that right away and can tell you're not in touch with the fashion world. You'd probably think "Who cares?". You should. If you haven't read my post about How to Dress for Success and Why You Should, I highly recommend doing so.
Also avoid always dressing in dark colors throughout.
It is true that dark colors can make you look skinnier and can cover some areas but dark colors can also make you look old. While it is great to know what colors and prints are in season and out, it's also great to mix and match in season and out of season colors. For example, on fall and winter,  you can wear a blush pink turtle sweater and match it with black, burgundy, dark tan or grey piece.
Of course, there are occasions when you can wear black or dark colors throughout such as a formal event but on a daily basis such as work (unless corporate code says so), try to experiment with colors.
3. Learn what styles are in season and out of season.
Again, while you don't have to wear trends to be fashionable, you would at least want to learn what's not in style anymore.
A guy, probably in his 60s, showed up to church one time, and he was wearing a bell bottom corduroy jeans in burgundy. He was successful in getting everyone's attention, yes, but everyone I knew was texting each other and asking if those jeans are even in style. First, the jeans and the fabric weren't in style and the color wasn't in season.
You may need to build a staple wardrobe so that you can have pieces that you can mix and match all season long. Here are some pieces I suggest for your staples.
You may need to do a closet purge and donate to Salvation Army your old clothes.
4. Learn to use fashion jewelries and accessories.
You can have the most basic pieces but addition of fashion jewelries can take your outfit to the next level with accessories.
For example, in this outfit, I had a basic BP V-Neck Tee and a pair of faux leather leggings and an oversized cardigan. Now, I dressed it up a little bit by wearing studded heel booties and I added a pop of color with my burgundy Kendra Scott earrings, the hat and the scarf. To dress it down, I'd simply just wear a pair of low booties maybe or my favorite pair of Adidas sneakers. But guess what, I'd still wear the burgundy scarf and hat.
5. Feel young!
Lastly, feel young. Don't feel and act like your age (to a certain degree). Age is all about perspective. Yes, there can be some visible signs of aging but I believe that if you feel young, it will also show in the way you dress and carry yourself. Like I said above, it's all about perspective.
Hope these tips help you. If you feel like you need a makeover in the way you dress, get a trusted fashionable friend who can be honest with you and give you a good advice.
If you don't feel comfortable about that, go to a store that offers a complimentary personal stylist. Professional personal stylists will work with your body type and of course very in touch with in-season and out-of-season pieces.
Lastly, don't be afraid to experiment and get out of the box. A lot of times, we get so used to wearing pieces that don't work with us anymore but because we're comfortable with it, we stick with it. Go to a store and try on some pieces that you normally wouldn't wear and see how you feel about it and see how it looks on you.