How I Met Him:

Story of the Photo Clockwise: Top Left: Perhaps the first year we're big bro and lil sis. He's always goofing around. This was at our Lakewood Choir Christmas party. Top Right: At one of the events I invited him to. Still a big bro/lis sis here. Bottom Left: When we got stranded due to the flood. We weren't dating here yet but already talking. The basketball game had just finished but it was flooding so we stayed put. This was taken by our friend. Bottom Right: When we became officially a couple.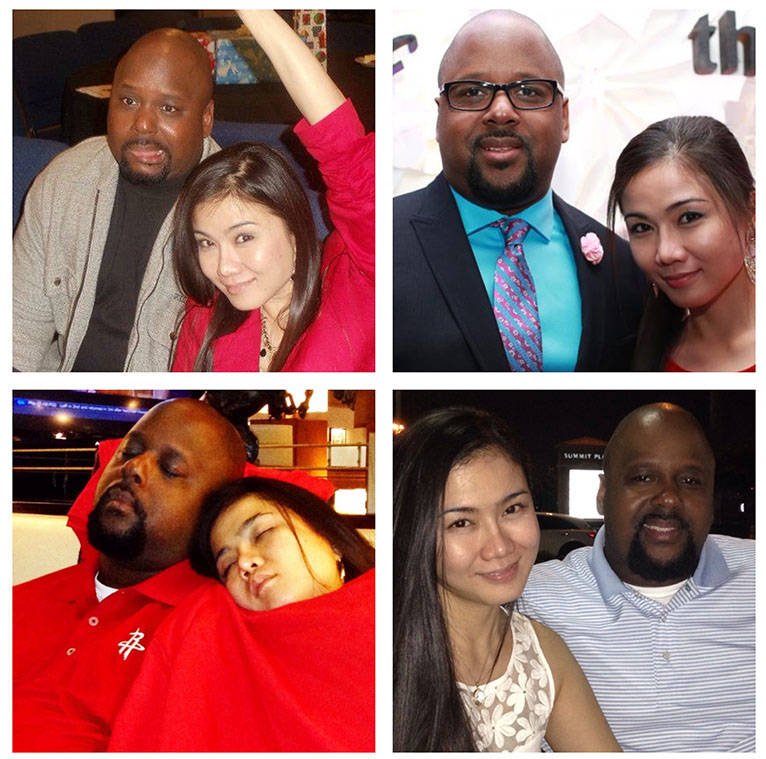 Hey Guys! About to get a little personal here…hope you don't mind!
About six years ago, around April of 2010, a few Lakewood Choir members, including myself, took a trip to Los Angeles for one of Lakewood Church's first biggest stadium events.
Lakewood Choir is literally comprised of about 400 people, it's almost impossible to know everyone by name.
That Spring day in 2010, I traveled with a couple of choir friends and when we landed in LA, we chanced upon another choir member who happens to be my friend's friend. She introduced us to each other, he gave us a ride to our hotel since he had a rental car and we all went on about our day and never really thought of anything about it. I'm really not sure how it happened but we ended up being a part of a small group of friends and I started calling him "big bro." I was dating someone when we met but it ended shortly after that. I was good friends with him for about 3 years and we became really close friends for about 2. We were each other's confidant, but we never really had gone places on our own or done things together with just the two of us. I was even trying to get him to go on dates with a few different ladies. It was that way for 5 years until God changed our course last year and the rest is history. It was a bit of a tricky situation for both of us because we were in a box – he's my big bro and I'm his little sis. But God sure does know how to change the hearts of people and direct our paths.
How He Proposed:

June 3rd was our first dating anniversary. A few weeks before that, I had asked him if we're doing anything for our first anniversary and he answered nonchalantly like he always does with "Whatever you like." So I basically just said we can have dinner and go to the movies afterwards to which he agreed. Little did I know that he was up to something.
A couple of days before our anniversary, I got an invitation from Cadillac to attend their XT5 Style Driven event and that changed pretty much everything he had planned for the evening. Because he didn't want me to know what he was up to, he had to make it work and go with the flow.
He was coming from work that day and told me to meet him at Starbucks (where he asked me officially to be his girlfriend as well) to join a couple other friends who were going to the event with us. Up until this point, I had no idea what was about to happen. He went to order our drinks while I sat on the table waiting.
Shortly after, our husband-wife friends showed up with a bouquet of flowers and a confused look because apparently they came in at the wrong time. They talked their way out of it though, went outside, and for a minute I thought it was also their anniversary until….I looked at the counter and saw what I thought were our drinks. He asked me to go get it (which by the way to me was unusual), saw the third cup and looked at him. Saw him on his knee with the ring and everything seemed like a blur since then.
It was the happiest and craziest day of my life: I squeaked, I laughed, cried…and sweat! I'm usually not a "sweaty" person but being in this moment when the love of your life asked you to spend the rest of your life with him was pretty amazing – my heart was beating fast, tears running down my cheek, and sweat all over my body. It was nerve-wracking to say the least.
It was one of those moments that I knew was coming, but didn't know when so it caught me by surprise. It definitely was such an amazing moment that will forever be etched in my heart.
I partnered with Simply Stylist and Dove to share that sometimes the moments that make us sweat are the most amazing moments of all. In their new campaign, Dove puts its Clinical Protection Antiperspirant to the test during a real woman's surprise proposal to the love of her life. Dove Clinical Protection offers undeniable wetness protection and has ¼ moisturizers to care for skin. Check out the wonderful video below.
…………………………………………………………………………………………………………………………………………….
Disclaimer: This post is sponsored by Dove. The opinions expressed herein are mine and are not indicative of the opinions or positions of Dove. Thank you for supporting LynneGabriel.com sponsors. They make my blog possible!