Getting married a year and a half ago was one of the highlights of my life…but going on honeymoon was the best part of the whole process, to be perfectly honest.
Wedding planning can be so stressful. Just ask any bride. So after all is said and done and you get to spend quality time with the person you married, in a beautiful island, then it's all good!
I remember during the wedding planning process, I was so looking forward to just getting away. I was looking forward to traveling with my husband. Don't get me wrong, I loved planning our wedding, I loved getting all the details done, but you can't beat R&R!
With so many honeymoon destinations, it was a bit overwhelming to make a decision. We wanted to go to Hawaii but going on a long flight after the wedding doesn't seem appealing to us. Not to mention that it was very expensive at that time because it was Hawaii's peak season. It was winter in the mainland so a lot of people were traveling to somewhere tropical.
So we decided to look at destinations that are closer and decided on Montego Bay, Jamaica. My husband happened to have a college friend who has been to Montego Bay several times and highly recommended it so we went for it.
There are three major touristic cities in Jamaica and that's Montego Bay, Negril, and Ocho Rios. Montego Bay is the closest to the major airport that's why we chose it.
What's even better was that the resort that we picked – Riu Palace Montego Bay was only 15 minutes away from the Montego Bay airport.
We didn't schedule any shuttle to transport us to our hotel but there are a lot of cab drivers waiting outside the airport. I believe we paid around $20 to the driver compared to a $25 hotel shuttle. If you don't mind paying the extra $5, I would just recommend the hotel shuttle, at least you know that the service is from the Riu properties.
Where to Stay: Riu Palace Montego Bay
Riu Palace Montego Bay is an adult only all-inclusive resort which we preferred. It has 4.5 star review (out of 2,635 reviews) on TripAdvisor. The price per night was also very affordable compared to other 4 star resorts in the area. In fact, they currently have a promotion of $182/per person per night from August to September 2018. Very affordable, especially for a 24-hour all-inclusive resort!
The hotel is very clean overall. I never noticed it being dirty the whole entire time that we were there. It was very well kept and the staff is super friendly.
Riu Palace Montego Bay is connected to two other Riu properties: Riu Montego Bay 5 and Riu Reggae, which are not adults only. As guests of Riu Palace, we were able to go to Riu Montego Bay 5 and Riu Reggae to check them out. We also have the privilege to dine at their restaurants and use their amenities. However, guests from other properties are not as privilege as guests of Riu Palace as they are not allowed to visit or use the Riu Palace amenities.
Amenities include: 
Free wi-fi throughout the hotel
When traveling, this is a must. Roaming rates can get expensive so we depended a lot on the wi-fi to get connected or communicate with our family while we were away.
Several dining options in the property, including a 24-hour snack bar by the beach/pool and a buffet restaurant
Nice and clean rooms
Fitness activities
Spa
Gym
And a private beach and pool area
As soon as you walk in, you will be greeted by the friendliest staff and you will be greeted by any one of them anywhere at the resort. You will just totally feel welcomed!
The property is surrounded by palm trees which is really nice. The weather in January in Jamaica is around the high 80s I believe. It sure was a nice break from the cold winter weather in Texas.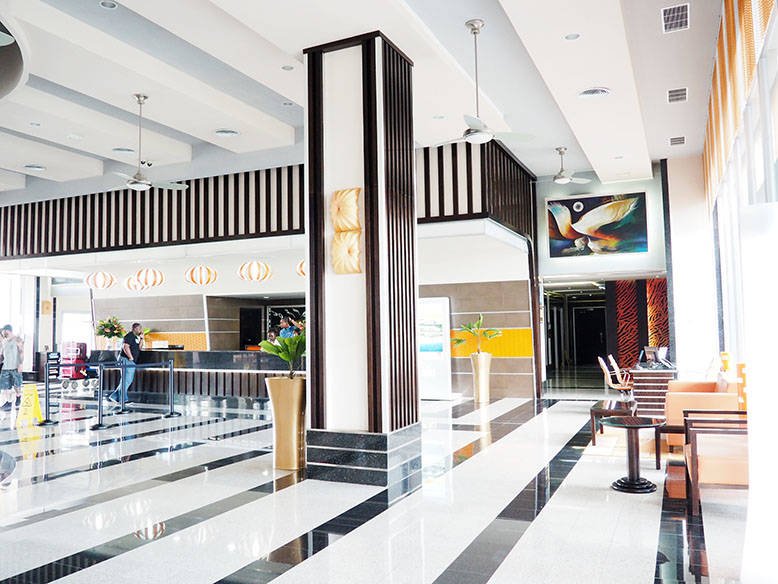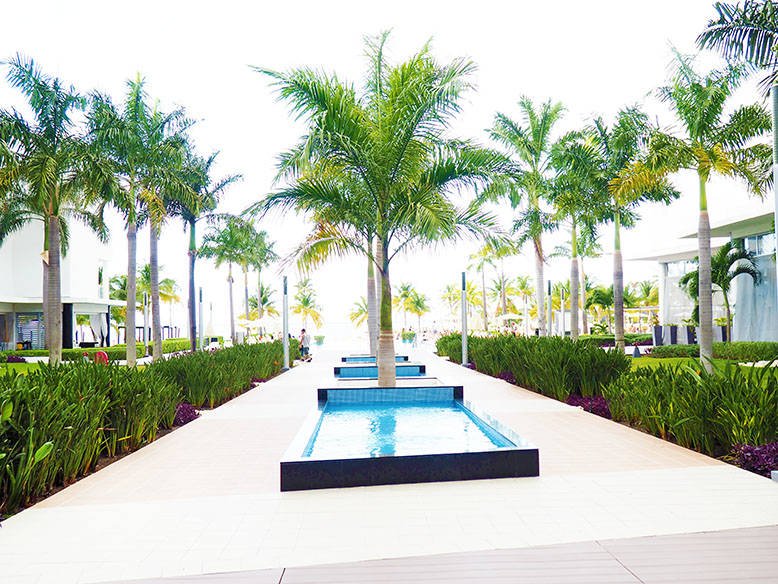 The Accommodation 
The hotel overall has a very nice modern look and feel to it, including the rooms. I believe we got the Jr. Suite special. It didn't have any special view as it didn't matter to us since we planned to hang out by the pool or by the beach anyways. However, it was important that our room is at least nice and clean and that's exactly what we got.
It had a king size bed, a small lounge area with a small sofa, a desk, TV, free wi-fi, a hydromassage bathtub (which we didn't get to use, bummer), a shower area with a California type shower which we totally enjoyed, a coffee maker, and an alcoholic beverage dispenser. Talk about all you can drink as well!
The room that we got was a good size. There's plenty of room to walk and dance around!
Our housekeeper came by everyday and left us a sweet and encouraging quote every single time and most of all, kept our room in pristine condition. We never had to call the front desk for any complaints about the cleanliness of our room. It was an absolute great experience and at the end of the day, we look forward to heading back to our room.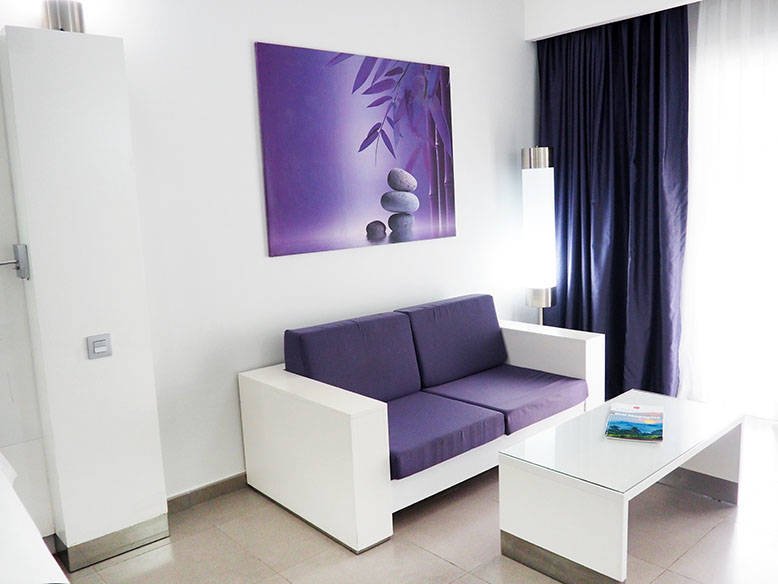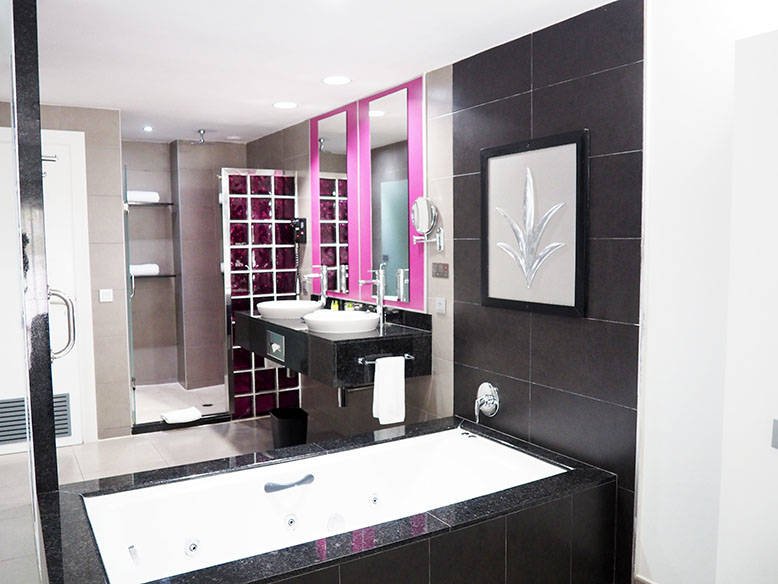 The Beach & The Pool
Riu Palace Montego Bay has 2 pool areas and a private beach. We didn't hang out at the pool as much as we did at the beach but I can tell that the pools were always kept clean. One of the pools has a bar in it.
Daily and nightly, there are always some kind of activities happening. During the day, the staff would facilitate some games for the guests and at night, they would host something different every night. One night would be karaoke, another might be dance, etc, at the 24-hour all-inclusive snack bar. It was so much fun! I enlisted my husband to sing John Legend's All of Me during the karaoke night. He was totally caught off guard, he had no idea I had enlisted him. HA! He was hesitant and a bit nervous but everyone loved his performance. A few guests came up to us and complimented him. One older lady even said he almost made her cry. Awww!
The beach is a really nice spot to relax. It's a private area so you don't see locals trying to sell you anything. It is pretty small so it might get a little crowded at some point but we didn't have any problem finding a cabana or loungers in the area.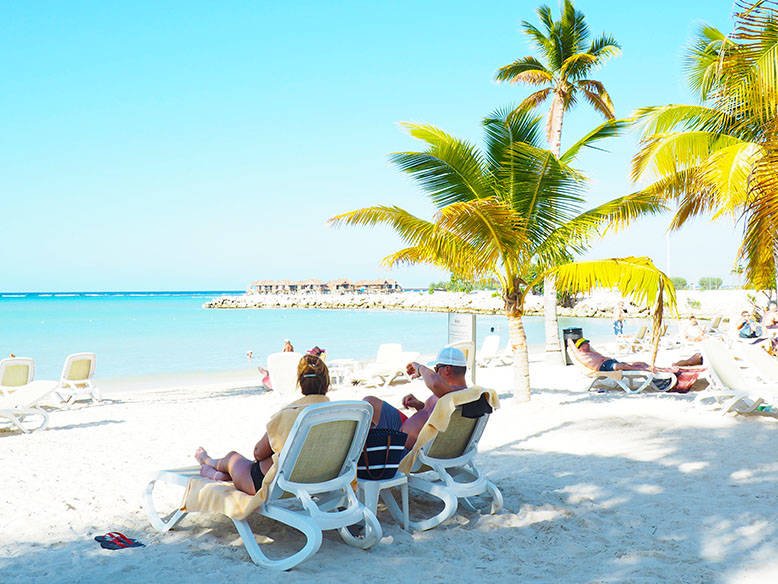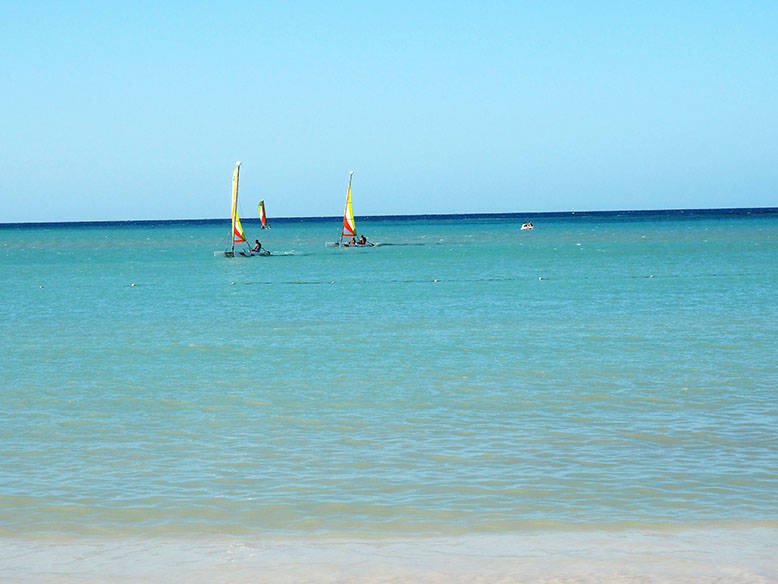 One of the nights, we decided to check out the activities at the Riu Montego Bay 5 and they had some kind of dance performance happening. Like I said, as a guest of Riu Palace Montego Bay, you have the privilege to visit and make use of the amenities at the other two properties. However, being a guest of the other two, you won't be able to go to Riu Palace.
If you end up booking Riu Palace, I highly recommend checking out some of the nightly activities at the Riu Montego Bay 5.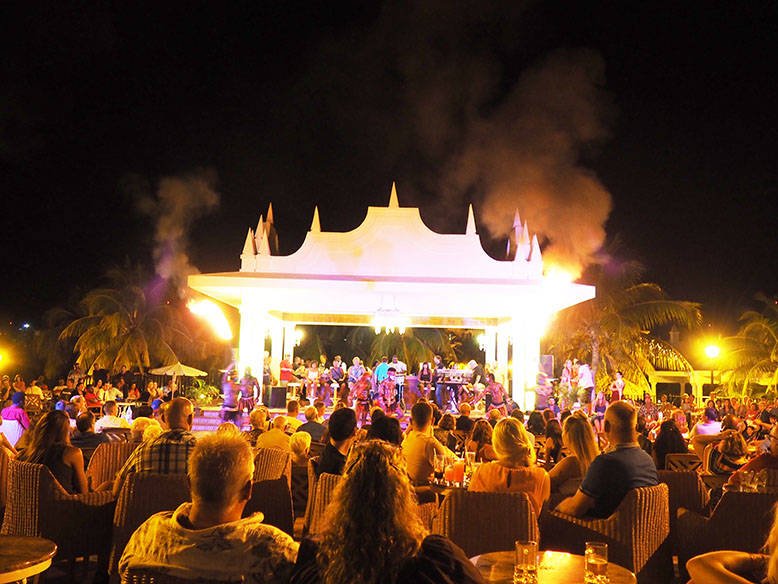 The Dining
Riu Palace Montego Bay has 5 dining options (if I'm not mistaken) which includes a buffet restaurant, an Indian restaurant (Krystal Fusion Restaurant), Japanese, Italian, Steakhouse, and a 24 hour snack bar and a bar.
Unfortunately, we never got to try any of the specialty restaurants. We stuck with the buffet and the 24 hour snack bar which we were totally happy and content with anyways. The buffet has a lot of options, including fresh juices, fruits, and desserts. Breakfast was always good everyday! And for lunch my favorite was the jerk chicken with the plantain. Yummmm!
The other restaurants require reservations I believe or require standing in line way ahead before their opening time so you can get a spot. They also close early. Once all the tables are filled, you won't be able to get in anymore or even wait for a spot to open. We just didn't feel like doing all of that and since the buffet was good enough for us, we just went there everyday for breakfast, lunch, and dinner!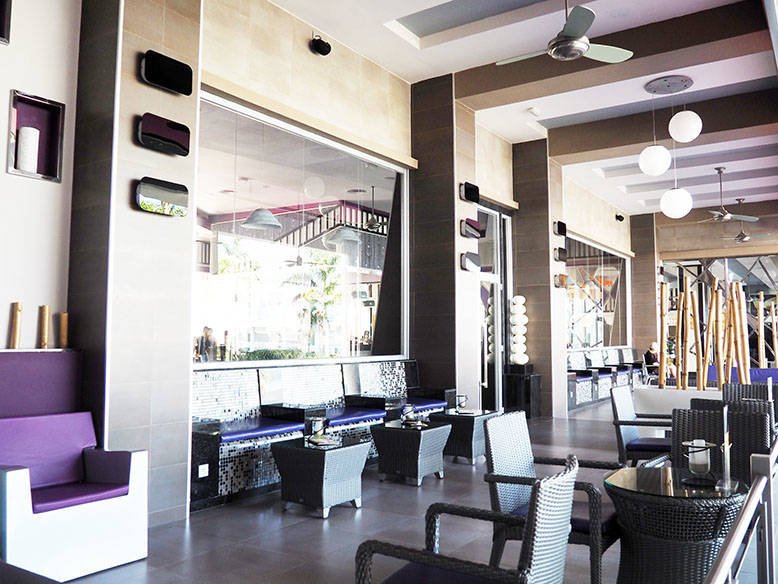 Had to try the Bob Marley drink at the 24 hour snack bar by the beach. It was the first drink I had to try when we got there. The snack bar doesn't have a lot of options but it has good options enough to fill your tummy while hanging by the pool or beach. All alcoholic and non-alcoholic drinks are included.
What to Do in Montego Bay
1. Dolphin Cove
While there are activities at the resort, we just couldn't pass up some tours/attractions . One of the highly recommended attractions by the hotel concierge was the Dolphin Cove.
I don't remember how much we paid exactly but I think it was somewhere around $120 or more. There were three different packages from what I can recall and what we chose was the one you get to swim and interact with the dolphins. The basic package was just pretty much watching the dolphin and watching him show off.
This is a group tour so the shuttle will pick you up from the hotel.
I'm so glad that we chose a good package! I got to swim with the dolphin which was scary at first but you get an instruction from the trainer on what to do. We also got to hold "hands" with it and kiss it. The dolphin showed off as well and it was such a heartwarming experience for me since I truly do love animals.
We also got to see stingray upclose and got to touch it as well. I must admit, I was a bit nervous about getting close to a stingray. But I still dared!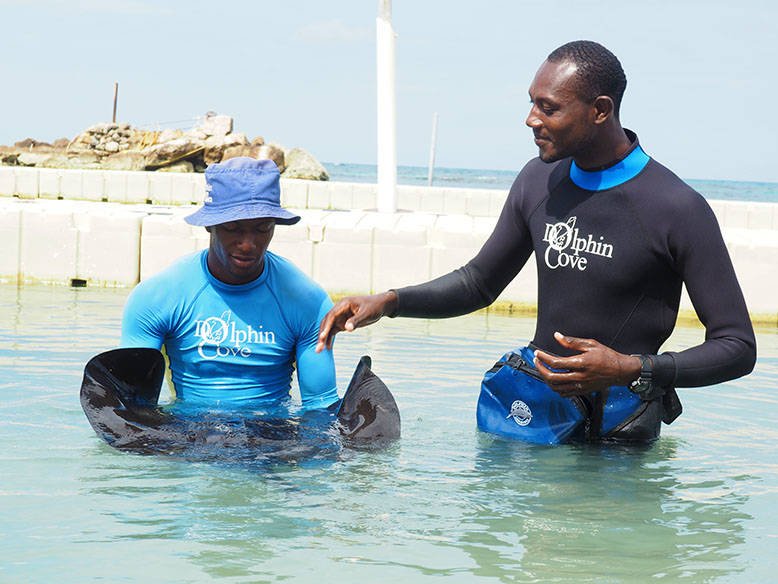 The Dolphin Cove also has a little safari. We didn't get to ride this donkey because it wasn't feeling well but I at least got to see it!
We also got to see other exotic animals.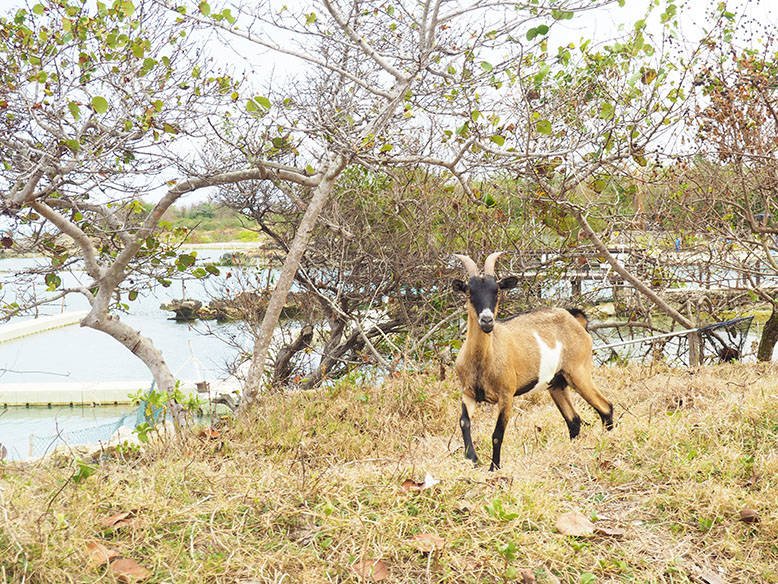 I believe there's also a kayaking area but time was limited in this tour. We didn't get to do the kayaking.
2. Dunn's River Falls
Dunn's River Falls is a famous water fall in Ocho Rios, Jamaica. We had to travel by bus for about 45 minutes.   This was another group tour and was an all day affair.
I must mention that if your tour didn't book everyone from your hotel, chances are you will be stopping at other hotels to pick up other guests who booked this tour. This was one thing I didn't like. We had to stop at about 3 or 4 hotels to pick up guests. Other than that, it was all good.
There are two ways to get to the Dunn's River Falls – by bus and by catamaran. We opted for the catamaran party! Drinks and lunch were included, although lunch wasn't the best. It was good enough to fill our tummies though. We had lunch as soon as we got to Ocho Rios. We also did a little bit of snorkeling before we headed to the falls.
From the beach, we had to climb up the 600 ft Dunn's River Falls. It was pretty dangerous so we had to go climb up arms by arms or help each other go up. It's very slippery and one wrong move, you can end up in the water or hit your end on the rock. I wouldn't suggest this activity for families with small kids.
I also would suggest getting a water proof case for your cellphone and something that you can hang around your neck. Holding your phone while climbing up is not recommended. You can drop it and lose it. There will be locals who will be taking your photos but you can expect to pay a ton of money per print. So we bought a waterproof iPhone case. Be sure to check out the travel essentials I suggested on 10 Important Tips for A Hassle-Free International Travel. Do not wear flipflops, it's not safe. Be sure to bring water shoes instead. They have some to rent out but for the price they're renting it out, you can get a brand new pair at Walmart.
While the climb was pretty scary and a bit stressful, we couldn't help but get fascinated with the scenery. There were plenty of spots to take photos at.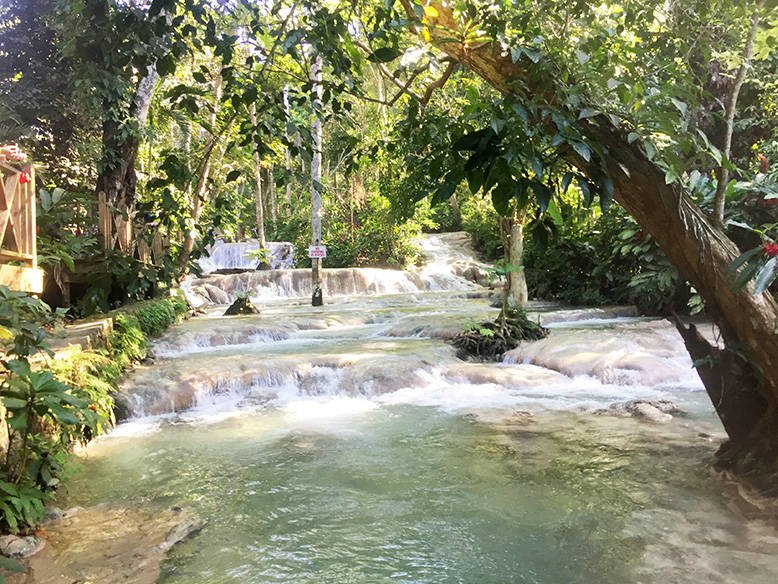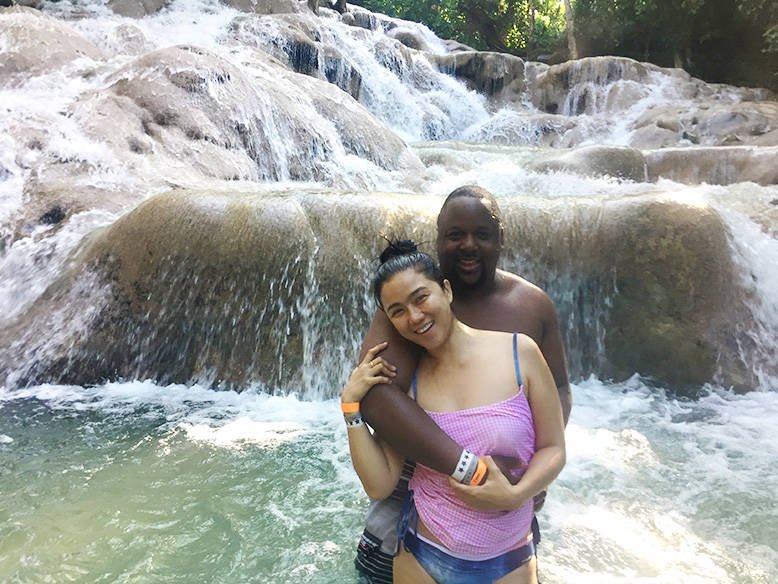 As soon as we got to the top, there was a sign that said "Congratulations. You have just completed the climb of the World Famous Dunn's River Falls." It truly was an achievement!
Some Important Tips
Be sure to check out my 10 Important Tips for A Hassle-Free International Travel but in addition, here are some tips specific to Jamaica.
It's not cheap in Jamaica. You can pay in their currency if you want to exchange USD but they do accept USD and they also know how much to charge for stuff. You can also use your credit or debit card there but you know to expect current exchange rates.
If you're buying souvenirs, learn to negotiate or try to get an additional item or two for the price they're giving you. Most of the time, they are willing to give you a good deal.
Beware of "ganja". This is pretty funny but I had no idea what ganja is! When we walked out of the airport and a cab driver came up to us to offer us a ride, he also asked me if I'm ready for some good ganja. Well, I thought it was "good time." I was wrong! My hubby was like, "Do you even know what it means?" I was like, "no." He was like "Then why you saying yes?" He proceeded to tell me what it means. HA! I really could've gotten in trouble if I was by myself. But thank goodness I have my hubby with me. My husband and I don't smoke and don't do drugs at all. We've never done it. But we were told by the locals that in Jamaica, you can smoke ganja but not in public places.

There are so many things to do in Jamaica, so many attractions to visit, and tours to take. But we could only do so much with the limited time that we had there. Wish we had stayed longer but I would love to go back again sometime! The locals are the friendliest people that I have ever met. I love their happy-go-lucky attitude. You would often hear them say "Ya mon or yeah mon" which means no problem  or no worries. We had such a great time in Jamaica and highly recommend visiting it in the near future.