Has any of you find bra shopping online quite frustrating? I have never shopped for a bra online because I find that each time I click on a particular bra I like at a particular online store,  it's not available in my size. Then I end up looking at other designs and styles only to find in the end, they're also not available. In all honesty though, I've only done it once. It only took me one time to give up. Ha!
When I was asked by Aerie, American Eagle's lingerie division, to try their bra-fitting guide, I obliged because I wanted to see how seamless this process will be for me.
For most of us ladies, we already have preferences of what type of bra and color we usually want. I have a pretty basic want and I don't normally like colorful bra for regular use. Meaning, I won't wear printed bra (i.e. polka dots, florals, plaid). I'd like to keep it simple. But I still prefer certain shapes.
Well Aerie has provided a way to make bra-shopping less frustrating through the Aerie Bra Guide.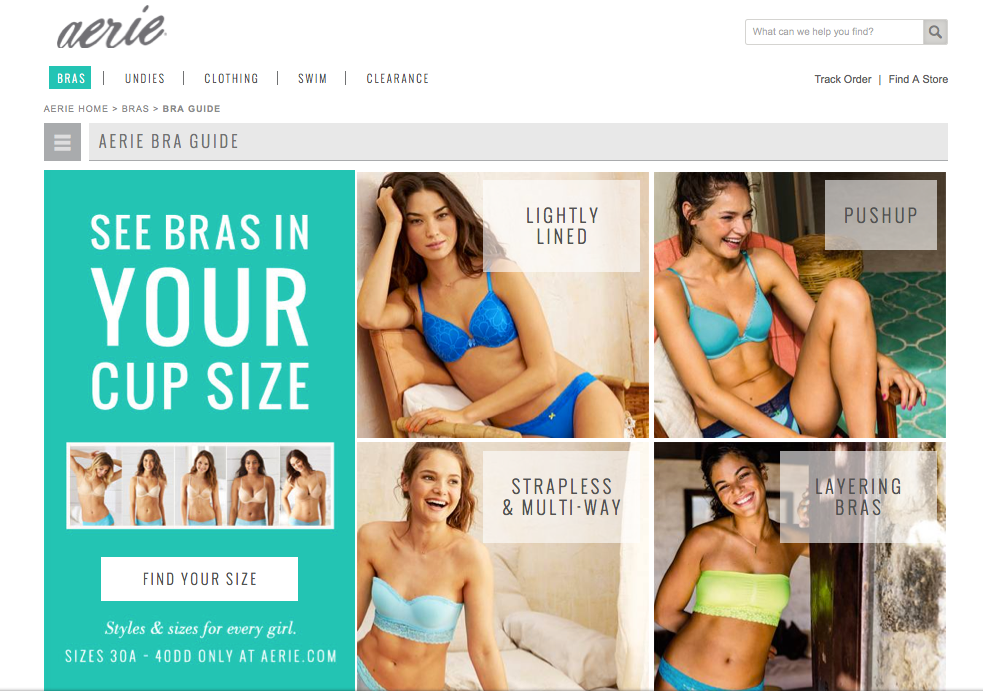 When you click Find Your Size under "See Bras In Your Cup Size", a window with different size selections will pop-up. Once you find your size, it will take you to a page similar to a page above, showing different types of bras and how many "frames" per available per type. For example: Push Ups, 13 Frames in Size (whatever your size is).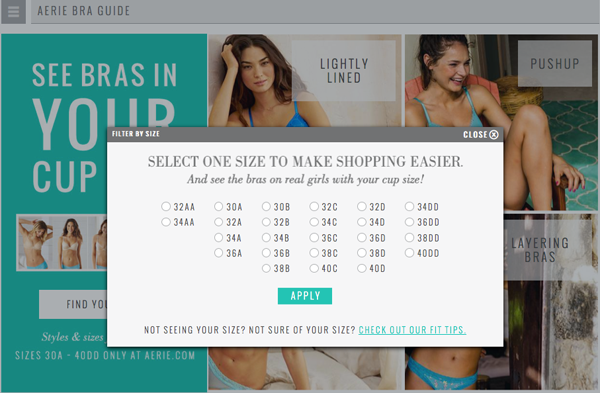 You basically just have to choose which style do you want: Lightly-Lined, Pushup, Strapless and Multi-Way, and Layering Bras. Because I have never owned a pushup bra before (like I don't need help!), I decided to go for it! Whoa!
So here's what I picked: The Bridget Pushup Bra. It's simple and I love the feel of it!
Now if you're not quite sure about the "feature" of each bra, at the top right hand side of the image of the bra that you picked, you will see an icon that says "Details" and when you click that, details as shown in the image below, will appear. Pretty neat, right?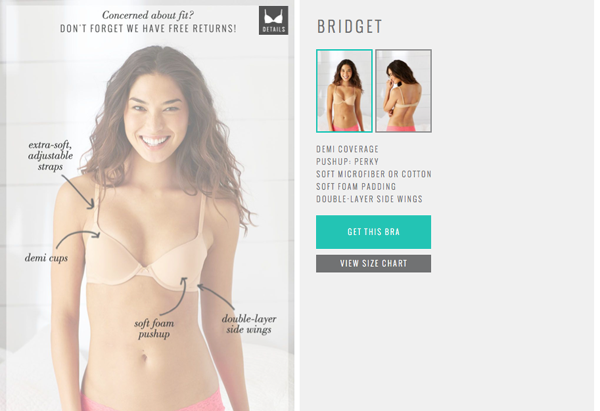 The best part is if you don't like it or they don't fit you right, Aerie offers FREE returns! Since they had a sale going on at the time I purchased this bra, I was able to get a layering bra as well – a neon pink bandeau with lace! It's still on sale right now!
I must mention that I was told that the models on the bra size guide are non-retouched.
I think it's important to know that so that the bra-shopping experience can be less intimidating, don't you think?
In conclusion, I think on a scale of 1-10, the breeze of finding a bra in my size is at 10. However, in general, I'd say at 8 becauseI'd still like to have a filter of finding a bra in my size by colors. Get it Aerie? *Wink* But that's just me. Check out Aerie's Bra Guide and see for yourself.
…………………………………………………………………………………………………………………………………………….
Disclaimer: This is a "shopportunity" post where I was provided with a giftcard by AE through BPI to try out AE's Aerie bra guide online and purchase a bra. The opinions expressed herein are mine and are not indicative of the opinions or positions of AE and BPI  Thank you for supporting LynneGabriel.com sponsors. They make my blog possible.