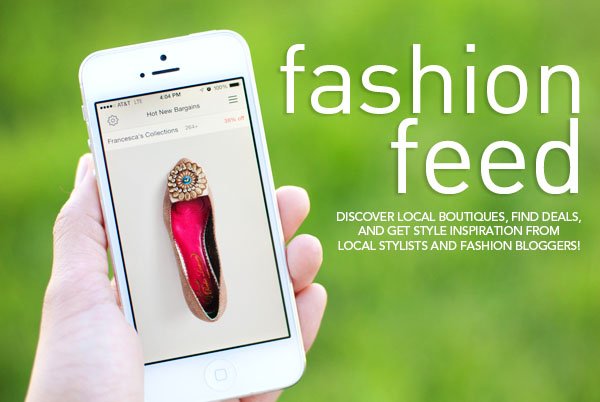 Normally, when I get introduced to a new fashion app, I don't jump on it anymore. Let's be honest,  there's just a dime a dozen of them these days. It's already hard as it is to keep up with the big dogs in social networking such as Facebook, Twitter, Instagram, and Pinterest so the thought of adding even just one more in my list of apps is often being ignored. Just when I thought I already have enough apps to keep up with on a daily basis, comes another one that just launched – FashionFeed!
FashionFeed hits home. That's why I gave it a try. The company behind the app, Locogram, decided to choose Houston as its first ever launch city. I was suprised and quite flattered (on behalf of the city I guess!), especially, when I thought that the fashion scene here is not as big as Los Angeles, New York, or even Dallas.
So what is FashionFeed exactly? Well, being the 4th largest city in America, you can imagine that there are so many boutiques in Houston, right? Chances are you know some but don't know all or most of them. You may have some favorite boutiques that you frequently visit but don't you feel like checking out other boutiques too, sometimes? And how about finding some great deals and clearance items? This is where Fashion Feed comes in. It currently features 300 boutiques in Houston. Holly Molly! I didn't even know we have that many stores here! FashionFeed shows you all the latest updates and bargains from all your favorite boutique stores in one place.
And because FashionFeed has you in mind, they also have Fashion Stylist feeds which features styles from local fashion bloggers and stylists. What a great way to keep up with styles and trends from local people to fit the local fashion scene, isn't it? Getting style inspiration from real people never gets old and boring!
Just when you thought it's good…it's only going to get better when you find out that the app is totally FREE! I hope you didn't fall right off your chair when you read that. Anything that makes your life better and it's free…why not? FashionFeed for iPhones and iPads is now available for download from the App Store.
Other cities will be available soon! For the meantime, Houstonians, check out the slideshow below to know more about the app!
…………………………………………………………………………………………………………………………………………….
Disclaimer: This post is sponsored by Locogram, Inc. The opinions expressed herein are mine and are not indicative of the opinions or positions of Locogram, Inc.  Thank you for supporting LynneGabriel.com sponsors. They make my blog possible.
SaveSave