The last quarter of 2014 seems to be a season of staycations for me. I have taken about 3 in a 2-month period and I'm not complaining. I love staycations! If you missed the first couple I took,  you can read about La Torretta Lake Resort Spa here and the Hyatt Market Street here.
My last staycation for the year was at Hotel Sorella here in Houston. It's about 28 miles from where I live and is on the west part of town.
I remember visiting City Centre the very first time about four years ago, it was around the holiday season too, just like when I first visited the Hyatt Market Street. The concept is similar to it as well. Hotel Sorella is in the middle of CityCentre, a 37-acre open air shopping and dining complex.
The Hotel
Hotel Sorella is slightly-upscale and very contemporary. It fits a fashionable lifestyle because it's trendy and chic! You can feel it the moment you step into their lobby. It is decorated with contemporary furnitures which makes the whole area look bright. Most hotels have traditional decorations which are great but Hotel Sorella's lobby is very refreshing to the eyes, especially with white, lime green, beige, and brown color scheme with some purple and grey.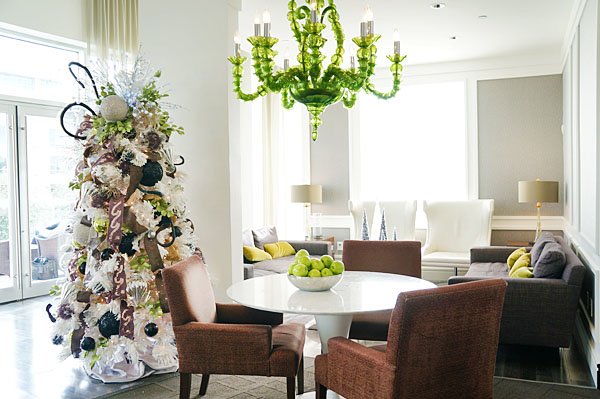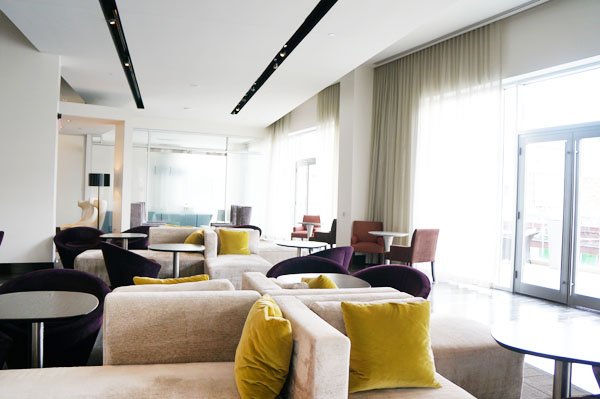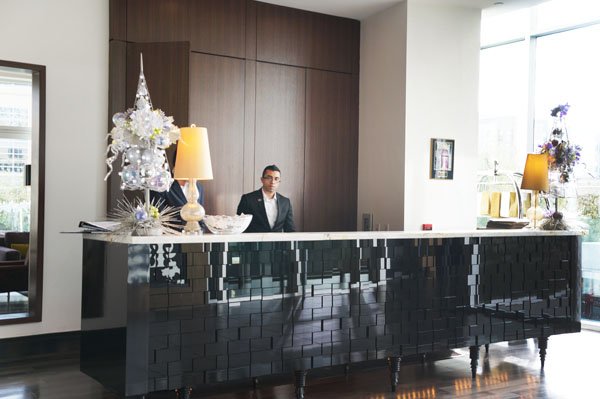 While the lobby is certainly modern, a portion of the wall, by the elevators and reception, is graced with seamless baroque wall decors. They look just like wall papers here but in person they are embossed if I am not mistaken. I am not sure why there is a shift all of a sudden but it's inevitable not to notice the difference of the look and feel, especially if you're into details.
This is the patio of the hotel, opening from the lobby and is overlooking some of the shops, restaurants, and the middle part of the CityCentre which is sometimes a play area for kids during the weekends.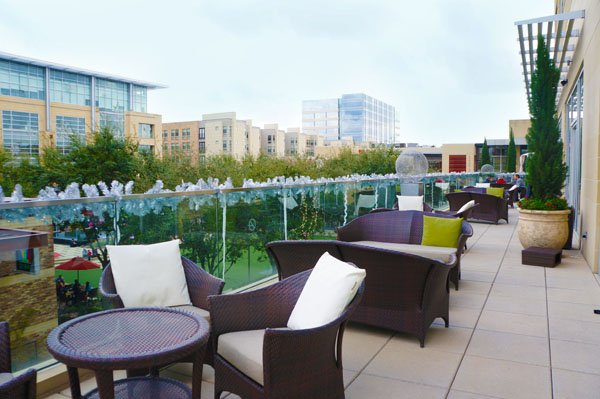 Their pool area is pretty amazing! The cabana beds definitely got them more points from me. This whole section is quite serene, even though it still overlooks the shops and dining. And from what I have seen, this area can be reserved as a wedding location as well. It's either that or they just had a photo shoot. You might need to confirm with the reservations if that is doable. Wedding by the pool? Why not though? I can imagine other types of occasions will work there too.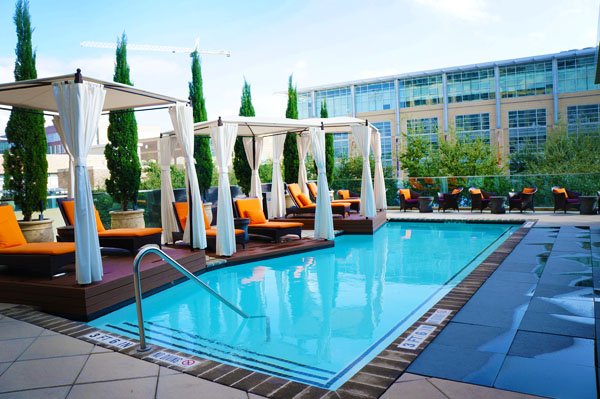 It is adjacent to the hotel's bar and restaurant called Monnalisa. They do have live music band playing sometimes. If the bar ever gets crowded during warmer nights, they open up these doors to the pool. It's pretty cool to be in the pool area and listen to live music and chill with your friends. You can check out the live music schedule here. The area totally turns into party atmosphere at night, by the way. The pool is lit with a purple glow.
The walls of the hallways feel like puzzels with the wall papers. I can't help but notice them.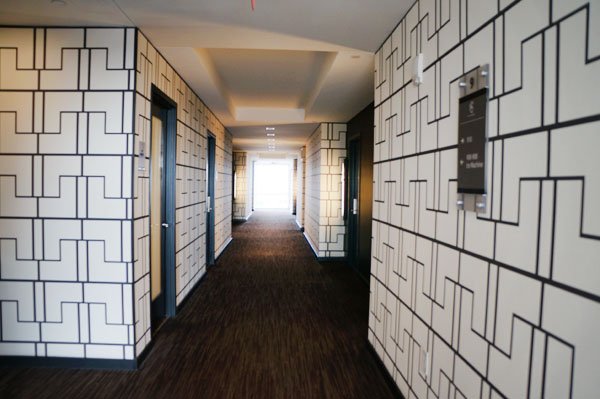 They offer a complimentary continental breakfast to hotel guests from 6 AM to 10 AM at the lobby. Remember the patio I showed you above? It's right next to the lobby which is where you can have breakfast as well. They serve delicious fruits, cereal, some pastries, coffee, tea, and juices!
The Room
The room is a lot simpler than I thought. Still matching the aesthetics of the lobby though. The coolest thing about it is the wood floors. It's totally unexpected in a hotel but it's a delightful surprise. The color scheme follows that of the lobby and you will not find any print art or wall decors which makes it minimalist I guess. I got the queen size room and I really had plenty of room! It's a very good size even for a family with a small kid. If you want a view that's right in the middle of the City Centre and overlooking the part with the fire at night, ask for room 910 if it's available. I got that room and it's got an amazing view. I must say though that you can hear some minimal noise from the restaurants downstairs but it didn't bother me.
I was not disappointed with the plush bed, pillows, and linens at all! I must admit, it's one of my favorite things about staycations. No matter how many thread counts your linens at home have, there's something special about hotel beds and linens, ha! Do you agree? I had a wonderful rest that night, I didn't wanna get up the following morning if it weren't for the breakfast!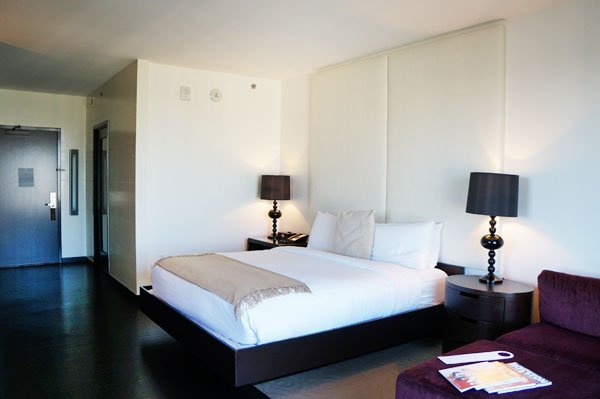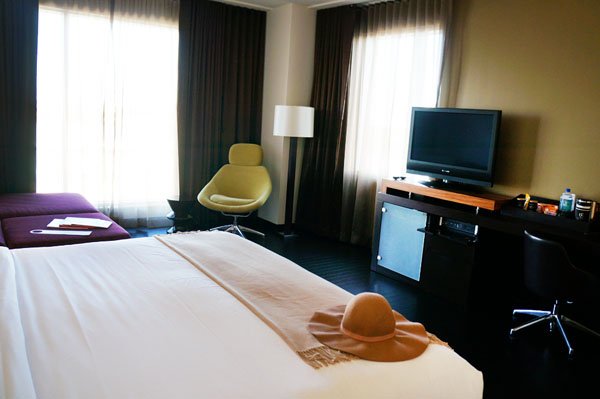 Everytime I take a vacation or a staycation, I take a photo of my hotel room's bathroom! I love the lime pop of color here. This bathroom didn't come with a bath tub though but I'm sure for the most part the shower will suffice!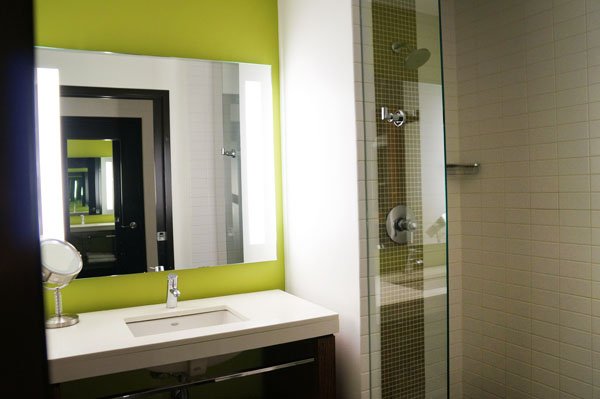 The Little Details
Thought I'd snap a pic of the little things I find in my hotel room. I don't know about you but I like keeping my hotel key as a souvenir, I also like "checking out" the little toiletries in the bathroom and by checking out, I mean, they also check out with me! (Hush, don't tell me you don't take those cute little containers and soap bars with you? Liar! Just kidding.)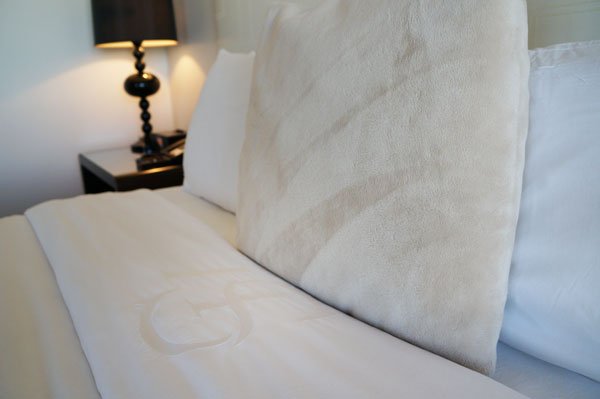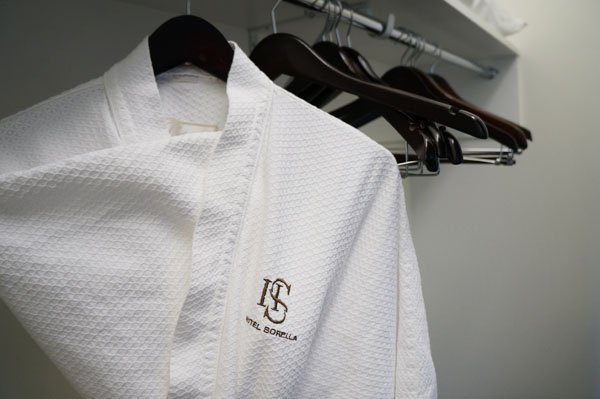 The Night Life and Dining
Hotel Sorella has an in-house bar called Monnalisa (the one I mentioned above which is adjacent to the pool area), pictured below. Like I said, they do have live music band playing sometimes and I'm not sure of the name of the band playing during the night I stayed but I just sneaked in to take a peek.
They also have a restaurant and lounge called Radio Milano where my mom and I had an amazing dinner that same night. More of that on a separate post.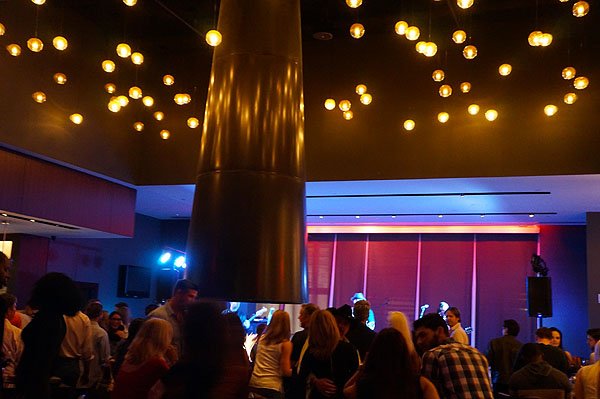 Directly below Hotel Sorella are several dining options! Do you prefer Asian cuisine? You can go to Straits Asian Bistro and Lounge. If you prefer steak, seafood, or burger and some beer, check out Yard House. But you also have Ruggles Green for some healthy soup and salad if you wish!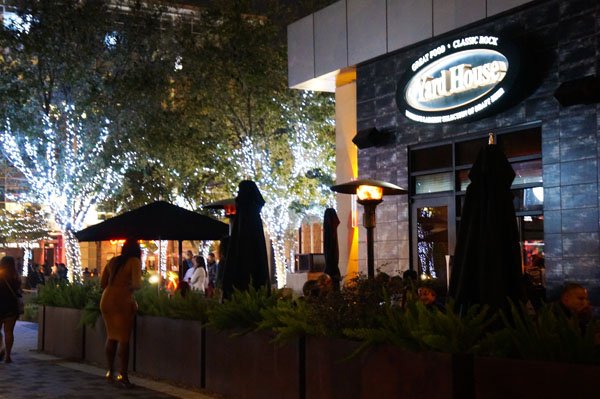 If you fancy a great authentic Mexican food, Cyclone Anaya is just a few steps across the hotel. I have dine here before and my favorite is their Ceviche. It's a great appetizer!
Then there's Texas de Brazil, Grub Burger, and RA Sushi as additional dining options. They also have the amazing cupcakes and macarons shop called Sweet! Oh my gosh, they have the best coffee and best macarons in town. You have got to try them out after dining!
The area with the bonfire is right in the middle of City Centre and in front of Hotel Sorella. It looks especially festive during the holidays. If you book room 910, you will get this view which in my opinion is the best part.
The Shopping & Entertainment
Hotel Sorella is a few steps away from shops such as  J. Crew, Elaine Turner, Kendra Scott, Charming Charlie, Anthropologie, and Free People just to name a few.
The following day of my stay they were doing a Street Market for the holidays, thus the pop-up tents.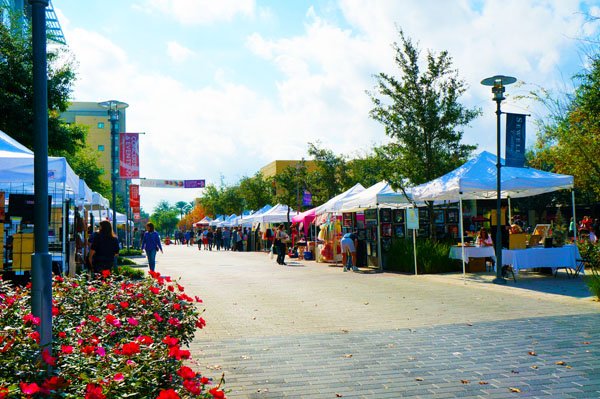 This "green" area is right in front of Hotel Sorella and besides Ruggles Green. Next to it is the bonfire area you saw in a previous photo above.
Studio Movie Grill is also just a few steps away so can head over there if you would like to relax in the movies after shopping and dining.
In conclusion, in my opinion, Hotel Sorella is a great place to stay if you prefer to be only a few steps away from shopping and dining. There's plenty of dining options to choose from and there are a good number of shops to check out. It's about 20 minutes away from Downtown Houston and not near enough most city attractions. If you're from out of town and would like to be near places to visit, it may not be the best option. However, if you're from Houston and the suburbs and you're looking to try out a modern hotel and the lifestyle that comes with a night stay or two, then Hotel Sorella is worth-checking out. It's a great place for a couple to do a staycation (think a romantic Valentine's overnight stay, har har!) or a sleep over (pajama party, hello?!) with your friends!
The staff that I have had an encounter with are very friendly and I never had any issues during my stay. They have complimentary WI-FI which we can't live without nowadays, so that's always a wonderful thing. Other amenities include fitness facility and a spa.
Hotel Sorella in CityCentre Houston is definitely one of the nicest modern hotels in town.
…………………………………………………………………………………………………………………………………………….
Disclaimer: I was given a complimentary stay at the Hotel Sorella CityCentre Houston to facilitate this experience write-up. The opinions expressed herein are mine and are not indicative of the opinions or positions of Hotel Sorella CityCentre Houston.